Wharton School announces MBA admissions 2014
Wharton School, University of Pennsylvania, USA has announced opening of admissions for its full-time MBA and Executive MBA programmes. Apart from offering relevant knowledge, The Wharton MBA also provides innovative leadership learning, culture engagement platform and global opportunities.
The Wharton MBA Course Structure: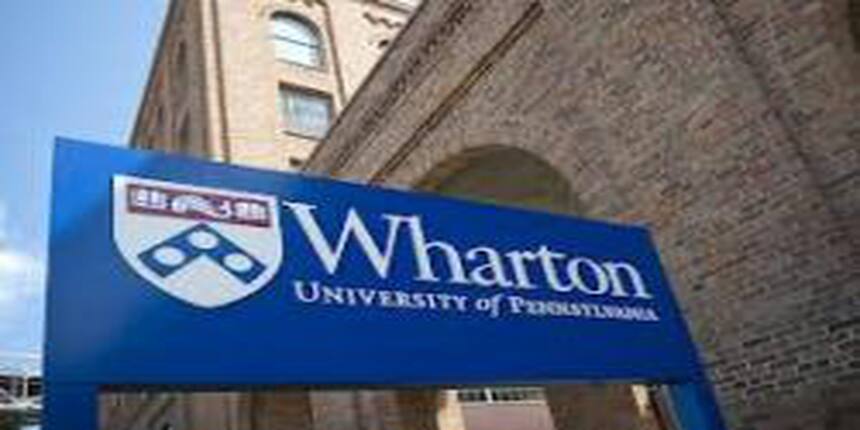 The Wharton MBA curriculum consists of a flexible core in general management, 18 majors and around 200 electives. Students can customize their curriculum by selecting a course pathway through content areas based on educational and career experience and goals.
The Core of The Wharton MBA is offered as quarter- or semester-long courses. It covers traditional management disciplines with an emphasis on analytical rigour like accounting, finance, marketing, management, operations, statistics, and microeconomics, as well as the leadership, ethics, and communication skills necessary for leadership.
The Wharton MBA Core is distributed in two parts:
Fixed Core: that is pre-determined
Flexible Core: that is chosen by students
The Wharton MBA's elective curriculum provides depth and breadth across traditional and nontraditional areas of management education. It includes:
Majors: Students can choose from 18 majors, or create their own individualized major.

Electives:  Students can choose among more than 200 electives across 10 academic departments, or take courses in any other of the 11 schools under the University of Pennsylvania.
The Wharton Executive MBA Course Structure:
The Wharton Executive MBA curriculum includes:
A Core curriculum that builds a solid foundation of broad management skills in the students.

Electives in the second year of the programme that provide expertise in one or more areas.

Although majors are not required in the Wharton executive MBA programme, interested students can pursue some of the more general majors like entrepreneurship, finance, management, marketing, and strategic management.
Admission requirements for The Wharton MBA and The Wharton Executive MBA:
Selection for is done on the basis of:
Academic Records

Essays

Questions for applicants

GMAT/GRE score

TOEFL

Letters of Recommendation

Interviews
How to apply for The Wharton MBA and The Wharton Executive MBA:
Candidates need to apply online. Click here for further information.
The Wharton MBA admission application deadlines:
| | | |
| --- | --- | --- |
|   | Application Deadline | Decision Release Date |
| Round 1 | 1 October 2013 | 17 December 2013 |
| Round 2 | 7 January 2014 | 25 March 2014 |
| Round 3 | 27 March 2014 | 6 May 2014 |
 The Wharton Executive MBA admission application deadlines:
 
 
Application Deadline
Decision Release Date
San Francisco (West)

Early

5 January 2014

15 January 2014

Regular

10 February 2014

31 March 2014

Philadelphia (East)

Early

May be available upon request

 

Regular

10 February 2014

31 March 2014
For more information, contact:
Contact Address:
Office of MBA Admissions and Financial Aid
The Wharton School
University of Pennsylvania
Vance Hall, Suite 111
3733 Spruce Street
Philadelphia, PA 19104.6340
Phone: 215.898.6183
Fax: 215.898.0120
Email: mba-admiss@wharton.upenn.edu
Wharton MBA Program for Executives
The Wharton School (Philadelphia)
University of Pennsylvania
G21 Jon M. Huntsman Hall
3730 Walnut Street
Philadelphia, PA 19104.6340

Phone: 215.898.5887
Fax: 215.898.2598
Email: mbaexec-admissions@wharton.upenn.edu
Wharton MBA Program for Executives
Wharton (San Francisco) 
2 Harrison Street (Harrison & Spear)
Sixth Floor
San Francisco, CA 94105

Phone: 415.777.1000
Fax: 415.369.0598
Email: mbaexecwest-admissions@wharton.upenn.edu