University of Technology Sydney, Australia announces Admissions 2018
University of Technology Sydney, Australia announces Admissions 2018 - The University of Technology Sydney (UTS), a public university, is one of the top 10 universities in Australia. With a QS world rank of 176, University of Technology Sydney also features at eighth position in the QS Top 50 Under 50 2018 rank. It has retained its position since 2017 rankings when it had improved by six positions.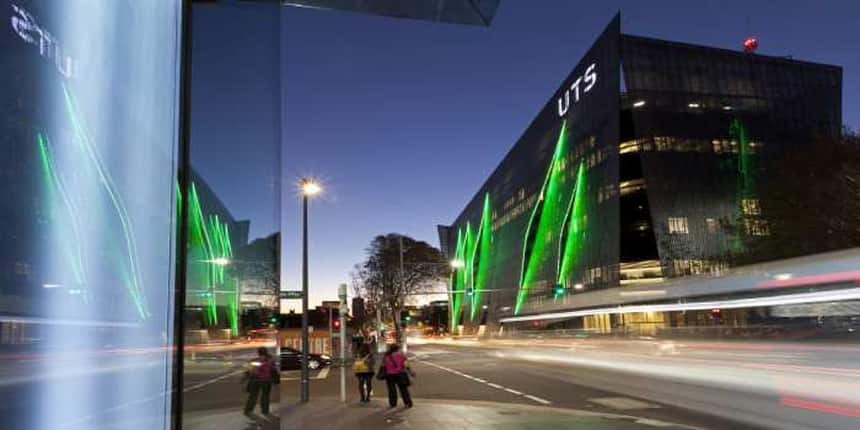 UTS offers a bouquet of courses in disciplines both traditional and emerging. The university also features at number four in the world in courses related to Nursing in the QS subject ranks. The other courses which feature in the top 50 offered by universities worldwide are Arts and Design, Sports related subjects and Law and legal studies.
UTS Entry requirements
The entry criteria for UTS, Australia Admissions 2018 is based on set academic entry requirements. Every applicant is assessed individually, which means – different things in different people for different courses. Consequently, there's no 'winning formula' that will guarantee that an aspirant is offered a place. However, the admissions team looks for the students who they believe:
have the most academic ability and potential

will benefit from and flourish in the UTS learning environment

are best suited to the course they applied for
UTS Admission Selection process
The minimum requirements needed for an undergraduate degree at UTS is:
Successful completion of the All India Senior School Certificate Examination (CBSE) (10+2) with an overall grade in best four academic subjects where A1=5, A2=4.5, B1=3.5, B2=3.0, C1=2.0, C2:1.5, D1=1, D2=0.5, or

Successful completion of the Indian School Certificate Examination (10+2) awarded by the Indian Council of School Examinations (ICSE) with an overall percentage grade average in the best four externally examined subjects. Successful completion of the Higher Secondary School examinations from some state boards with a competitive pass may also be accepted. OR

Award of the full International Baccalaureate Diploma where the total aggregate score including bonus and penalty points meets entry standard. OR

Alternatively, if students don't meet the above entry requirements – UTS also offer an alternative way to a degree – UTS Insearch. UTS Insearch is a popular choice for many international students as not only can students study the first year of their UTS degree here, they can do so in a supportive and much smaller learning environment – which is ideal for students new to the Australian education system.
UTS Programmes
UTS has started offering world-class education in Analytics and Data Sciences and Transdisciplinary Innovation. Also, UTS offers a large range of highly ranked undergraduate and postgraduate degrees. The streams are listed below.
Analytics and Data Science – NEW!

Transdisciplinary Innovation – NEW!

Business

Communication

Design, Architecture and Building

Education

Engineering

Health and Nursing

Information Technology

International Studies

Law
UTS Scholarships
UTS offers a diverse range of scholarships for international students, available university-wide or for study in particular faculties. UTS has committed A$30 million towards a range of scholarships and grants for commencing and current undergraduate and postgraduate students from 2016 – 2020.
Aspirants may alternatively use their scholarship search function tool.
UTS Fees
Tuition fees for international students vary between courses, and from year to year, and must be paid in advance each session.
UTS Admission Cycle
Aspirants may apply to UTS at any time. UTS has two teaching sessions; Autumn (February/March start) and Spring (July start). The closing date for applications for each teaching sessions is:
Autumn session (February/March start):
Applicants based outside Australia: 30 November

Applicants based in Australia: 15 December
Spring session (July start):
Applicants based outside Australia: 30 April

Applicants based in Australia: 31 May
It is best to apply early to allow plenty of time to organise Australian student visa to study at UTS. For more information on the application process, click here.
UTS Intake
University of Technology Sydney has two intakes each year, the main intake happens in late February/ early March and then a second intake happens in July. Please note however that not all degrees are available for the mid-year (July) intake. To find out more about the course and its intake, aspirants are requested to visit https://www.uts.edu.au/future-students
Presently, there are no plans to offer another intake.
UTS Insearch
UTS Insearch (UTS's little sister and pathway provider) offer three intakes:
Early March intake

July intake

October intake
UTS Insearch is another way into the UTS degree students intend to earn. The benefit is – it's a smaller learning environment, students get lots more ongoing support such as 1-1 tutor sessions to study skills workshops. They offer diplomas (which in most cases is equivalent to the first year of an undergraduate UTS degree) which are designed to take the students straight into second year UTS. Some of UTS's top alumni started their journey at UTS Insearch.
UTS Insearch currently has a special "Aspire" scholarship for Indian students which is valued at $5,000!