University of Kansas, USA Announces Graduate Admissions 2018
University of Kansas (KU) invites applications for Graduate programmes for the academic year 2018. Undergraduates can choose from 200 programs in 13 schools. The richness of the KU offer ensures all students have opportunities to explore new fields. When it comes to preparing for their future, KU's Career Advancement Program provides the support they'll need. Designed to help students through educational resources and experiential activities, and from applying for graduate school to preparing for interviews, career counsellors are there to guide them.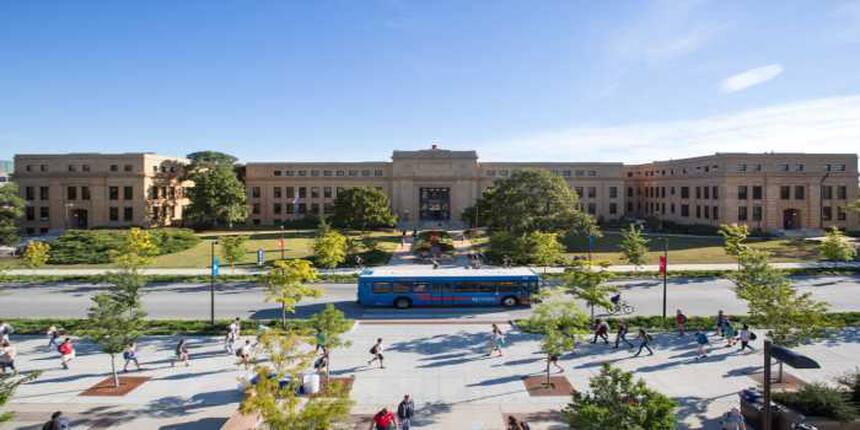 KU is part of a prestigious league of 62 AAU schools at the leading edge of innovation for the betterment of society.
University of Kansas Graduate Admissions 2018: KU invites applications for a variety of postgraduate programmes in the School of Engineering, College of Liberal Arts & Sciences, and School of Education. A variety of graduate programs including Masters of Science programs in Civil Engineering, Architectural Engineering, Project Management, Construction Management, Project Management, Engineering Management are offered.
Course Fee: The annual course fee for the postgraduate programme is $30,000.
Scholarships: An annual scholarship amount of $4,000 for the first year is offered to the deserving students.
How to apply: The application process for University of Kansas postgraduate Admissions 2018 can be completed online. To apply online, applicants have to create their personal accounts and follow the follow the steps below:
Log in to the account

Fill all required details

Submit the form
Click here to apply:
Admission Checklist:
Eligibility Criteria: Those seeking admission to the university must have
Bachelor's degrees earned after four years of university study,

B.Engr.; B.Sc. (in Agriculture); B.Sc. (in Engineering); B.Arch.; B.Tech.; B. Law or a Master's degree in other fields. For example, the B.Sc. plus the M.Sc., the B.A. plus the M.A., and the B.Com. plus the M.Com. are considered equivalent to the U.S. bachelor's degree. Post-Graduate Diplomas in fields other than Management may not be considered acceptable for graduate admission.

The most common Indian bachelor's degrees (B.Sc., B.Com., B.A.) are three-year degrees. Three-year bachelor's degrees are considered equivalent if the degree was earned in Division I, and the awarding institution has NAAC (National Assessment and Accreditation Council") accreditation of "A" or better. Indian Master's degrees (M.Sc., M.Com., M.A.) are typically two-year degrees.

Post-Graduate Diplomas are usually earned after a one-year program with 60% or higher or GPA 7/10 or higher
KU Postgraduate Application Deadlines:
| | | |
| --- | --- | --- |
| Dates | Spring 2018 | Fall 2018 |
| Application Deadline |  15th November 2017 |  15th June 2018 |
| Move-in Date | 4th January 2018 |  6th August 2018 |
| Program Start Date | 4th January 2018 |  6th August 2018 |