Auburn University, USA PG Admissions 2018
Auburn alumni are highly sought after by employers and graduate schools. Recent graduates have been hired by multinational companies and accepted to prestigious professional and graduate schools. Whether students know exactly what they want to do after they graduate or they're undecided, the breadth of Auburn's majors, departments, faculty, and successful alumni will take them where they want to go.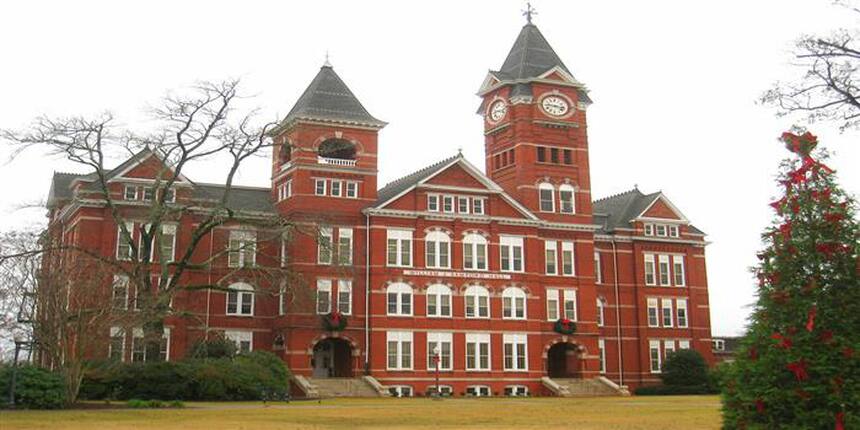 AU's prestigious Samuel Ginn College of Engineering offers excellence in engineering education.
Auburn is #4 on The Princeton Review's list of "Colleges with the Happiest Students" 2017.
War Eagle! Auburn has a deep-rooted history celebrated through numerous traditions and a tight knit community."
Auburn University Master's Admissions 2018: Auburn University invites applications for a wide range of Masters programmes for 2018. Applications are currently open for Agriscience Education (MS), Business/Marketing Education (MS), Aerospace Engineering (MS), Materials Engineering (MS), Ploymer & Fiber Engineering (MS), Biosystems Engineering (MS), Mechanical Engineering (MS), Computer Science and Software Engineering (MS), Chemical Engineering (MS), Master of Public Administration (MPA), Master of Community Planning (MCP), Applied Mathematics (MAM), Probability and Statistics (MProbS), Mathematics (MS), Statistics (MS) and many more.
Course Fee: The annual course fee for Masters programme is $30,000.
Scholarships: Auburn University offers scholarships to deserving students. The scholarship amount of $4,000 for the first year is offered.
How to apply: The application process for Auburn University Masters Admissions 2018 can be completed online. To apply online, applicants have to create their personal accounts and follow the follow the steps below:
Log in to the account

Fill all required details

Submit the form
Click here to apply:
Admission Checklist:
Academic Transcripts

Bank statement

Copy of Passport
Eligibility Criteria: Those seeking admission at the university must have cleared their undergraduate degree or its equivalent internationally to apply to Auburn University Masters Admissions 2018. Bachelor's degrees earned after four years of university study, B.Engr.; B.Sc. (in Agriculture); B.Sc. (in Engineering); B.Arch.; B.Tech.; B. Law or a Master's degree in other fields. For example, the B.Sc. plus the M.Sc., the B.A. plus the M.A., and the B.Com. plus the M.Com. are considered equivalent to the U.S. bachelor's degree. Post-Graduate Diplomas in fields other than Management may not be considered acceptable for graduate admission. The most common Indian bachelor's degrees (B.Sc., B.Com., B.A.) are three year degrees. Indian Master's degrees (M.Sc., M.Com., M.A.) are typically two year degrees.
Transcripts showing more than 5 backlog attempts in total in a QUD will not be admissible
Minimum acceptable score: -50% or GPA 6/10 or GPA 4/7 or GPA 2.5/4 or higher
For Non Engineering Courses - 50% or GPA 6/10 or higher, For Engineering Courses - 55% or GPA 7/10 or higher"
Application deadline:
| | |
| --- | --- |
| Spring 2018 | AU PG |
| Application Deadline | 15th November 2017 |
| Move-in Date | 3rd January 2018 |
| Program Start Date | 4th January 2018 |
|   |   |
| Fall 2018 | AU PG |
| Application Deadline | 30th June 2018 |
| Move-in Date | 30th August 2018 |
| Program Start Date | 31st August 2018 |