About PTE Academic 2018
The PTE Academic 2018 or the Pearson Test of English Academic 2018 is an internationally recognised English language proficiency examination. The scores for the PTE Academic can be used to satisfy English language proficiency requirements for various undergraduate and postgraduate programs in the United States, the United Kingdom, Canada, Australia and New Zealand. English language proficiency scores are required for students who are from non-English speaking nations or who do not have English as their first language. The PTE Academic scores are valid for up to 2 years from the exam date.
Exam level:
University Level Exam
Languages
English
Conducting Body:
Pearson
There is no specific eligibility requirement for the PTE Academic 2018 examination except that
The candidate must be at least 16 years of age.
If the candidate is under 18 years of age, then he or she must submit a proof of parental consent in order to be eligible to sit for the examination.
Mode of Application : Online
Mode of Payment : Credit Card
In order to apply for the PTE Academic 2018 examination, a candidate must register for a Pearson VUE account on the official website through the following procedure:
The candidate must go to the official PTE Academic website and register for a Pearson VUE account by clicking on the 'register now' link.
Within 24 hours of registration, the candidate will receive login details to access his or her newly created Pearson VUE account.
Using the login details, the candidate can log into the Pearson VUE account and schedule a PTE Academic test.
Test dates and centres will be available for selection as per the candidate's requirement.
The final step in the application process is payment of the test fees which can be done online via credit card.
PTE Academic E-books and Sample Papers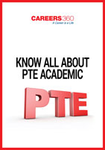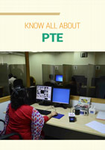 ddddd
In order to prepare properly for the PTE Academic 2018 exam, candidates must keep the following points in mind in order to score well on the PTE and ensure a high level of English language proficiency:
Preparation for PTE Academic 2018 Writing:
Practice essay writing on various topics in a timed environment.
Always stay within the prescribed word limit for the specific writing exercise i.e. under 100 words for the summarising the test exercise and under 500 words for the essay.
Avoid redundancy and use clear and unequivocal sentence structure and vocabulary.
Preparation for PTE Academic 2018 Speaking:
Ensure that the enunciation of words is clear and avoid hesitancy.
Do not hurry through the speaking exercises, maintain a steady oratory pace despite the time constraints.
Do not spend time on correcting oratory mistakes, carry on with the exercise regardless of botched words.
Practice speaking aloud at home with various questions and exercises in a timed environment.
Preparation for PTE Academic 2018 Reading:
Manage time properly during reading exercises as the number of questions is greater than in other sections.
Read and re-read each question before attempting to answer without giving in to overconfidence.
Practice as many sample questions as possible.
Preparation for PTE Academic 2018 Listening:
Practice listening section questions from audio exercises in a timed environment.
Maintain a calm composure and listen patiently to the audio being played.
Take notes of every potential point of information in order to ensure clarity while answering questions.
The PTE Academic test comprises 3 different sections or parameters upon which the candidate's proficiency in English is evaluated. These include:
Part 1: Speaking and Writing
Part 2: Reading
Part 3: Listening
PTE Academic 2018 Exam Pattern
Section

Duration

Topics Covered

Part 1: Speaking and Writing

77 – 93 minutes

Personal introduction
Read aloud
Repeat sentence
Describe image
Re-tell lecture
Answer short question
Summarize written text
Essay

Part 2: Reading

32 – 41 minutes

Fill in the blanks
Multiple choice questions
Re-order paragraphs

Part 3: Listening

45 – 57 minutes

Summarise spoken text
Multiple choice questions
Fill in the blanks
Highlight the correct summary
Select missing word
Highlight incorrect words
Write from dictation
PTE Academic 2018 Exam Centers
State
City
Gujarat
Ahmedabad
Rajkot
Vadodara
Karnataka
Bengaluru
Chandigarh
Chandigarh
Tamil Nadu
Chennai
Coimbatore
Delhi
New Delhi
Telangana
Hyderabad
Punjab
Jalandhar
Ludhiana
Patiala
West Bengal
Kolkata
Maharashtra
Mumbai
Nagpur
Pune
Uttar Pradesh
Noida
Andhra Pradesh
Vijayawada
Documents Required at Exam
The result for the PTE Academic 2018 test is generally available within a week of the test day. The candidate will receive an email once the scores have been reported and he or she can view the test scores by logging on to their Pearson VUE account. The average time for availability of result is 5 days from the test day.
The candidate will also receive a mail in case there is a delay in the score report or the score is on hold.
General Information
| | |
| --- | --- |
| Validity of Exam Result: | For 2 Years |
| Mode of Exam: | Online |
| Contacts: | 0008004402020 |
| Relevant Links: | Official Website Link Click Here |
| | +1 More |
Questions related to PTE Academic