ACT Exam 2021 - Dates, Application Form, Pattern, Syllabus, Result
Application Date
30 Nov, 2021 - 14 Jan, 2022
Stay up-to date with ACT News
About ACT 2022
The window to check February ACT test scores is now open. Candidates can log in to myact.org to check their ACT 2021 Feb test scores. ACT 2021 test dates are available for April, June and July 2021.  The ACT exam dates in the upcoming months are  April 16-17, June 11-12 and July 16-17 respectively. ACT test scores are accepted by almost all four year US colleges and more than 200 universities in other countries. ACT 2021 exam has the writing section as optional. Students must write four sections in ACT exam which are reading, English, mathematics and science. Questions in the ACT test 2021 will be 215 multiple-choice questions and duration is 3 hours and 30 minutes which is increased by another 40 minutes for students taking the writing test. Scores for the writing section are required for specific undergraduate programs or universities.  
Latest ACT test 2021 updates:
The  window to check ACT 2021 test scores for February has opened. All candidates will receive a notification email once the ACT test scores are uploaded at myact.org. For candidates whose scores are unavailable, the ACT test scores 2021 will be available 8 weeks from the test date. 
What is ACT test?
The ACT exam is national college admissions examination used by all four year US universities and more than 200 universities outside the US to evaluate applicants for undergraduate admissions. Students are tested in the following subject areas in ACT test 
English
Mathematics
Reading
Science
ACT with writing (candidates opting for this will have to write the four subject area tests plus a 40-minute writing test).
The ACT test is conducted as per :
Code of Professional Responsibilities in Educational Measurement, National Council on Measurement in Education (1995).
Standards for Educational and Psychological Testing, American Educational Research Association, American Psychological Association, and National Council on Measurement in Education (1999).

Code of Fair Testing Practices in Education, Joint Committee on Testing Practices (2004).
ACT Vs SAT
While both are widely preferred exams, ACT test offers a few additional features as given below
ACT exam has a science section
It is a computer based exam
The number of testing opportunities are 24 in ACT test 2021 as compared to 6 in SAT
ACT test scores without writing section are announced within 2 days from test date while they are announced in 14 days for SAT 
ACT 2022 Highlights
| | |
| --- | --- |
| Full Exam Name | ACT |
| Conducting Body | ACT |
| Exam Level | University Level Exam |
| Languages | English |
| Mode of Application | Online |
| Mode of Exam | Online |
| Exam Duration | 4 Hours |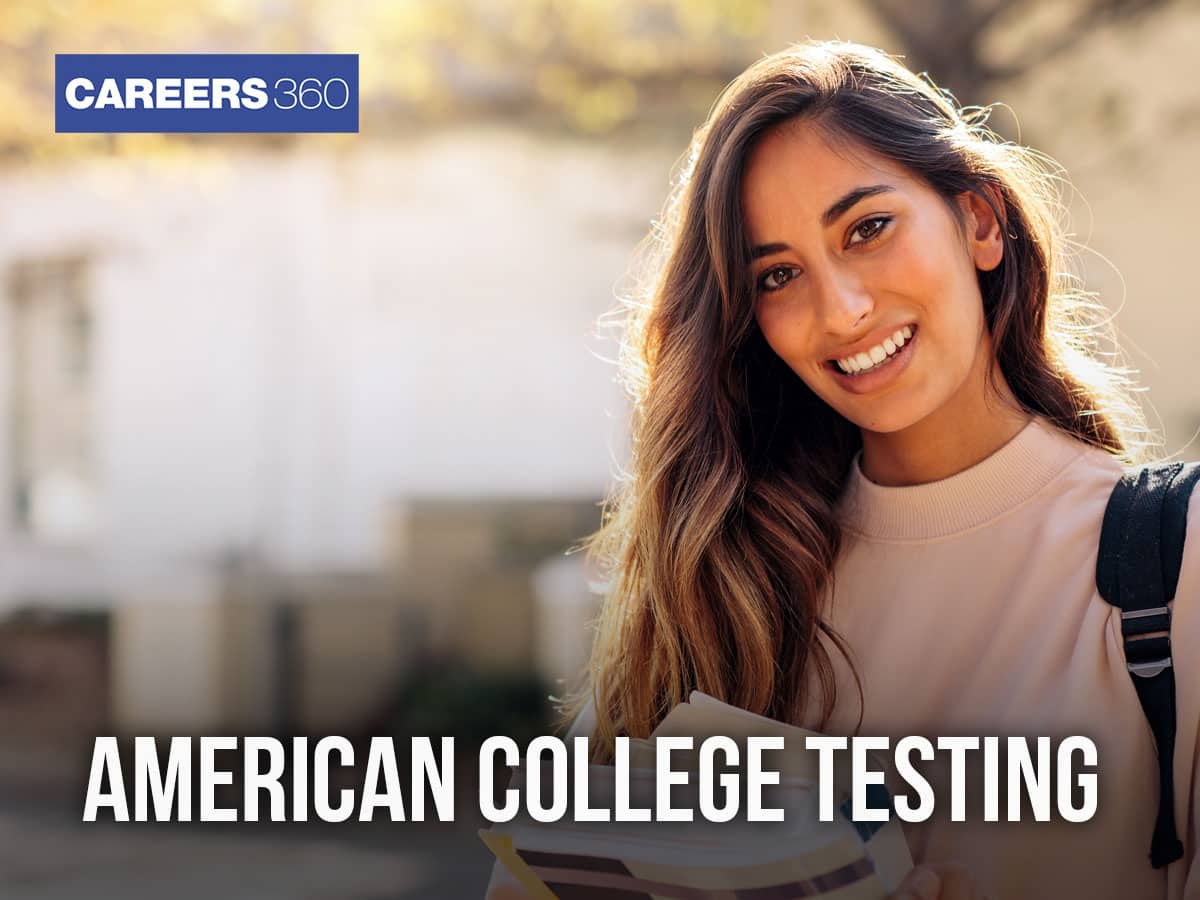 ACT 2022 Important Dates
Upcoming Dates and Events
30 Nov, 2021 - 14 Jan, 2022
Application | Mode: Online Ongoing
15 Jan, 2022 - 28 Jan, 2022
Late Fee Application | Mode: Online
11 Feb, 2022 - 12 Feb, 2022
29 Jan, 2022 - 04 Mar, 2022
Application | Mode: Online
05 Mar, 2022 - 18 Mar, 2022
Late Fee Application | Mode: Online
01 Apr, 2022 - 02 Apr, 2022
19 Mar, 2022 - 13 May, 2022
Application | Mode: Online
14 May, 2022 - 27 May, 2022
Late Fee Application | Mode: Online
10 Jun, 2022 - 11 Jun, 2022
28 May, 2022 - 17 Jun, 2022
Application | Mode: Online
18 Jun, 2022 - 01 Jul, 2022
Late Fee Application | Mode: Online
15 Jul, 2022 - 16 Jul, 2022
The ACT 2021 test has no specific eligibility criteria for prospective candidates as an individual of any age above 13 years can sit for the ACT 2021 test.
Instead, a prospective candidate needs to meet the eligibility criteria to the individual college or university to which he or she will apply to through ACT scores. Additionally, a candidate is eligible to give the ACT test a maximum of 12 times.
Eligibility Criteria for ACT 2021 Test:
Nationality: Students from any country can apply and appear for ACT test. However, the eligibility of the institute they are applying to will be binding on them.
Age Limit: ACT test 2021 has no specific age limit. Students of all ages above 13 years can appear for the ACT test. Students who are younger and less than 13 years will have to approach the authorities for the same.
Mode of Application : Online
Mode of Payment : Net Banking | Credit Card | Debit Card
Registrations for ACT 2021 test are ongoing. The ACT test registrations end dates are as per the exam dates. The step by step procedure to register for ACT test is as follows:
How to register for ACT test 2021?
Click on MyACT account to register for ACT 2021. Enter the name, date of birth, email and mobile details
Log on to MyACT after successful registration.
Choose a test session from the given ACT test dates 2021.
Select an ACT test center (international students). Students from US or Puerto Rico must select an ACT 2021 test centre within US.
Select the preferred dates from the given ACT test dates.
Upload the photograph and pay the ACT test fees 2021 via debit card, credit card or net banking.
ACT Test 2021 Fees
| | | |
| --- | --- | --- |
| Details of Fees | International | US and Puerto Rico |
| ACT (no writing) | $150.00 | $55.00 |
| ACT with writing | $166.50 | $70.00 |
| Late fee | $35.00 | $35.00 |
| Score for 5th and 6th college | $13.00 for each | $13.00 |
| Test date change | $35.00 | $35.00 |
| Test center change (same test date) | $35.00 | $35.00 |
ACT 2022 Syllabus
English
English: Unit 01
English: Unit 02
English: Unit 03
Organization, unity, and cohesion
English: Unit 04
English: Unit 05
Convention of standard English
English: Unit 06
Sentence structure and formation
English: Unit 07
English: Unit 08
Mathematics
Mathematics: Unit 01
Preparing for higher mathematics
Mathematics: Unit 02
Mathematics: Unit 03
Mathematics: Unit 04
Mathematics: Unit 05
Mathematics: Unit 06
Statistics and probability
Mathematics: Unit 07
Integrating essential skills
Mathematics: Unit 08
Reading
Reading: Unit 01
Reading: Unit 02
Reading: Unit 03
Integration of knowledge and ideas
Science
Science: Unit 01
Science: Unit 02
Science: Unit 03
Science: Unit 04
Science: Unit 05
Science: Unit 06
Evaluation of models, inferences, and experimental results
Writing
Writing: Unit 01
Writing: Unit 02
Writing: Unit 03
Writing: Unit 04
Language use and conventions
ACT exam is  comprises 4 sections and all four sections consist of multiple choice questions (MCQs) with either four or five choices. The ACT Writing section is an optional section which comprises a single essay question. The exam pattern of ACT is given below.
ACT 2021 Exam Pattern
| | | |
| --- | --- | --- |
| Section | Duration | No. of Questions |
| English | 45 minutes | 75 |
| Mathematics | 60 minutes | 60 |
| Reading | 35 minutes | 40 |
| Science | 35 minutes | 40 |
| Total questions | 175 minutes | 215 questions |
| Writing | 40 minutes | 1 essay |
ACT 2022 Exam Centers
State
City
Gujarat
Ahmedabad
Vadodara
Rajasthan
Ajmer
Jaipur
Uttar Pradesh
Allahabad
Lucknow
Meerut
Noida
Varanasi
Karnataka
Bengaluru
Odisha
Bhubaneswar
Tamil Nadu
Chennai
Kodaikanal
Madurai
Uttarakhand
Dehradun
Delhi
New Delhi
Haryana
Gurgaon
Telangana
Hyderabad
Madhya Pradesh
Indore
Jammu and Kashmir
Jammu
West Bengal
Kolkata
Punjab
Mohali
Maharashtra
Mumbai
Nagpur
Pune
Andhra Pradesh
Vijayawada
Documents Required at Exam
Current official government issued photo ID (preferably passport)
Results of ACT test are generally available online by the end of 2 weeks from the date of the test but in some cases may also take up to 8 weeks. Scores for the writing section are available 2 weeks after the scores for the multiple-choice sections are available. Students who have given the writing test cannot send the other remaining scores to their prospective universities without the writing test scores. 
ACT Test Scores 2021: 
The ACT test results in a composite score which is calculated on a 1 – 36 point scale. The composite score is evaluated from the scores for mathematics, science, STEM, English, reading, writing and ELA. Scores for the individual categories are evaluated on a scale of 1 – 36 except for the writing score which is evaluated on a 2 – 12 point scale. 
The STEM score is the average of the scores in mathematics and science whereas the ELA score is the average of the scores in English, reading and writing. If the candidate has not taken the writing test, then no ELA score is reported. 
The ACT score report also contains the student ranking as well as prospective majors for the student based on his or her score. 
Questions related to ACT
Showing 152 out of 152 Questions