Why MBA? - Michael Flynn, Director of the Trinity MBA Programme at Trinity College Dublin answers the question


Making the decision to take on an MBA programme is no easy choice. You need to be sure you will get a return on your investment – both in time and money. To answer this crucial question, you first need to be sure that an MBA programme will effectively meet your career development needs. These needs, arguably, come down to both the acquisition of management skills and also the important area of professional development. The question boils down to this: what are you looking for?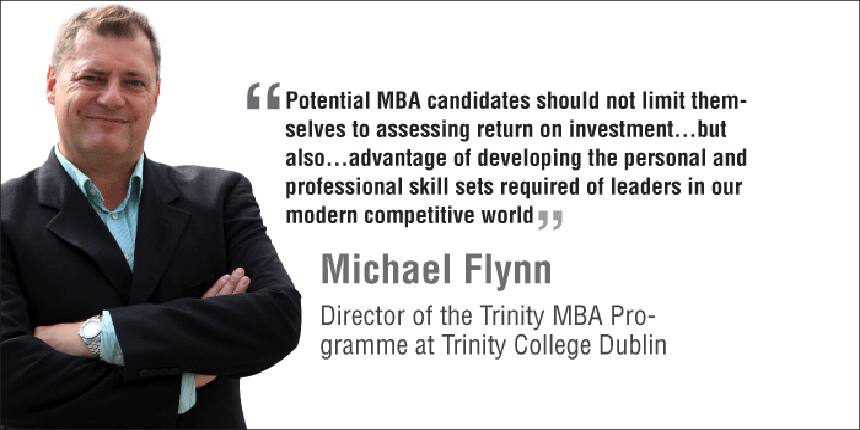 If you are not looking at studying management and leadership but rather are keen to focus in on a specific area such as project management or marketing, just to name a few possibilities, you might be better off taking a specialised MSc or masters' course rather than an MBA. They are generally cheaper and are more geared towards early career development.
Some MBAs will allow you the choice of a concentration in something like marketing and finance. This is counter intuitive to what an MBA is designed for – a management and leadership programme that provides a holistic 360* degree perspective of the totality of executive management. This means you need to cover everything!
Luckily, there is no shortage of MBA choices in India and abroad. It is important that potential candidates do their homework on what course best suits them and understand that, despite the large number of programmes available, there are exceptional differences between them, including in quality. Indian programmes have broad similarities as do North American programmes. Top level European programmes have yet again a different perspective and focus.
Some candidates look to undertake an MBA simply to lift their pay packets. This is particularly true for "linear MBA candidates" who wish to stay in their current industry track but wish to accelerate their career by "leapfrogging" a few years on the career ladder. There is nothing wrong with this mindset although a good MBA should give you much more, especially in the area of professional and leadership development.
At Trinity, around 50 % or more of our candidates are looking for career change and hence, the general management perspective of the programme suites them. Our Indian students are often looking to break away from confined specialisations to more general management orientated options. The fact that Ireland allows MBA graduates to stay after graduation and work in the country is a great opportunity for international experience (the U.K. does not allow this option any more). With Ireland being the "Singapore of Europe" and a regional base for more than 1000 multinationals, there are great opportunities for career development and change after graduation.
Only MBA programmes that have kept up with the pace of globalisation and the many changes that have evolved in senior management can provide the modern skills required by tomorrow's leaders. We talk about companies developing competitive advantage, but managers also need to develop their own points of differentiation. This is where a good MBA programme comes into play.
Potential MBA candidates therefore should not limit themselves to assessing return on investment based on short term pay packet increases but also the longer term advantage of developing the personal and professional skill sets required of leaders in our modern competitive world.