What does an Indian education give you
STUDY TIME Students concerntrating hard at the library at Manav Rachna International University (Faridabad)

"We get to interact with students from different backgrounds, cultures and who speak different languages. It's experiencing different cultures at a global level," says Arun, a second year student of MBA-IT at Lovely Professional University (LPU). The diversity one gets while studying in a global environment is one of the reasons that drives students to international shores for studies. Prashant Bhalla, Vice President of Manav Rachna International University, seconds this approach. "International students have added to the colours and culture of Manav Rachna. Indian and foreign students learn from each other with respect to languages, work culture, team work and the like," observes Prashant.

At times, the presence of international scholars also enriches the academic programme. As Dev N Pathak, Assistant Professor at South Asian University, comments, "The classroom becomes a sight of legitimate contestation. No longer then does the exercise of teaching and learning remain restricted to the conventional formula of linear transaction." Geographical peculiarities, too, add to the learning. "At ISB, international students get to study and understand the entire mindset of an emerging market - the way we drive, eat and talk," shares V K Menon, Senior Director, Career Advancement Services, Indian School of Business, Hyderabad. Yet, students are still merely trickling in and there is a huge gap between the potential and realisation.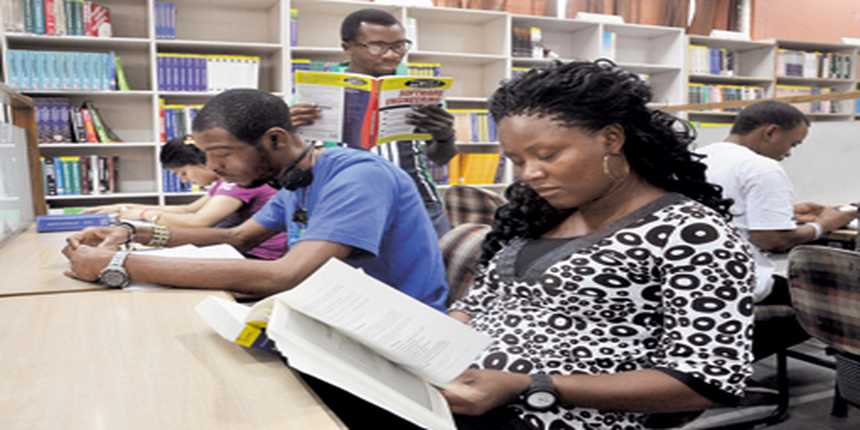 "Indian students get adaptive to cosmopolitan culture on campus. They now know that competition is not localised"

Aman Mittal
Deputy Director, LPU

"ISB students work in teams, including international students. This core group becomes a strong influencer to learning"

V K Menon
Senior Director-CAS, ISB
"I don't travel alone in autorickshaws late in the evening. We walk in groups to lonely places"

Katrina Buzunova (Russia)
Bharatanatyam dancer

"Indian and foreign students learn from each other with respect to languages, work culture, team work and the like"

Prashant bhalla
VP, Manav Rachna University

Anther factor highlighted is the learning pattern diversity. According to Aman Mittal, Deputy Director, LPU, students are realising that the competition is not localised, but global in nature. Moreover, the learning pattern which the international students bring with them from their countries also help Indian students learn new perspectives .
SRM UNIVERSITY A diverse set of students outside the library
Tough policies
Dr G Viswanathan, Founder & Chancellor, VIT University (Vellore), shares a number of reasons for this state of affairs. VIT has a very large contingent of foreign students and most of them are fee-paying students, the largest contingent being from China. His primary concern is that the Indian government must liberalise the policies relating to international students in India. He laments the fact that private institutes can only have up to 15% international students, a grouse shared by Prof. Ameena Kazi, Foreign Student Advisor, Jamia Milia Islamia, Delhi.

Dearth of faculty
Dr Viswanathan's second concern is about faculty. As of now international faculty come for a few months and then head back. While at many US universities we see Indian professors. Indian institutes must also be able to attract good permanent faculty from around the world. He says this needs the help of the government in terms of funding through scholarships and stipend schemes, which are available in western countries. Visa procedures must be also streamlined – as of now, the process is lengthy and a major constraint is his last lament.

Housing concerns
Not just visas but the number of fellowship seats also prevent foreign students from coming to India. The lack of official housing is one of the biggest irritants. Prof Kazi concurs. "Since we are not a residential university, there is no provision of accommodation for boys," she says. Thus, while culture, costs, and learnings attract them, language, food, day-to-day irritants in pursuing their lifestyle, lack of professional opportunities and the famed Indian bureaucracy does irritate them quite a bit.
"We have replaced the term 'foreigners' with 'international' as the term itself sounds alien!"

Bikash Kumar Mishra (Nepal)
President, Foreign Student Association, JNU
"Indian students are warm and friendly. They make us feel special and important all the times with their affection"

Putcha Koatnoi (Thailand)
MA (English), LPU

"Interacting with foreign students in classrooms develops global outlook and overall personality"

Mukul Priyadarshini (Indian)
MA International Relations, JNU

"Pride of culture is good for citizenship, but one should learn something new from other cultures as well"

Phramaha y Chakbodin (THAILAND)
PhD student, University of Pune

Delhi belly is actually India belly
While curry has replaced Fish and Chips as the UK's national dish, spicy Indian food is still not amenable to majority of international students. The spice and richness of Indian food is pretty difficult to stomach for many. This is one of the first major challenges any foreigner encounters. Some do develop a taste over a period of time like Putcha Koatnoi from Thailand who is at LPU. "Yes, it took me some time to get myself attuned to Indian foods," she says. "But ask me today, I cannot stay away from Indian food – especially curry and Indian traditional sweets," she says. But for many students like VIT student Jung-Won Moon of South Korea, diet is an ongoing struggle.

Colleges attempt to circumvent this problem in multiple ways. While places like Manav Rachna have built separate international hostels to cater to varying eating habits across countries, some others like VIT go a step further and import chefs. Dr Vishwanathan proudly proclaims that the university has made special arrangements to address the issue. "For instance, we hired some cooks from China so they can make authentic Chinese food as opposed to Indian Chinese dishes," he shares. But most campuses, especially those in the public sector are not that forthcoming. Places like JNU provide foreign students the option of opting out of mess food, but with private food arrangements costing a bomb, students do lose out unless they develop a taste.

Photo: Rohit Gautam
CROSSING OVER Students at SAU can't let border disputes in the way of daily classes
Language barriers
"This has been for me the most frustrating thing. Interestingly enough I thought that people in India would speak English. It has been an adventure in communication so far. Also, the university does not offer much guidance and help to foreign students," says Imogen, from Central America, and a student of Delhi University. The lament finds lot of resonance and at times it percolates into the classroom, too.

"The most difficult thing for me was to understand lectures,' says Bouachanhxong Libouapao from Laos, who attends Jamia Milia Islamia. He says that since 70% of the class strength was populated by north Indian students, teachers were comfortable communicating in Hindi. "Since most of my friends from my country have poor English – they started failing in their programmes", he rounds off. Students from Russia and eastern European countries too share this concern. Katerina Buzunova of Russia shares that she knew little English and no Hindi at all.

Getting around
But students are enterprising. Lukunga Tanguy, Congolese national is upbeat. "I realised that I just needed to adapt to it. It's all good now," he says. Katerina took an easier route. Catching up on Hindi films helped her learn the language fast. She also bought Hindi grammar books and started interacting with classmates only in Hindi. And if all else fails there is always the universal reliance on signs, used by Mereseini Marau of Fiji. "I mostly resort to signs or use basic English to auto drivers to get me around the city," she says. With bits and pieces of Hindi, she has managed to find her way around. Colleges have still not woken up to the problem, though old players hosting foreign students have begun to take initial steps. Pune University runs an ELICIS Course which teaches English to foreign students and Symbiosis offers Speak Fast, an English course. Both helped Phramaha Yanakrit Chakbodin from Thailand overcome his language hurdles gradually. All institutes desirous of attracting foreign students need to be alive to this major hurdle.
"Some people teasing me as I am foreigner. But many Indians are kind to me. I am also a bit nervous talking in English"

Ho Young Kim (South Korea)
JD Institute of Fashion & Technology
"Since we are not a residential university, there is no accommodation for boys. We are knocking govt for facilities"

Prof. Dr. Ameena Kazi
Foreign Student Advisor, Jamia Millia

"My biggest gripe is with the chaotic administration. It's frustrating to run around for a signature"

Heather murray (USA)
MA Sociology at Centre for the Study of Social Systems (CSSS), JNU, Delhi
"India was one of my first choices! Fascinated by Indian architecture, I am also looking to learn concepts like Vaastu"

Kerolin Govender (South Africa)
BE Arch, Acharya Institute, Bangalore
Read Kerolin Govendar's full interview
Bureaucratic hassles
Universities do not offer much guidance and help to foreign students is a common refrain. "My biggest gripe is with the chaotic administrative process. I have had many moments of near-to-tears frustration when someone sends you running all over campus to get a signature. Foreign students here, jokingly say, why make it simple when you can make it difficult," is what Heather has to say about her registration travails at JNU, New Delhi.

Confusion on arrival
Imogen was expected to meet very warm and welcoming people at the foreign student's office, they being the first people with whom international students interact with after landing in India. "But I had a very harsh experience," shares Imogen. Bouachanhxong was also in for a shock. "I was entirely puzzled when I joined college – clueless about how to fill forms, whom to approach and how to speed up the process. I had full plans to go back to my country. I finally had fallen back upon Lao Student Association in India which gave me a shoulder to survive in India," he shares.

Safety issues
General safety issues do affect the students, especially the women. Heather has harrowing tales to say. "I have been groped, grabbed, and harassed in broad daylight while fully clothed and I know the situation for Indian women is not any better. For me, the lack of autonomy here as a woman is the most dismaying and upsetting aspect of living and studying in this country," she says. Katrina seconds Heather wholeheartedly. "I don't prefer to travel in auto rickshaws late evenings alone. And in college we walk in groups to lonely places," she shares. But there are dissenting voices too. "In Botswana things are worse so I know how to fight back. In fact, I find India very safe," shares Bangu Thato S Mbaakanyi from Amity University. But she too is aware of the discrimination a foreigner faces. "One thing that I really dislike here is that the auto guys charge as per their wish. In our country we have fixed rates. And me being from a different place, they try to fool me," she adds.

Culture clashes
A range of issues are captured by this generic term - culture. From learning styles to parenting, from social interactions to dressing, a host of issues form a part of the adjustment process that any foreign student has to undergo. Yanakrit, a former Buddhist lecturer, feels that pride in one's culture is good for citizenship, but one should learn something new from other cultures as well. Most often, it also relates to deadlines and time management. The Indian penchant to do things at the last moment is anther pet peeve. "I can most definitely say that for my fellow classmates from Italy, Austria, and so-called 'Western' countries, doing things at the very last minute is a guaranteed stress inducer," shares Heather.
"In my country things are worse but I find India very safe. But I am also aware of the discrimination as a foreigner"

Bangu Thato S Mbaakanyi
Student, Amity University

"I want to replicate power of Indian media in my own country to expose scandals. The media back home is in transition"

Mereseini Marau (FIJI)
Journalism student, Kamla Nehru College


"Initially it was difficult to understand teachers' accent but I realise it was a matter of time and I needed to just adapt to it"

Lukunga tanguy (CONGO)
Computer Engineering, MIT College, Pune
Spoon feeding syndrome
The pampered children syndrome also finds space in this domain. Indian students are bright but they always need some support system, comments Bangu. "Either their teachers or parents are always there to spoon feed them which is not the case in my country," she concludes. India's large population and the resultant rush everywhere is another bone of contention. For someone like Mereseini who comes from Fiji with less than one million population, it could be a huge shock. "I had no choice. I started pushing my way into metro, buses or queues, something I don't do back home," she adds.
Friendly students
But culture also has its positives. Our 'Atithi Devo Bhav' or 'Guest becomes God' attitude comes for lavish praise. Putcha comments, "I think there is a marked difference in the behavioural patterns of people from the West and those from East. Eastern students, more so Indian students, are warm and friendly. They make us feel special all the time, with their care and affection," says Putcha Koatnoi. The competitive streak and the craze to get marks seems be reviled and appreciated with equal fervour. While Banku is not impressed by it, some others like Yanakrit see virtue in the system. "It inspires me to concentrate on my work seriously," he says.

Feeling free
India's generally tolerant milieu finds favour with students. Sumyia from Yemen has this to say: "Here people are very open. My country is very conservative – we follow one tradition and one religion. Girls cannot move around freely – veil is must in our religion."

Looking inwards
And there are warning bells too. According to architecture student Kerolin Govender, a fourth generation South African citizen fascinated by India since he was a child, there is a distinct threat of India losing its culture. "Many find it weird that I do Carnatic music," he says. "Everyone seems 'westernised'. I'm not saying it's a bad thing, but once you lose your cultural roots, it's hard to get it back is his ominous warning.

The opportunities
"Interacting with foreign students in classrooms develops global outlook and overall personality," says Mukul Priyadarshini from India who is doing MA International Relations at JNU. But attracting foreign students is a long and onerous journey. The nation, which sends one of the largest contingent of students overseas, is yet to turn its gaze inwards. We still do not have a complete ecosystem that attracts hordes of students. Most foreign students find that they do not get opportunities for work after they complete the courses. "It's sad that international students don't really get internships,' opines Lukunga from Congo. "As for the word 'foreigner' it is time we changed it to 'International' because the term 'foreigner' sounds strange and alien," feels Bikash Kumar Mishra, a scholar at JNU and president of the Foreign Students Association. "The global classrooms should encourage students to have a liberal outlook of the world," he concludes.

Based on interviews done by Merril Diniz, Shiphony Pavithran Suri, Shipra Goel and Ragini Shankar