What is ACT: Know about the ACT college readiness assessment


American College Testing, popularly known as ACT, offers various solutions and products for improving the college and career readiness of students. One of the most popular services offered by it is the ACT college readiness assessment which is a curriculum and standards based educational and career planning tool that assesses students' academic readiness for college. The ACT test scores gauge a student's learning throughout high school and provide colleges and universities with information for recruiting, advising, placement and retention. Rather than being an IQ test, ACT is an exam whose questions are directly related to what students have learned in high school courses.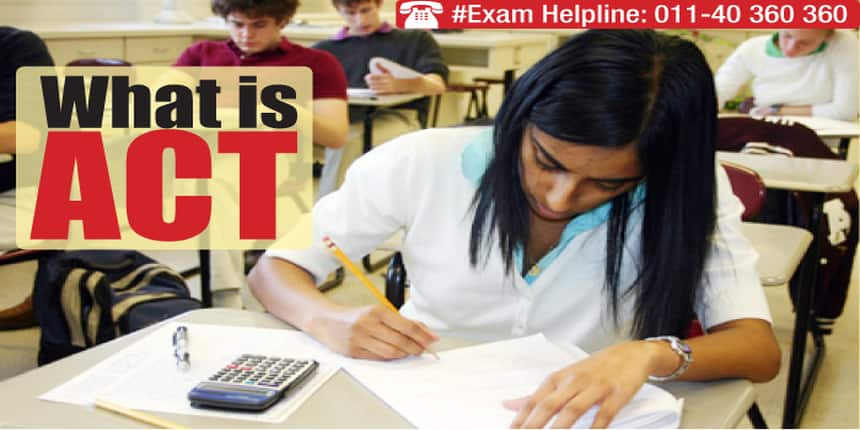 ACT was administered in November 1959 as a competitor to SAT, which still remains its major rival. Today ACT is accepted by all four-year colleges and universities in the USA and is administered in many countries across the world.
Want to study in USA? Register now to get a call back for expert guidance.
ACT Test Format
The ACT exam consists of four multiple-choice tests: English, Mathematics, Reading and Science. The average of the scores in these four subjects makes the composite ACT exam score. The student also has the option to take an ACT Writing test which does not add to the composite score. The following table provides a brief picture of the ACT test.
| | | | |
| --- | --- | --- | --- |
| Test Section | Number of Questions | Time allocated | Test Content Description |
| English | 75 questions | 45 minutes | Measures standard written English and rhetorical skills |
| Mathematics | 60 questions | 60 minutes | Measures mathematical skills students have typically acquired in courses taken up to the beginning of grade 12 |
| Reading | 40 questions | 35 minutes | Measures reading comprehension |
| Science | 40 questions | 35 minutes | Measures the interpretation, analysis, evaluation, reasoning, and problem-solving skills required in the natural sciences |
| Optional Writing Test | 1 prompt | 30 minutes | Measures writing skills emphasized in high school English classes and in entry-level college composition courses. |
ACT Test Registration
Students who are taking this test outside the USA, U.S. territories, Puerto Rico, or Canada must register online. Steps to follow for ACT test registration:
Establish a free ACT Web account.

After providing the information requested to create the account, click the "Register to Test" link and follow the instructions on the Web screens to complete the registration.

Payment must be made by valid credit card.

Candidates, who have missed the late registration deadline, can request standby testing online.

Candidates, who cannot find a test center within 75 miles of their home, or need a Sabbath/Sunday test center and one is not established within 75 miles of their home on all test dates, can check the requirements for Arranged Testing.
ACT Test Fees
The ACT (No Writing) fee is $36.50 which includes reports for the examinees, examinees' high school, and up to four college choices (if valid codes are provided when during registration). Students opting for the ACT Writing test need to pay an additional fee $16.00 which is refundable, on written request, if candidates are absent on test day or switch to the ACT (No Writing) before testing begins.
Some additional registration fees and services for the ACT test are:
5th and 6th college choices: $12.00 each




It must be requested online before the test date, and is refundable on written request, if candidates do not test.

Telephone re-registration: $14.00

Standby testing: $45.00




It is refunded if candidates are denied admission to the test center on test day, or if candidate's registration was cancelled if no photo was provided.

International testing (required outside the U.S. or Canada): $33.00

Test date change: $22.00


It is valid only if candidate is absent or unable to test on the original test date or if his/her registration is cancelled for failure to meet ACT's test security requirements. If candidates request a test date change after the regular deadline for the new date, they must also add the late fee.

Test center change (For the same test date): $22.00
ACT Test Dates
ACT is offered four to six times a year, depending on the state, in USA, in September, October, December, February, April, and June. The test can also be taken in other countries but the availability of ACT test centers as well as test dates is much less.
Questions related to ACT
Showing 101 out of 101 Questions