Student Visa Norms for Various Countries and Universities – Study Abroad Visa Norms, Documents, Visa Interview
One of the important factors to be looked at for study abroad are the various visa norms for various countries and universities. Most students do not realise the importance of knowing the visa norms for various countries and universities while applying. In an interview with Careers360, Adarsh Khandelwal, Co-Founder, Collegify talks about visa norms along with tips on visa interviews, what to do when facing visa rejection and more. Check the details on visa norms while applying to study abroad.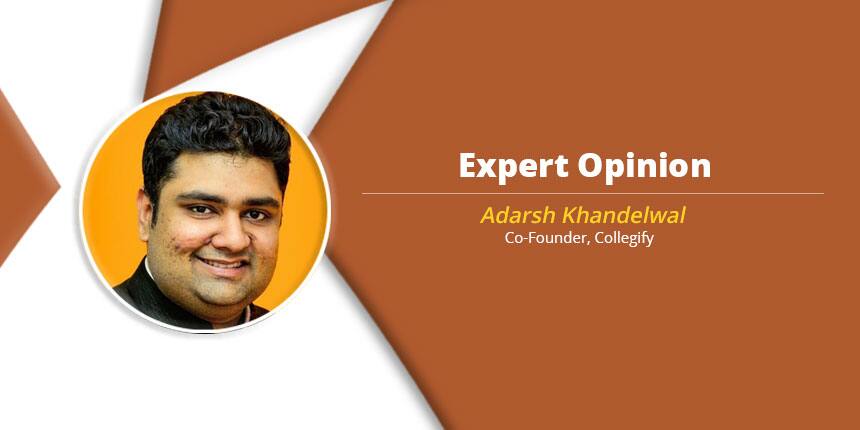 Adarsh Khandelwal, who is Co-Founder of Collegify and a recipient of the Stanford Teacher Tribute in 2018, has more than a decade of experience guiding students with their international applications, admissions and scholarships.
Careers360: How does any student get to know the visa norms for the countries he/she plans to apply to?
Adarsh Khandelwal: While working towards overseas college applications most of the students stand unaware of the visa information. However, when one receives these admits, the university facilitates each and every student with a step by step guide to how one needs to work towards the paperwork. Additionally, there are various online sources that can be looked up for reference. An example is visaguide.world; it helps provide country wise specific information for each and every visa related issue.
Owing to the recent conditions of the global pandemic outbreak, universities are advising students on specific changes and new norms for the visa with detailed guidelines depending on the country.
Lastly, there are professionals/experts who can help you kickstart the process. However, before approaching such professionals and experts, it is always viable to check references and other details.
Careers360: Does the University in general help out with the visa and entry queries that normally come to students applying to it?
Adarsh Khandelwal: When it comes to the university, primordially, they help provide the documentation required to apply for the student visa such as i20 for the US, and the admission letter stating the acceptance of the admit. Moreover, universities also provide help to students regarding this particular element of the process as well. They provide the necessary documentation along with the guidelines.
However, its important, as an applicant, to speak to a few people who have gone through the process (in their own network) and get their documents verified by professionals to ensure all the documents are in check.
Careers360: How does any student know what documents to submit for the visa approval?
Adarsh Khandelwal: The list of documents for the Visa requirements can easily be found online. Some general documents required in addition to those are:
A valid Passport

Offer letter from the university

Financial proof/income statement for last three years.

A minimum bank balance/ FD is also required; cash in bank for some specific countries.
For some countries, it's also important to show proof that you are going to return and not become an immigrant.
Careers360: How do the visa norms differ from country to country? Please explain with some examples.
Adarsh Khandelwal: The Visa norms vary for various reasons. Some could differ with the time that the application would take to get the visa approved or may require additional documentation.
For instance, while applying to the USA or the European countries, you should ideally showcase proof that you wish to come back to your native country displaying that you have no reason not to come back once your education has completed. This can be primarily be shown via financial investments and the duration that you have stayed in your native country. Whereas, in Canada you wouldn't require any such proof and can talk about your plans of settlement upon graduating
Careers360: Where should one check for all details of the visa regulations?
Adarsh Khandelwal: When it comes to the visa requirement checklists, the ideal way to go about it should be to consult on the country website or the embassy website. On these, resources are available for specific requirements that will guide you through the process. However, you may also seek help from immigration consultants that are near you by searching online. While doing this, it is of utmost importance to get some references to be able to understand their services better and employ them thereon.
Careers360: Who should one approach in case of any issues while applying for a visa or otherwise?
Adarsh Khandelwal: While you face issues during the visa, ideally consulting with representatives at the embassy/consulate is the best way to move forward. Thus, the first point of contact ideally should be the embassy. However, if the issues are related to certain documentation, and the requirements, one can also look forward to asking their overseas education consultants or their Immigration consultants.
Careers360: In light of the pandemic and the continuing problems, many countries are again closing their borders. How will this affect the visa applications and what should students do in such a case?
Adarsh Khandelwal: While the global pandemic has had a significant impact on the travel and attending in person programs for various countries, with the un-lock processes have begun, the embassy and consulates have started functioning, keeping in tandem with the requirements of social distancing. Moreover, a lot of countries have opened international borders for visitation. Lastly, governments of various countries are welcoming towards international students and have made necessary changes in tow with the pandemic life.
However, some countries (for instance Australia and New Zealand) have shut their international borders. However, issuance of visas for online courses have been available, but the process hasn't been changed.
Careers360: How does one prepare for the interviews associated with visa approvals?
Adarsh Khandelwal: Preparing for a visa interview is similar to that of a job interview. A Visa interview is a formal ordeal and one has to think and be well versed about their profile. Apart from that, one can prepare for some basic questions before the interview such as:
How many universities did you apply to?

To which universities did you get admitted?

Why do you want to study in the ____ (country)?

Can you tell me some details about your chosen university?

What is your GPA percentage?

Have you been to the _____ (country) before?

What are your plans after graduation?

Did you receive any scholarships?

Who will finance your studies?

Do you have any relatives in the _____ (Country)?
Careers360: What should one do if the visa is rejected?
Adarsh Khandelwal: If one is declined for a visa, most of the times, the students are notified about the section of law which applies and the reason for the rejection. Moreover, visa applicants are also advised by the consular officer if they may apply for a waiver of their ineligibility. Please find the reason for your rejection and make sure in the very next meeting - you have it all covered.
Careers360: How to avoid visa rejection?
Adarsh Khandelwal: Some steps to take can be summed as follows
Complete Documentation: Before going ahead with the interview, prepare all the documents as per the checklists that you have for each country and keep these documents handy as they will be required. These include income statement, university acceptance letter, i20 document, etc.

Professional Dressing: While approaching for the interview, you must focus on one thing – "First impressions" are lasting; especially in a formal setting. Thus, it is advisable to wear formal attire.

On point answers: While fluent English is an added bonus, one must also keep the answers crisp, concise, and to the point. You as an applicant must also keep in mind that the answers should cover each and every element of the question asked. You should avoid giving ambiguous answers.

Honesty: The answers that you give will have to be honest. Additionally, the answers should also not sound rehearsed or like sermons or preaching. Give candid answers that showcase the answers in your application.

School/University details: Since you are the one deciding on a particular university or school, you need to make sure that you are well-read and researched about the university/school and are able to deliver your reasons for attending the same.

Committing to the education plan: Sometimes, as a student, we might have average or low scores. In that case, we must also showcase to the consular officer about our seriousness towards our education plans and how we plan on succeeding in the same. Sometimes, it is a good idea to have a letter of recommendation from professors explaining how the programme you are applying to is in tandem with your goals.
Have any queries? Write to us at info@careers360.com.
Student Visa Norms for Various Countries and Universities – Study Abroad Visa Norms, Documents, Visa Interview