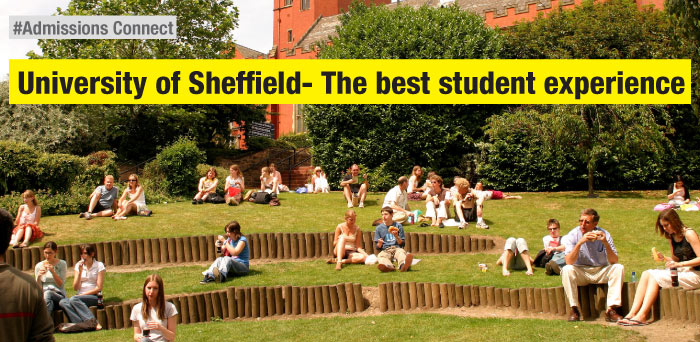 Ranked in the first place by the Times Higher Education for the best student experience in the world, the University of Sheffield offers a unique, multicultural environment for students to nurture their academic as well as cultural aspirations.

Widely known as a research intensive institute, the university is a member of the Russell group and is popular as one of the original red brick universities in UK.
"Our coursework is designed to impart the core knowledge of any subject to the student, while at the same time ensuring the students can choose their own specialisations by opting for the optional modules," says Ms Katy Woodford, International Officer at the University.


In this series of #Admissions Connect, Ms. Woodford decodes the University of Sheffield for you. Know all about the admissions criteria, popular courses and the admission cycle of the University of Sheffield.
Q. What is the strength of the international student community in the university? What about Indian students?
A. There are currently 26,000 international students from over 128 countries studying in the University of Sheffield and we have 300 Indian students in Sheffield who are pursuing various courses in the university.


Q. What is unique about your university in terms of academic culture and overall student experience?
A. The uniqueness of the University of Sheffield lies in the creative freedom accorded to the students in their pursuit for knowledge. Our coursework is designed to impart the core knowledge of any subject to the student, while at the same time ensuring the students can choose their own specialisations by opting for the optional modules. Being a member of the prestigious Russell Group of Institutions, research and practical knowledge is encouraged and promoted, and our state-of-art-research facilities provide our students the outlet for their innovative ideas. This is due to the unique blend of expertise, supportive infrastructure and industrial exposure offered; our campus which houses state-of-the-art labs and research centres that operate in collaboration with industrial bigwigs whereas our faculty are amongst the leaders in their respective fields. We also have a lot to offer in terms of student experience. We are currently number one for Student Experience in the Times Higher Education Student Experience Awards, 2014-15.


We have a lot to offer in terms of student experience. Located near the border of England and Scotland, we are in the north of England! Sheffield has a unique, multicultural heritage which is evident in its history and everyday life. It is home to two well-known football teams in the UK, Sheffield Wednesday and Sheffield United; the atmosphere during a local derby is quite fantastic. Artistically minded people may visit famous examples of Victorian and modern architecture. A vibrant theatre scene at the famous Crucible and Lyceum runs a host of shows from West End musicals to operas and ballets, whereas the Site Gallery is a favourite amongst art lovers. Our student union is voted the best students' union in the UK, and provides ample opportunity to students wanting to pursue their extra-curricular interests.
Q. What are some of the popular programmes among students? What about Indian students?
A. Amongst the many programmes opted by Indian students, the engineering, technical and management courses are the most popular amongst Indian students; the department of Automated Control and Systems Engineering, Triple Crown accredited Sheffield Management School, and School of Architecture are amongst those which receive the highest applications every year.


Q. What are the admission criteria for international graduate students?
A. Admission criteria depend from programme to programme; however for international students it is vital to include a qualification considered by the UK government to be a Secure English Language Test (SELT), like IELTS and Pearson Test of English Academic (PTE Academic).
Q. When do applications open?
A. For undergraduate courses, the students must apply through the UCAS website.
Overseas students have to submit their applications (except Medicine and Dentistry) between 1stSeptember and 30th June. And Applications for Medicine and Dentistry courses must be submitted between 1st September and 15th October.
Early applications for Post Graduate Taught Masters Degree Programmes are recommended for September intake.
Q. Does your school offer financial aid to international students, particularly Indians? Please elaborate.
A. Every Indian student is granted an automatic £1250 - £2500 scholarship, depending upon the course. There are also five Indian merit undergraduate scholarships and 10 Indian merit postgraduate scholarships offered every year to undergraduate and post-graduate students, which covers 50% of the annual tuition fee. Apart from that, the University of Sheffield is also a part of the British Council's GREAT Scholarship initiative, which offers around 400 scholarships worth 1.5 billion pounds for Indian students.
Q. Many foreign students are worried about leaving the country because they do not know whether they will be able to find work to pay off their student debts. Do you guide your students in finding internships and jobs?
A. Sheffield students are given the maximum assistance in terms of placements through various partnerships with heavy-weights like Boeing, Rolls-Royce, Glaxo Smith-Kline, Siemens, AstraZeneca, ICI, Slazenger, Unilever and many more well-known names, as well as overseas government agencies and charitable foundation. Students can not only opt for industry training but also can secure themselves a job while performing at their best during their industrial training. Industrial trainings help them accrue valuable work-experience and give them an edge when appearing for a job.

Undergraduate students can graduate with a 'degree with employment experience' by spending and a serving a year in industry. The Employability Hub within Sheffield University Management School supports students who are looking for placements through week-long skills sessions with alumni, employers and professional bodies to improve their employability skills. The Faculty of Engineering has long-term partnerships with a wide range of companies, both for research facilities and for the recruitment of worthy students.
Stay tuned to www.studyabroad.careers360.com for more stories on Admissions Connect