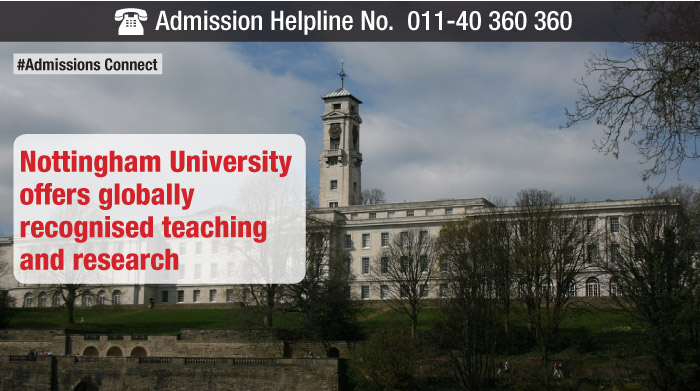 Founded in 1881, the University of Nottingham is a founder member of the prestigious Russell Group of Universities in the UK with focus on maintaining high levels of academic excellence in both teaching and research. The university has a thriving international community across its campuses and has links to more than 300 partner universities in over 40 countries.
In this series of #Admissions Connect, we have the admissions team of the University of Nottingham decoding the university for you. Know all about the admissions criteria, popular courses and the admission cycle of the University of Nottingham.
Below are the edited excerpts:
Q. What is the strength of the Indian student community in the university?
A: The University of Nottingham has a thriving Indian student community. We currently have 785 students from India studying at the University of Nottingham, as well as an active alumni community across India.
Q. What is unique about your university in terms of academic culture and overall student experience?
A: The University of Nottingham is a founder member of the Russell Group, a group of leading UK universities committed to maintaining the highest levels of academic excellence in both teaching and research. Nottingham's position as a world-class university is confirmed by its ranking in the global league tables. We are ranked in the world's top 75 universities by the prestigious QS World University Rankings, placing us in the top 1% of universities internationally, and ranked in the world's top 100 universities by Shanghai Jiao Tong University's Academic Ranking of World Universities 2013, which also ranks us as among the top 10 universities in the UK.
Nottingham's student experience is a truly international one, with students and staff from over 150 countries, globally-recognised teaching and research, our pioneering overseas campuses in China and Malaysia, links to more than 300 partner universities in over 40 countries, a wide range of opportunities to study abroad, and strong links to businesses and employers worldwide. Our students' union is one of the most active in the UK, offering over 200 societies, including many national, religious and cultural societies, and a diverse range of sports, hobbies and interests.
Q. What are the admission criteria for international graduate students?
A: Our Taught Masters programmes with a UK 2:1 entry level require an Indian bachelors degree with a minimum of 60-75% average or a CGPA of 6.0-7.5 out of 10 from a recognised institution. The exact score required will depend on the institution you have studied at and the course you have applied for.
Q. When do applications open?
A: The majority of undergraduate and postgraduate courses commence in September. Applications can be made from October the previous year. Undergraduates can apply through UCAS, whilst postgraduates can apply directly via our website.
Q. Does your school offer financial aid to international students, particularly Indians? Please elaborate.
A:  The University of Nottingham has a huge scholarship portfolio for international students which aims to promote academic excellence and encourage diversity among our student body. Of particular interest to Indian students is our Developing Solutions Masters Scholarships. Over 100 full or half tuition fee scholarships are awarded each year to students who want to make a difference to their home countries.
Q. Many foreign students are worried about leaving the country because they do not know whether they will be able to find work to pay off their student debts. Do you guide your students find internships and jobs?
A: According to independent research, the University of Nottingham is most often targeted by Britain's leading graduate employers (The Graduate Market in 2014, High Fliers), and is a world top 30 choice for employers (QS World University Rankings by Employer Reputation 2013). Around 2,000 employers approach the university every year with a view to recruiting our students, and 91% of our international and European Union students who graduated in 2011/12 gained employment or moved on to further study after graduating.
The university's Careers and Employability Service provides dedicated careers guidance and support to our students and alumni, while seeking work during or after their studies. Resources available from the Careers and Employability Service include listings of graduate vacancies and internships, assistance in finding part-time and vacation work during your course (through the university's recruitment agency, Unitemps), and a range of webpages and online resources for international students.
The International Office website includes guidance on working in the UK, both during and after your studies, including regulations which may apply to you while working on a student visa, and details of visas available for working in the UK after your degree course.
The Graduate School supports all postgraduates at the University of Nottingham, providing training and development opportunities, workshops and events, help with funding, and dedicated Graduate Centres for postgraduate students. The Graduate School also works with local employers and organisations to provide a variety of placements and internships for postgraduate students.
Also Read:
Education in Ireland: Why you should make Ireland your study abroad destination