UK Universities admission calendar 2013-14
The UK Universities admission calendar 2013-14: The UK is one of the most attractive study abroad destinations for the students across the globe for decades. The major reason is that the country has a number of oldest universities in the world. Every year a large number of students from across the world go to the UK for higher studies. In order to help the students to find a place in their dream university in the UK, we are providing the study abroad calendar 2013-14 for the top universities in the UK.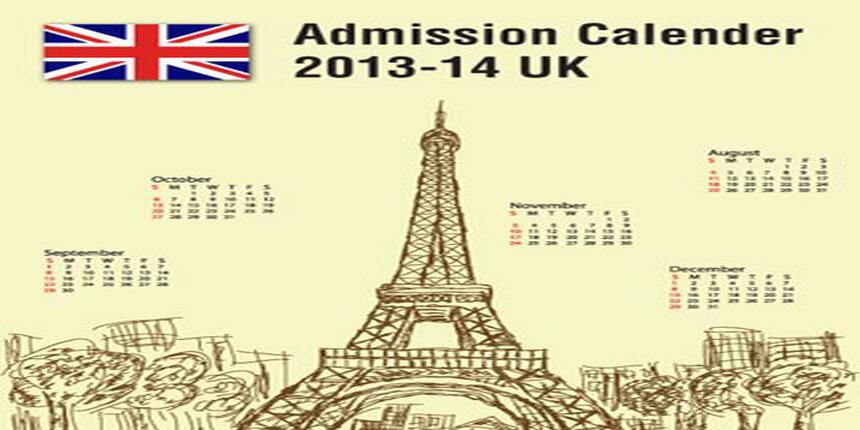 The UK universities admission calendar gives the students all the useful and important information, especially the admission dates of UK universities. The information contains the application start date, application end date and the result announcement date for various courses such as engineering, medicine, law, humanities etc. The study abroad admission calendar-UK 2013-14 is the perfect guide for the aspiring study abroad students.
The below given table provides the information about the UK admission calendar 2013-14:


| | | | | |
| --- | --- | --- | --- | --- |
| University/Institute | Level of Study | Application start date | Application end date | Result announcement |
| University of Oxford | UG/PG | September | 15 October/January | Mid January |
| University of Cambridge | UG/PG | N/A | October | End of January |
| Imperial College London | UG/PG | N/A | October 15/July 30 | N/A |
| University College London | UG/PG | September 01 | January 15 | N/A |
| University of Edinburgh | UG/PG | September 01 | October 15 | N/A |
| London School of Economics and Political Science | UG/PG | September 01 | Rolling Admissions | Rolling Admissions |
| University of Manchester | UG/PG | September 01 | June 30 | N/A |
| King's College London | UG/PG | September 01 | June 30 | N/A |
| University of Bristol | UG/PG | September 01 | Mid October | N/A |
| Durham University | UG/PG | September 01 | N/A | N/A |
| University of York | UG/PG | September 01/October | January 15 | N/A |
| University of St Andrews | PG | September | N/A | N/A |
| University of Sussex | UG/PG | September | N/A | N/A |
| University of Sheffield | UG/PG | September | May 01 | N/A |