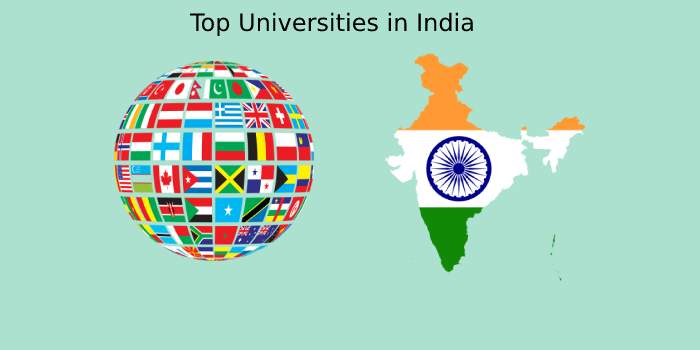 Top Indian Universities 2018 - India is slowly cementing its place as an emerging study destination for the international student community. The country draws a considerable number of international students from the neighbouring countries like Nepal, Sri Lanka, Bhutan, Bangladesh, Afghanistan and China. A sizeable number of students also come from central and east African countries to pursue a quality education at the top universities in India at an affordable tuition fee. Students from other countries apart from the above-mentioned countries also make their way to study in top Indian universities, drawn by its rich cultural heritage. Careers360 list down the top Indian universities 2018 ranked by the three well known ranking agencies.
According to World University Rankings 2018, Indian Institute of Technology Delhi, at 172 rank, is the most celebrated education hub - according to the Quacquarelli Symonds ranking 2108. The institution was ranked at 185 in 2017 QS rankings. IIT Delhi is followed by Indian Institute of Technology Bombay (179) and Indian Institute of Science (IISc) Bangalore(190). In the Times Higher Education (THE) tables, Indian Institute of Science (IISc) Bangalore leads the Indian universities at 251 –300, the institution has lost its 2017 position of 201 – 250.  The other top Indian universities 2018 which feature in the top 500 are Indian Institute of Technology Madras (IITM), Indian Institute of Technology Kanpur (IITK), Indian Institute of Technology Kharagpur (IIT-KGP), Indian Institute of Technology Roorkee (IITR) and University of Delhi.
The QS 2018 rankings feature 20 Indian institutions and THE ranks 42 institutions, while ARWU 2018 rankings feature Indian Institute of Science, Bangalore (IISc) at 301– 400.
For the detailed status of top Indian universities 2018 in World University Rankings 2018, aspirants may refer to the table given below, which is compiled with reference to the top 500 of the latest ranking league tables published by the following notable agencies:
Times Higher education (THE)

Quacquarelli Symonds (QS)
Top Indian Universities 2018
S.No

University

QS Rank

THE Rank

ARWU Rank

2018

2017

2018

2017

2017

2016

1

Indian Institute of Technology Delhi

172

185

501–600

401–500

--

--

2

Indian Institute of Technology Bombay

179

219

351–400

351–400

--

--

3

Indian Institute of Science (IISc) Bangalore

190

152

251–300

201–250

301-400

301-400

4

Indian Institute of Technology Madras

264

249

601–800

401–500

--

--

5

Indian Institute of Technology Kanpur

293

302

501–600

401–500

--

--

6

Indian Institute of Technology Kharagpur

308

313

501–600

501–600

--

--

7

Indian Institute of Technology Roorkee

431-440

399

501–600

501–600

--

--

8

University of Delhi

481-490

501-550

601–800

601–800

--

--

9

Indian Institute of Technology Guwahati

501-550

481-490

601–800

601–800

--

--

10

Jadavpur University

601-650

--

601–800

501–600

--

--

11

University of Hyderabad

601-650

--

--

--

--

--

12

Anna University

651-700

--

--

--

--

--

13

Manipal Academy of Higher Education

701-750

--

--

--

--

--

14

University of Calcutta

751-800

651-700

801–1000

601–800

--

--

15

Aligarh Muslim University (AMU), Aligarh

801-1000

--

 

601–800

--

--

16

Banaras Hindu University

801-1000

701+

601–800

--

--

--

17

Birla Institute of Technology and Science, Pilani

801-1000

--

--

--

--

--

18

Panjab University

801-1000

701+

601–800

601–800

--

--

19

University of Mumbai

801-1000

701+

--

--

--

--

20

Savitribai Phule Pune University

801-1000

701+

601–800

601–800

--

--

21

Aligarh Muslim University (AMU), Aligarh

--

--

601–800

--

--

--

22

Indian Institute of Technology (Indian School of Mines) Dhanbad

--

--

601–800

--

--

--

23

National Institute of Technology Rourkela

--

--

601–800

601–800

--

--

24

Tezpur University

--

--

601–800

601–800

--

--

25

Amrita University

--

--

801–1000

> 800

--

--

26

Andhra University

--

--

801–1000

> 800

--

--

27

Annamalai University

--

--

801–1000

--

--

--

28

Birla Institute of Technology and Science, Pilani

--

--

801–1000

601–800

--

--

29

Cochin University of Science and Technology

--

--

801–1000

> 800

--

--

30

Jamia Millia Islamia

--

--

801–1000

--

--

--

31

University of Kerala

--

--

801–1000

--

--

--

32

Osmania University

--

--

801–1000

> 800

--

--

33

Pondicherry University

--

--

801–1000

--

--

--

34

Sri Venkateswara University

--

--

801–1000

601–800

--

--

35

Thapar University

--

--

801–1000

--

--

--

36

VIT University

--

--

801–1000

> 800

--

--

37

Amity University

--

--

1001+

> 800

--

--

38

G.B. Pant University of Agriculture & Technology, Pantnagar

--

--

1001+

--

--

--

39

GITAM University

--

--

1001+

--

--

--

40

Jawaharlal Nehru Technological University Anantapur (JNTUA)

--

--

1001+

--

--

--

41

Maharaja Sayajirao University of Baroda

--

--

1001+

> 800

--

--

42

Manipal University

--

--

1001+

> 800

--

--

43

University of Mysore

--

--

1001+

--

--

--

44

PSG College of Technology

--

--

1001+

--

--

--

45

SASTRA University

--

--

1001+

> 800

--

--

46

Sathyabama University

--

--

1001+

> 800

--

--

47

SRM University

--

--

1001+

> 800

--

--

48

Tamil Nadu Agricultural University

--

--

1001+

--

--

--
Also read,
Top Universities in the World 2018