TOEFL Essentials Test: Srikant Gopal Interview, Executive Director TOEFL Program, Educational Testing Service
Administration of TOEFL Essentials test commenced on August 21, 2021. The latest addition to the TOEFL family, the TOEFL Essentials test is designed to be used in college admissions and in determining English proficiency. Careers360 talks to Srikant Gopal, Executive Director TOEFL Program, Educational Testing Service to find out the special features of the TOEFL Essentials test, what differentiates it from the TOEFL iBT test, the pattern of the test and more.
Stay up-to date with TOEFL News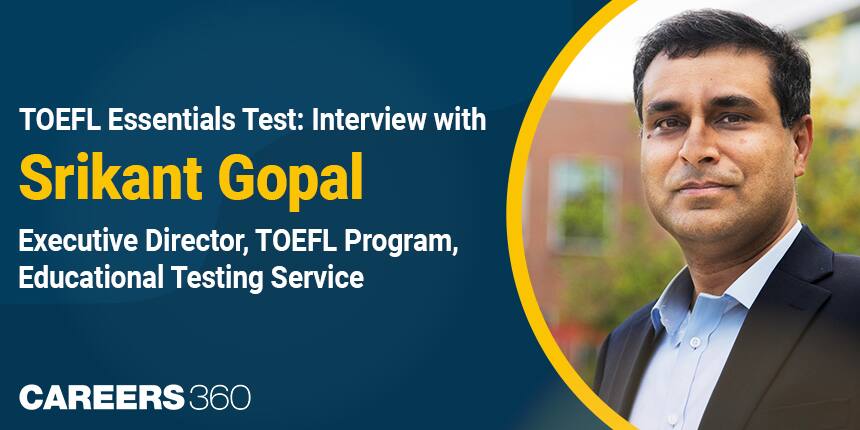 Srikant Gopal, a graduate of BITS Pilani and an MBA from Indiana University, USA has a vast experience across North America, Europe, Asia Pacific and Latin America, combining marketing and business experience with a passion for education and student development. He is also a part-time educator and teaches a course on Economics and Ethics at the Philadelphia Ethical Society. Read on to know more about the TOEFL Essentials test.
Q. What is the TOEFL Essentials test?
A. The TOEFL Essentials test is an English-language proficiency test that measures foundational elements of English proficiency essential for communication in both academic and general (daily life) contexts and is designed for use in high-stakes college admissions, while versatile enough to be used for other purposes as well.
Q. Please give some details about the TOEFL Essentials test pattern and subjects. How is it used by institutions for assessments?
A. The test covers the four core language skills – reading, listening, writing and speaking. It also provides institutions with valuable expanded insights into applicants' skills beyond academic English settings (e.g., for interviews and internships), through components such as writing and speech samples and a short unscored Personal Video Statement.
The test costs approximately Rs.7,300 (100 USD). Duration of the test is roughly 90 minutes and is administered to students from the comfort and safety of home in a friendly, engaging and convenient format. It is conducted with the same rigorous human proctored security that has been successfully established with the TOEFL iBT Home Edition.
Q. What differentiates the TOEFL Essentials test from other English language tests?
A. The TOEFL Essentials test is the first English-language test that offers the ideal combination of the quality institutions expect with the affordable access students want.
While there are a few characteristics of other English-language tests that are comparable to the TOEFL Essentials test, such as those with a mix of academic and general English content, or one that has a convenient and affordable testing option, the TOEFL Essentials test is the only current option to offer all of these elements and more, while also maximizing quality, especially as it relates to the thoroughness of the design, development, delivery, scoring and security processes in place to make it a valid and reliable measure of English-language proficiency.
Q. How does the TOEFL Essentials test compare/contrast to the TOEFL iBT test? How should test takers decide between the two?
A. The TOEFL Essentials test is the second high-stakes English-language proficiency test within the TOEFL Family of Assessments – joining alongside the gold standard TOEFL iBT test, the world's most accepted and preferred English-language assessment. The TOEFL Essentials test has a unique and distinct design that makes it the perfect complement to the TOEFL iBT test. Each test is a complete and comprehensive test and so either test can be used on its own for university admissions or other purposes.
Both the TOEFL Essentials and TOEFL iBT tests are high quality, valid and reliable measures of English-language proficiency that measure the four core language communication skills and can be used for high-stakes admissions decisions.
In addition, there are a few underlying distinctions between the two, namely around their approach to English proficiency measurement, design and test taking experience.
Differences between The TOEFL Essentials test and The TOEFL iBT test
| | |
| --- | --- |
| The TOEFL Essentials test | The TOEFL iBT test |
| The TOEFL Essentials test measures foundational elements of English proficiency that indicate how test takers would function in both academic and non-academic contexts | The TOEFL iBT test is a comprehensive and direct measurement of communication in an academic context |
| Duration: 1-1/2 hours long | Duration: 3 hours |
| Contains a mix of roughly 50% academic content and 50% general content, with an additional 5-minute unscored Personal Video Statement consisting of two questions. It also has a multistage adaptive design, meaning it adjusts to test takers' skill level | Contains 100% academic content, which features test items in integrated sets that simulate actual classroom communication |
| Delivered to students from the comfort of home | Delivered both at home (TOEFL iBT Home Edition) and in person |
| Short, fast-paced tasks and an energetic experience | Fewer, longer, interconnected tasks typical of an academic environment |
Indian test takers have shown a strong interest in at home tests, especially because of the availability and convenience that is enabled by on-demand testing from home.
There are several factors that may play into a test takers' decision of which test to take, such as what kind of student they are, the style of test, what it measures and how it will help them stand out, to name a few. I would recommend test takers visit the "Which TOEFL Test is Right for Me?" section of the TOEFL website to learn more.
Q. What testing options does the TOEFL Program offer for university admissions and immigration?
A. The TOEFL Program now has two quality test options that can be used for university admissions, immigration and other high-stakes decisions. The TOEFL iBT test has cemented its place as the gold standard in the international admissions space, and with the innovative and versatile TOEFL Essentials test, we are expanding the portfolio to allow students to choose a TOEFL test that best meets their testing style and preferences. Both the tests can help students get to where they want to go, and we are thrilled to continue the TOEFL heritage of quality and fairness to help advance the educational journeys of students around the world.
Q. Will the TOEFL Essentials test eventually replace the TOEFL iBT test? Or will test takers need to take both tests?
A. The simple answer to both questions is no! The brand new TOEFL Essentials test is designed to be distinctly different from the TOEFL iBT test. By adding this test to the TOEFL product portfolio, test takers around the world can select the option most suitable to their testing style to demonstrate their command over the English language and do their best, while institutions can utilize the test to attract new qualified applicants for their programs.
The TOEFL iBT test (including the TOEFL iBT Home Edition) will always be offered as the flagship, gold-standard English-language test in the TOEFL Family of Assessments. The TOEFL Essentials test will provide an additional option for test takers to demonstrate their English proficiency. Simply put, both of these tests have a place in our English-language testing portfolio, and both are valid and reliable options for demonstrating English proficiency.
Q. How should test takers prepare for the TOEFL Essentials test? Is TOEFL iBT preparation material sufficient for TOEFL Essentials too?
A. ETS offers three TOEFL Essentials official practice tests that enable test takers to get acquainted with the different question types for each test section. Given that the TOEFL iBT test and TOEFL Essentials test have unique and distinct test designs, we recommend test takers use the prep specifically developed for the test they're interested in. However, both can serve as a helpful resource to improving overall English-language skills. There are a variety of other unofficial ways for students to practice their skills prior to test day on either test, such as reading texts or watching movies in English, recording oneself speaking in English and taking notes in English after reading an academic article or listening to a recorded lecture. As TOEFL Essentials becomes more established, test takers should expect to have access to an increasing pool of test preparation resources.
Q. When can students register for the TOEFL Essentials test?
A. Administrations began on August 21, 2021. Students who are interested in registering for the test can visit www.ets.org/mytoefl to create or log into their ETS account. Test appointments are available 24 hours per day, one day per week, with additional days to be added in the future.
Q. What are institutions saying about this test? Have any indicated their acceptance thus far?
A. We're hearing overwhelmingly positive feedback from institutions around the world about this new offering, and the list of institutions accepting the test is growing daily. For the most up-to-date information, students are encouraged to visit the Institutions Accepting TOEFL® Essentials™ Scores page on our website, which is being updated regularly as we hear from universities and programs worldwide.
Questions related to TOEFL
Showing 197 out of 197 Questions