Things to do after deciding to study abroad: Know the strategies to follow


In recent years, studying abroad has become an increasingly popular option. However, while many dream about it, only a few can make those dreams reality. Planning and preparation are the keys to the entire process. One can significantly increase his chance of being admitted to a great university abroad simply by focusing on the right things at the right times. Now that you've decided to study abroad, you must strategize.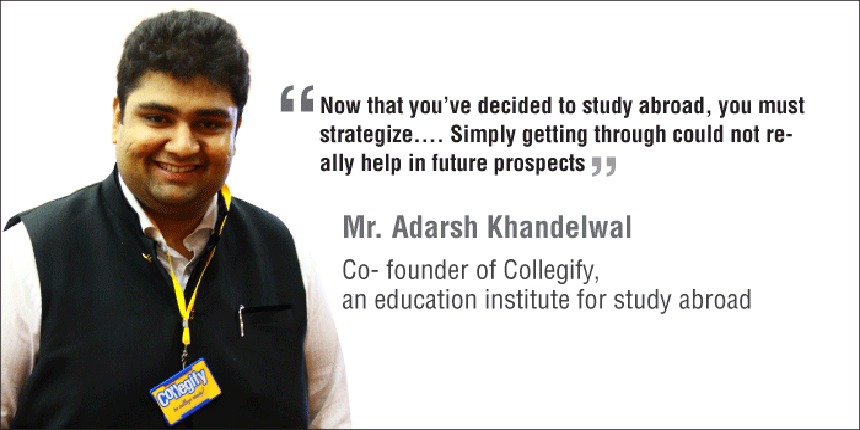 Study hard for the standardized tests (SATs, GRE, GMAT, TOEFL, IELTS, etc.). Prepare the essays carefully. Essays are a crucial component of the application and you need time for multiple drafts. Some universities require interviews before granting admission or scholarships. Prepare for the same and make sure to correspond regularly with admissions officers.
Studying abroad can be a fun and life-enriching experience. Before you embark on your journey to continue your studies abroad, you must factor in the cost of tuition as well as living expenses. Depending on where you go to school, you may be able to have your tuition partially or wholly funded with enough left to cover some living expenses. However, no matter how much you budget, you should provide yourself a cushion for unexpected expenditures.
Education costs are on the rise irrespective of economic environment, so scholarships help in any environment. It must be noted that almost all scholarships abroad are awarded on the basis of financial need and not purely merit. When you hear back from colleges regarding your acceptances, select a college and enroll well before the deadline. This usually requires the payment of a fee. Lastly, get your passport, visa and financial documentation in order along with health immunizations, health insurance, a credit card that works world over, and make your travel bookings.
Financially you can look at Singapore and Germany as costs are quite low compared to other study abroad destinations like the UK, USA, Canada, Australia, etc. In Singapore, the cost varies according to institute, course and duration. You might end up paying S$5000 to S$20000 approximately for 6 months-2 years Diploma courses, S$24000 to S$55000 approximately for 2-4 years Bachelor degree course and S$18500 to $30000 approximately for 1-1.5 year Master degree course. If you are pursuing 5 years Medical or Dental course in Singapore, you might end up paying subsidized tuition fee with an obligation to work for 3 years in Singapore under The Tuition Grant Bond. Loans are always an option. To apply for scholarships, one requires an IELTS score of minimum 6.5. There are 27000 Indian students in Singapore and it has no plans for regulated increase because of controls in higher education. Germany has no such restrictions or any quotas for nationalities, gender, etc. The sole criterion of selection is academic excellence as document by means of academic certificates, publications, patents, etc. Not to mention competition from other applicants.
But if you are looking at an MBA, then it is the USA you must look at. Within the Indian framework, there are only a handful of top management institutes providing the holistic business education required. Every school has its own unique culture, which often can mirror or complement your own working style and preferences. Do you like a school with a competitive atmosphere, for example? Perhaps this feeling brings out the best in your performance, with classmates pushing you to achieve your goals. Among the different specializations offered by the US B-schools are Marketing, International Business, Corporate Strategy, Operations Management, Finance, Accounting, Computer and Information Systems, Organizational Behavior and Human Resource Management.
There are a few factors critical in the admissions process to most leading business schools. B-schools in the US follow a very comprehensive evaluation procedure for admission. GMAT score, academic records, work experience, SOP, recommendation letters, participation in extra-curricular activities and interviews are some of the important bases that a candidate is evaluated on. Whether it is Harvard Business School, Stanford Business School, Columbia Business School, or MIT Sloan, the target is the United States if it's MBA on your mind as your next study course. With over 100 top leading business schools alone in the country, the United States is the leading business school centre. Over 80% of the candidates prefer the US as their study destination for MBA, with UK and Canada falling in second and third places.
Other options also abound. Rather than choosing courses as in a typical university program, you can choose a program planned around a central theme, such as university study abroad in the Amazon ecosystems of Brazil or university study abroad in the public health sector in South Africa. These programs often involve quite a bit of student travel and frequently take place while you study abroad in developing countries. Of course, there are just a few of the many options available out there.
If you're someone aspiring to apply to the very best schools in the world, what are the questions you should be asking yourself?
What do I want from this experience?

What are the options available?

What is the process to apply?

When is the right time to apply?

Where does one's focus lie within the premise of an application?

What are the financials involved in the entire process?
Initially, you are likely to be overwhelmed and confused with all that comes toward you. The first thing you need to do is to gauge whether a foreign education is for you -- academically and otherwise. Talk to students, alumni and possibly professors from the institutions you are considering to acquire an understanding of what you might be getting yourself into. Accordingly, think whether you would be interested in pursuing the option further. Next, talk to your parents and make your goals and plans clear to them while explaining to them the details, merits and demerits of the programs. You and your family need to take a hard look at finances and ascertain whether you will require external financial assistance or not.
Your higher studies degree from a foreign country opens the doors of unlimited career opportunities for you across the world. Before applying, students should check the authenticity of the university. Simply getting through could not really help in future prospects. Students should do their complete research. It's very important to see the background of the college and the last three years of recruitment procedure. Not to waste time, students are advised to start their research fifteen months prior admission.