Study in World Class Universities in Singapore
JOB OPPORTUNITIES

are a plenty for students in one of the coolest places to study
Singapore is one of the most sought-after study abroad destinations today.  Currently, there are close to 100,000 international students from 120 nations studying in Singapore. It has four local universities, and many leading international universities have set up their centres in the country.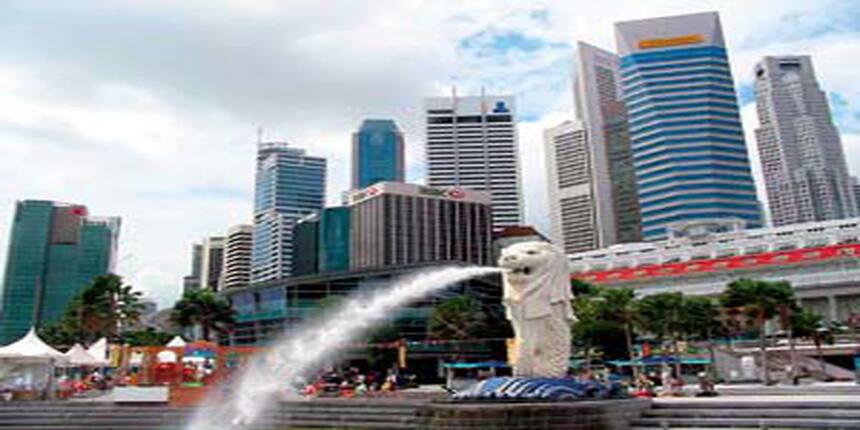 There are many schools like SIM University (UniSIM) which  provide university education to working professionals and adult learners by adopting a flexible learning approach to enable its learners to balance their career, family and studies. The Singapore Institute of Technology (SIT) provides an industry-focused university education for polytechnic upgraders, in partnership with the polytechnics and renowned overseas universities.
The Nanyang Technological University and National University of Singapore each have over 20,000 students and provide a wide range of undergraduate and postgraduate courses, including doctoral research programmes. Both top ranked universities are established research universities with thousands of research staff and graduate students. 
Many US, Canadian and European institutions have also established campuses in Singapore – a notable few are University of New Brunswick, Queen Margaret University, The City University of New York, University of Wales Institute, Cardiff, INSEAD, Chicago Booth School of Business etc. These provide local and foreign (in particular Asian) students the opportunity to get western university education at a fraction of the cost it would take to study in these countries.
While Accountancy and Business programmes are of 3 years duration, all other UG courses take 4 years. Dual degree programmes that allow students to graduate with 2 UG degrees take 4-5 years. Integrated courses where a UG student also gets PG, takes about 5 years.


Popular Singapore Institutes among Indian students
UNIVERSITIES
National University of Singapore (NUS) *
Nanyang Technological University (NTU)*
Singapore Management University (SMU)*
FOREIGN CAMPUSES
INSEAD
Duke University
SP Jain Centre of Management
Graduate education in Singapore
This comprises PhD, Master's and Graduate Diplomas. There are two categories: Course work with Dissertation, and Research. Strong international relationships and collaboration with leading global institutions allow students to study under faculty from both universities and also attend classes at both campuses. These include Singapore-MIT Alliance, Singapore-Stanford Partnership, Cornell-Nanyang Institute of Hospitality Management, Singapore-University of Washington Alliance in Bio-engineering and Financial Engineering with Carnegie Mellon University.


Admission Criteria in Singapore Universities
In order to get admission in Singapore universities, student must have completed at least 12 years of general education, or will be taking year 12 national exams in the year of application in order to be considered for admission.

Only SMU requires the SAT I scores. Submission of IELTS, TOEFL and SAT1 scores are optional at other schools; only scores obtained in the 3 years leading up to the application deadline are considered.

Some programmes are more selective and it is a good idea to check your eligibility before making an application.

SMU requires students to be at least 18 years of age by the commencement of the freshmen academic year.

Undergraduate education
Advantages of studying in Singapore
1. Low cost of education
It is significantly lower than that of many western countries while the education is at par. The government also provides tuition grants to international students. In return for the high subsidy given by the Ministry of Education, all international students are required to work in companies registered in Singapore for 3 years upon graduation to discharge some of their obligations to the Singapore tax-payers.
Most UG degrees cost between S$25,000 and S$30,000 per annum. But foreign students who receive grants could pay as little as S$11,000 per year! Besides tuition and miscellaneous fee for full-time programmes, the estimated monthly cost of living (boarding & lodging) is about S$1000.
2. Distance from India and safety
Located just four hours away by flight gives tremendous comfort to parents, and air fares are cheaper.  Also the lack of crime in Singapore promises a very safe environment.
3. Part-time work and work permit
A work permit is not required but students are only allowed to work a maximum of 16 hours a week in term time. Also, most students are guaranteed jobs upon their graduation if they have been granted a subsidy by the government.
4. Industry-relevant education
Singapore's education institutions maintain strong links with industry to ensure that courses stay industry-relevant. Eg:  DigiPen Institute of Technology offering animation courses has a tie-up with LucasArts.
5. Applying for Visa
The institute will assist the student in applying for the student pass. The Student Pass application must be submitted at least two months before the course commencement date. The student will have to log on to the SOLAR system from the Immigration and Checkpoints Authority (ICA) website with the assigned SOLAR application number. The number will be issued to the student once s/he has been accepted by the school. Student's Pass applications submitted via SOLAR are processed in 3 to 10 working days. Upon the approval of the Student's Pass application, the student will receive an In-Principle Approval letter from the Department of Student Development. 


| | | |
| --- | --- | --- |
| Country | Name of the agency | Website |
| USA | The Council for Higher Education Accreditation (CHEA) | www.chea.org |
| UK | Quality Assurance Agency for Higher Education | www.qaa.ac.uk |
| Australia | Commonwealth Register of Institutions  (CRICOS) | cricos.dest.gov.au |
| New Zealand | New Zealand Qualifications Authority | http://nzqa.govt.nz/ |
| Canada | Association of Canadian Universities + Provincial Charter | www.aucc.ca |
| Germany | Agency for Sciences and Engineering | www.asiin.de |
| The Netherlands | The Accreditation Organisation of the Netherlands  | www.navo.net |
| Russia | Education Ministry of Russia | http://eng.mon.gov.ru/ |
| Singapore | No central authority (Singapore Class- a private initiative) | www.spring.gov.sg |
| Switzerland | The Conference of Cantonal Education Ministers | http://edkwww.unibe.ch |
| Italy | Department of Education and Sciences | www.irlgov.ie/educ |
| France | Education France | www.education.fr |
| Norway | Norwegian Agency for Quality Assurance in Education | www.nokut.no |