Study hospitality in Britain for diverse experiences
Learn hospitality from a country which is a cauldron of different cultures, people of different origins and famous brands in travel and hospitality...
Whether it's working at a Michelin star restaurant or maintaining a café, the charm and glamour of hospitality industry never fades as the sector is on a growth trajectory across the world. What could be a better place to learn hospitality than from the melting pot of world cultures -- the United Kingdom? "The UK is very strong on the method of delivering practical education," says Kalpana Zutshi, Partner Relationship Manager at The Chopras, a study abroad consultancy.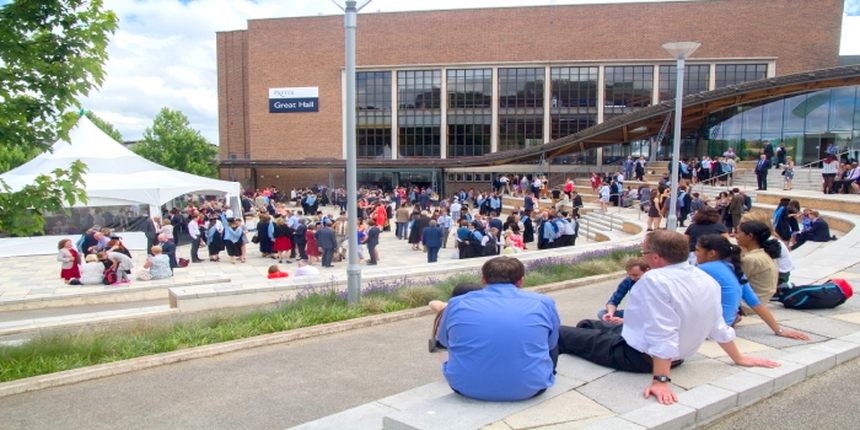 The exposure to UK's hospitality education helped Gaurav Chawla become a lecturer for hotel and hospitality management at University of South Wales. After his three-year hotel management course in India, Gaurav went to the UK to work and soon pursued master's in hospitality and event management at Edinburgh Napier University to set his career on track. 
Get the edge
"It is an industry which will ultimately require you to step outside your comfort zones," says Gaurav. Explaining the difference between education in India and the UK he says, "There was one more layer of finesse in everything from cultural exposure, to food art and design, where there was much more focus on management, rather than only operational skills." 
According to Gaurav, three ingredients makes a UK degree stand out. First is the medium of instruction; and the second, paid work during the study period. The third and most important factor is the global recognition for UK degrees, which gives students an edge in employability.
Course structure
Course structures vary between institutions, depending on how they blend academic and career-based training. UK undergraduate degrees normally last for three to four years. A four-year degree programme will involve professional training, while a three-year degree may or may not include the training component. 
There are generally three types of course structures at undergraduate level. In a 'Sandwich program', after completing one year of studies, a student will take one year off and work in different hospitality departments and then continue the education. It effectively makes it a four-year course. Then there are universities like University of South Wales, offering three-year course with 10-week block placement at the end of the course. "In addition to this, there are 'twinning programs' or 'top up options' offered by some universities wherein a student in India can opt for studies in the UK in-between his/her studies so that the student completes two years of UG in India and one year in the UK or vice-versa. These are financially viable options," explains Kalpana.
Master's degrees in the UK are generally of one-year duration and the focus is more on research activity and development of management skills, describes Gaurav.
Admission procedure
Students can apply for undergraduate courses in the UK through UCAS (Universities and College Admissions Service) system, an official UK government approved application service. For postgraduate studies, students can directly apply to specific institutions. "Through UCAS a student can apply to a maximum of five universities. To apply, one needs to register on the UCAS website and fill in required details. In addition, they will need to add a Statement of Purpose (SOP) and Letter of Recommendations (LORs). There is also an option to directly apply to institutions for UG admission which gives students a chance to apply outside the UCAS system. For 2019 session, the UCAS application deadline is in January 2019, and for direct admissions, there are usually two intakes, in September and January. Some institutions may also open their applications in April or May. UCAS will normally declare the result by June 2019," informs Kalpana.
For undergraduate study in the UK, students must have secured good scores in Class 12 (about 70-85 percent or above), and for postgraduate study they should possess a relevant undergraduate degree. Besides that, proving English language competency is a must. Most UK universities ask for an IELTS score of 6.5 or above. However, some students with good higher secondary scores might be exempted.
Top universities in UK to study hospitality

University

QS Rank 2018

University of Surrey

4

Bournemouth University

8

Oxford Brookes University

18

University of Strathclyde

23

Sheffield Hallam University 

29

The University of Exeter

34

Manchester Metropolitan University

44
Study expense and visa
"The expense of studying and living in UK will highly depend on one's location," points out Kalpana. "Living will be expensive in cities like London (10 to 12 thousand pounds a year), while it would be cheaper in places like Scotland (7-10 thousand pounds a year). The tuition fee will vary from institution to institution and can be between 14-19 thousand pounds per annum," she says. Talking about the procedure to apply for study visa, she says, "Acquiring a study visa in UK is easy, provided a student gets the offer from the university and is able to show that he/she has sufficient funds to cover the study and living expenses. Though it takes about 10 working days for visa to come through, we normally recommend students to ideally file their visas three months in advance," Kalpana explains.  
Most universities in UK offer internal scholarships for which applicants can be automatically considered. For these, all they have to do is, click a checkbox/button while making the application. Here, they may be asked to attach an application putting forth their case for the scholarship. If they are awarded the funding, it will be reflected in the offer letter. Besides that, there are varied scholarships by the British and Indian governments, private agencies and charities. In most of these like Chevening scholarship, students can apply only after receiving their offer letters.  
Work opportunities
There is no post-study work visa in the UK. However, students are allowed to work 20 hours a week durFOR PEOPLE WHO LIKE TO SERVE PEOPLE
ing the term-time and full-time during vacation periods. Under Tier-4 student visa rules, international students will be given about four months after completion of studies to look for work with a minimum salary of 20,800 pounds a year. On employment opportunities, Gaurav says, "Students with UK qualification can find employment in the Middle East, Australia, Singapore and so on. They will also be able to find lucrative employment options in India, where major hotel brands are opening operations."
Challenges
Servicing, cultural understanding and empathy aren't as core to any industry as they are to hospitality. When guests walk through those doors, they don't just expect good service, but temporary shelters to relax. "If you are a person who is into customer relations, enjoy working 24X7, can get into kitchen at 45-degree temperature, you will do great in the industry," says Kalpana. So, it all boils down to your attitude and how much you love your work. Even if you do love work, it might beak your back. The question is, do you have it in you?