Study in Canada - Admission Cycle
Canada in recent years has emerged as a preferred destination for international students to pursue their higher education. The country with its high quality of life, safe environment, warm and friendly people, quality and affordability of education attracts foreign students to study in Canada. The Canadian government's post-study work and internship opportunities and liberal immigration policies are another reason for international students to choose Canada.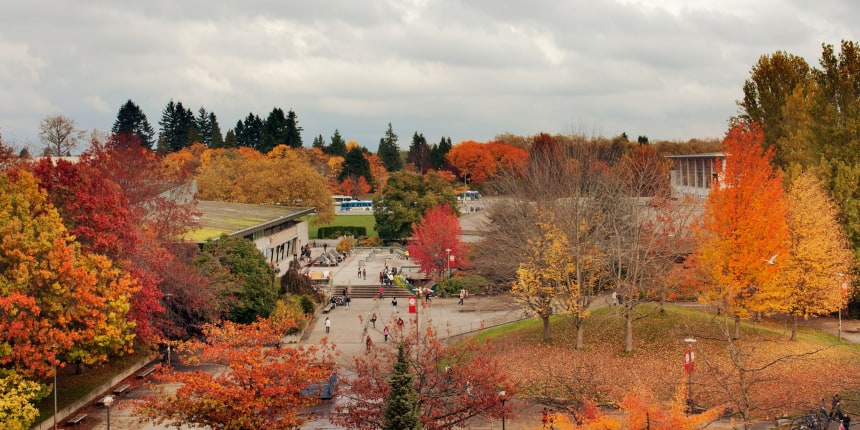 The admission cycle of Canadian universities offers three intakes for international students; Fall, Winter, and Summer. Students through these intakes can take admission in undergraduate courses, post-graduate courses, diploma courses, and Ph.D. programs.
Fall: This admission intake starts in the month of September and is popular among the students.

Winter: This admission intake starts in January and is perfect if one has missed the September intake.

Summer: This admission intake starts in the month of May.
Canada admission cycle- different intakes
Among the three intakes, fall offers admission to all the major programs such as MS, MBA, Degree courses. The winter intake usually fills the vacant seats left during the fall intake or gives admissions into specialized programs offered by certain universities and colleges. The summer intake is for short-duration courses, diploma courses, student exchange programs or summer programs offered by institutions.
| | | |
| --- | --- | --- |
| Intakes in Canada | Courses offered | Admission Window |
| Fall Intake (primary intake) | All courses (Undergraduate- Postgraduate degree courses) | September- January |
| Winter Intake (Secondary Intake) | Selective degree/diploma courses | January- April |
| Summer Intake | Diploma and certificate courses | May-August |
Steps to admission in Canadian universities
For each admission cycle in Canada students need to plan months in advance. Admission and seats are offered on a first come first basis in all the semesters/intakes. It's better if students start their application process well in advance to grab a seat in their favorite program and college/university. Here are the steps you can follow for a smooth admission process based on the admission cycle in Canada:
Step 1. Information collection (10-12 months prior)
Gather information about universities and colleges that students wish to apply to.
Find the courses, last date of application, fee requirements
Download information brochures from the university websites
Check for scholarship and bank loan options
Step 2. Prepare for and take the required exams (10-12 months prior)
Enroll for the language proficiency tests like IELTS/TOEFL/PTE at least a month prior to the exam date.
Keep a buffer time to re-register for standardized tests if the marks/grades are poor in the first attempt.
Improve the score to better the chances for preferred university admission.
Step 3. Fill up the application form (6-8 months prior)
Finalize course and university preferences.
Prepare for the application process.
Start drafting the statement of purpose (SOP), university-specific essays, self-appraisal forms for the admission process.
A month before the application due date, get in touch with teachers, professors, direct managers to obtain 2-3 reference letters.
Arrange all the documents required for the application process

Submit application before the due date.
Step 4: Be alert (4-6 months prior)
Reply to college mails.
Appear for telephonic or video interviews.
Once you receive an acceptance letter, don't delay further and inform your decision to the college authorities.
Pay the initial admission fee to confirm your seat in the Canadian college/university
Step 5. Obtain your visa and arrange for money (3-4 months prior)
Apply for an education loan.
Apply for scholarships
Apply for your student's visa on time.
Step 6. Prepare for departure (2-3 months prior)
Book airline tickets
Finalize initial accommodation options (Airbnb, on campus, hotel etc.)
Arrange for international Debit/Credit card
Collect all the documents/photocopies required to carry along
Check pre-departure list


Student also liked
Following are the universities/colleges along with their admission cycle in Canada
Top universities in Canada that open admission for September intake
University of Calgary
Niagara College
University of Alberta
University of Waterloo
The University of Toronto
University of British Columbia
McGill University
University of Ottawa
Ryerson University
Top universities in Canada that open admission for winter intake
Carleton University
Queen's University
Lambton College
The University of Toronto
Douglas College
University of Ottawa
Mount Saint Vincent University
McGill University
Centennial College
Top universities that open admission for summer intake
University of Waterloo
Centennial College
Ryerson University
Northern College
Centennial College
Vancouver Community College
Pros and cons of different admission cycles in Canada
Each admission cycle in Canada has some positives and negatives. Here is a list of pros and cons for different intakes. Students can make their admission decisions based on the few below.
Intake

Demand

Positives

Negatives

Canada Fall Admission

High-in-Demand

Admission to major degree courses
Availability of better funding and scholarships
Pleasant Weather
Enough time to adjust in new surroundings

High competition due to excessive applicants

Canada Winter Admission

In-Demand

More time for university application, study permit, and visa
Good option for students who missed the fall intake

Harsh Canadian Winters
Difficult period for transition.
Less part time employment opportunities

Canada Summer Admission

Low-in-Demand

Only short-term courses are available
Not many universities/colleges offer intakes
Also read
Canada Updates and Articles
Questions related to Canada
Showing 390 out of 390 Questions