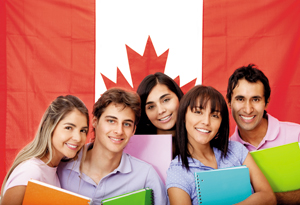 Scholarship and work opportunities in Canada - Every university in Canada has its own policy and students are advised to contact each university directly. You need a university or college letter of acceptance in order to apply for a study permit. Also, an IELTS certificate.

Cost of education
The average total cost of post-secondary education in Canada is roughly between CAD 17,000-44,000. This includes tuition and student fees (CAD 5,500-26,000), accommodation and food (CAD 7,000-13,000), personal and health insurance (CAD 1,000-3,000) and textbooks (CAD 1,000-2,000).

Duration of study
Most full-time undergraduate degrees in Canada are for four years. LLB programmes are usually for three years but require at least three years of prior undergraduate study for admission. Medical degrees are usually for four years. However, admission to medical schools in Canada requires three years of prior undergraduate study. For Master's and Doctorate programme, the length is  one to three years and three or more years respectively.
| | | |
| --- | --- | --- |
| |   | |
|   |  "The Banting and Varnier scholarships attract the world's best and brightest students and researchers to Canada" |   |
| |   | |
Scholarships
Most Canadian universities and colleges offer scholarships based on academic merit of candidates, which are often awarded automatically at the time of admission. Some scholarships are specifically for international students. These scholarships may require a separate application outlining the student's extracurricular activities. It is best to check the institution's website or speak to the institution's recruiter.

Work opportunities
Most foreign students can work in Canada during their studies, and after they graduate. Although students do not need a work permit to work on campus, they will need one if they want to work in a co-op/ internship placement, off campus, or after graduating from their studies (Post-Graduation Work Permit Program).

By Simon Cridland, Counsellor and head, Advocacy Program, Canadian high Commission-As told to Pooja Prakash