Placement Year Helps Students Focus More Towards Their Education
University of Surrey was established over 100 years ago and has consistently ranked in the top 20 universities in the UK. With a sprawling campus located near London, University of Surrey is home to over 17000 students with 150 of them from India. It has the third highest number of overseas students, not including European students and is focused on becoming a highly diversified and global institution of higher learning with plans to increase the number of Indian students. Careers360 discussed various aspects of student admission, job opportunities and scholarships available to the Indian students with Mark Barlow, Director of Student Recruitment and Admissions at the University of Surrey.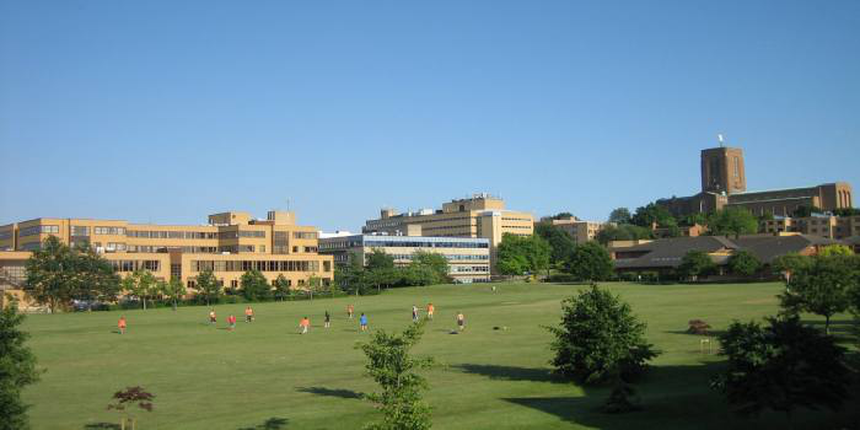 Careers360: Tell us a bit about the University of Surrey.
Mark Barlow: We have been running courses in our campus in Guildford for over 50 years. One of the great things about Indian students is that the level of English they enter with is extremely good. They can fully engage with the academic side of study as well as the social side which is very important. We are ranked in the top 20 in the country out of about 130 universities. We have also been awarded the gold standard, which is a quality mark accessed by the government called TEF (Teaching Excellence Framework), for our academic excellence.
Careers360: Is University of Surrey engaging in a lot of research in India as well?
Mark Barlow: Yes, there is a lot of research and one of the areas is air pollution in Delhi. Professor Prashant Kumar is one of the leading researchers on the topic of environmental chemistry and he is undertaking a research project jointly funded by the governments of India and Britain.
Careers360: Could you tell us about the different programmes for undergraduates from University of Surrey?
Mark Barlow: Undergraduate degree at University of Surrey can be 3 or 4 years depending on the student's choice of the placement year. Students can study for 3 years and add on a placement year which is taken between second and third year of the study. These programmes are very popular with British as well as overseas students because it allows them to gain real experience of working in a company. This is very important for the CV and helps in giving our students an edge. Added advantage for international students, in particular, is that money can be earned in the form of a salary. We work with over 2500 companies and have placed students with companies all over the globe. The opportunities during the placement year need not be limited to UK.
Careers360: Are there any specific educational programmes for students from India. What is the equivalent to the BTech degree offered in India? Is it a three-year programme or a four-year progamme?
Mark Barlow: Aspirants can pursue either a three year or a four year course at University of Surrey . They have two options: a normal Bachelor of Science degree or a combined 4-year Bachelor and Master programme known as M.Engg. (Masters of Engineering). With the addition of the placement year, the course would be for five years. Placement year in engineering is a good idea as it helps in deciding the kind of job students want. The placement year happens in the third year, with the remaining 1 or 2 years completed after the placement. The added benefit is that the students after returning from the placement year are much more focused. A good number of students are offered jobs at the places they have already done a placement year. According to our own data, students who take a placement year get higher salaries and generally do better after the completion of the course. However, placement year at University of Surrey is not compulsory.
Careers360: Doesn't this clash with the British student visa policy where the students can only work for a certain number of hours?
Mark Barlow: The placement option is a part of the study. The crucial thing is that the candidates have to apply for the placement visa from the start. An overseas student has to opt for the placement during the time of application.
Careers360: What are the various placement opportunities available to the undergraduate as well as postgraduate students at University of Surrey?
Mark Barlow: Currently, the placement offer is available for three months to business school students. This offer may be expanded to other fields as well. Students can also secure a Tier 2 visa to be able to work at the UK. The eligibility for a Tier 2 visa is earning a minimum of 21000 pounds and a sponsorship.
Careers360: What are the selection process for the PhD aspirants?
Mark Barlow: PhD at University of Surrey has a very different approach. There are two ways to secure a PhD: choose a specific project and connect with an academic to supervise or look at the projects available at the university. The first option will be self-funded because this is something that the candidate is interested in. The second option will be funded by the university. If the aspirant has an idea of the field they want to pursue their higher education in, they should look up the website for the PhD opportunities in the field of their choice.
We have a doctoral college that helps to develop the research skills of aspirants so that they are not overwhelmed from the start. Guidance will be provided at each step and normally, after the end of the first year, there will be more self-directed study with an academic supervisor.
Careers360: Another issue with the British masters is not being considered equivalent to the Indian masters by AIU. Is there something being done in this regard?
Mark Barlow: The Universities UK Board represents all UK universities and would usually tackle a sector wide issue like that. I think it comes down to looking at the modules, credits earned and time spent to get that credit. Personally, we think that our Masters degree are one year to be deliberately specalised and focused. In the US, they have a general first year followed by a more specialised second year whereas we focus from the start on a specific area.
Careers360: Could you talk more about the admission process for undergrad and post grad?
Mark Barlow: We do not have a direct form and only accept application through the UCAS, which allows you to apply to up to five universities. For postgraduate courses, aspirants can apply directly through the application form on our website. We try to process applications within 1 to 2 weeks but that may vary depending on the course, its popularity and the time of application. It can take longer because of the large number of applicants and in cases of specialised area where the background of student needs to be carefully checked.
Careers360: What do you look for in an Indian student when you accept a student at University of Surrey?
Mark Barlow: Depends on what level they are applying for but a good education to date from a good college or university (bonafide). For undergraduate courses, it depends more on the grades of the students than the high school itself. Surrey has high entrance standards for British students and we work out the equivalent of those standards for other nationalities. Students are encouraged to apply early because the good courses can get full quite early.
Careers360: What about the CGPA? Do you ask for any standardised exams like GRE in case of postgraduation?
Mark Barlow: We look at the degree score and the university it is obtained from. We, then, workout the equivalent score in the British Education system and that helps us in making the decision. This also depends on the courses and is nuanced for each Indian university. For postgraduate programmes, we do not ask for any standardised test scores.
Careers360: Indian schools have a percentage system, not a grading system. The top most colleges in India need around 95% in the first list of admissions. What would be your criteria for admission?
Mark Barlow: It depends on the course but 85%, is roughly equivalent to an A grade. For some students, the math score of 85% is challenging because of the board exams.  For engineering disciplines, we never move away from the A grade which is also for the students benefit as they will not be able to keep up with the course.
Careers360: What do you look for in a student's profile, apart from the marks?
Mark Barlow: The Statement of Purpose is very important and will be read by an academic or an administrator. This will help us to know the intention and to decide whether we are the right university and have the right course. Sometimes students believe that a course is right for them but after reading the SOP, we feel like this might not be the right choice and suggest something slightly different. We also want to make sure that the student is motivated. You might have the aptitude to study but you also need the right attitude.
Careers360: How much do recommendations matter? What about extracurricular skills?
Mark Barlow: Honestly, we pay less attention to the references because they are hand picked by students who know that they will get a positive recommendation. It is challenging for us to understand whether they are impartial. Although, we still like to see them but personal statement and marks are what we are most interested in.
We want to see extracurricular activities listed in the SOP. We want someone who will be engaged academically as well as socially. The university experience is only good when everyone participates within it. We want our students to join clubs and societies and get involved in the student life aspect. 
Careers360: Talking about admission to PhD programmes at University of Surrey. Do you really need published papers or are good academic scores enough ?
Mark Barlow: Published papers are not necessary but you do need a good academic background. If you have not been conducting research already, you need to be a good student. PhD is a big undertaking and it requires the students to apply themselves in a particular area. We need evidence of that which is available either through the fact that you have studied hard or already doing research in that field. All PhD candidates are judged by academic colleagues who are trying to find the right person to work with, almost like an employer. This is where the admission team has less involvement because its more of an academic judgment.
Careers360: What about the Postgraduate admission process?
Mark Barlow: The equivalences are on our website and they differ for each course. There is a wide range of courses that we offer for post grad.
Careers360: What about scholarships at University of Surrey?
Mark Barlow: At University of Surrey, we help students through different ways of funding. Normally, it is either self-funding or university funding. There are other schemes like ORS that can also work.
There are other scholarships that you can look for on the British Council website. These keep changing so it is advisable to regularly check the website. They list all sources of funding available to students.
Yes, University of Surrey offers a lot of scholarships for both undergraduate and postgraduate programmes. Surrey Prestige Scholarship is available for undergraduates from China (including Hong Kong), Malaysia, India, Canada, USA.
Careers360: How has BREXIT affected the number of students and the quality of education?
Mark Barlow: I do not think it will effect the quality of education, short term or long term. In terms of number of students, nothing has changed apart from the fact that we are seeing more interest from overseas. Brexit will lead to fewer European students. 
Careers360:Another impact of BREXIT could be more fees and tighter job regulation. Do you think that could happen?
Mark Barlow: BREXIT is more to do with the fact that UK is a small country and the increase in number of people coming from other countries is putting pressure on our resources. Being a member of EU, we have no control over the number of people that can come to UK from the Europe. There is no limit and we have no ability to restrict that. That is why the post study visa was removed. Students that are hard-working, educated and proficient in English will be the highest priority.
In terms of fees, I do not think any changes will occur. Currently, the situation is working to your advantage as the pound has weakened. Its fair to say that BREXIT, at the moment and in terms of the fees, has helped most overseas students by making UK education cheaper.
Also read,