NRI Admissions: Know private medical colleges in Gujarat
NRI Quota in Private Medical Colleges in Gujarat - There are 5 private medical colleges in Gujarat for students interested in pursuing MBBS through NRI quota. As many as 650 seats are available in these colleges for NRI admission, out of which 15% are reserved for NRI students as per Medical Council of India. NRI admissions to private medical colleges in Gujarat are conducted by the Gujarat Medical Council through the Admission Committee for Professional Under Graduate Medical Education Courses (ACPUGMEC). This committee has been constituted to oversee the NRI admission of candidates to the Professional Medical/ Dental/ Ayurveda/ Homeopathy/ Naturopathy degree courses and carry out the counselling process in a fair and transparent manner. For a student aspiring to study through the NRI quota for MBBS, NRI admission in a private college is done on the basis of merit.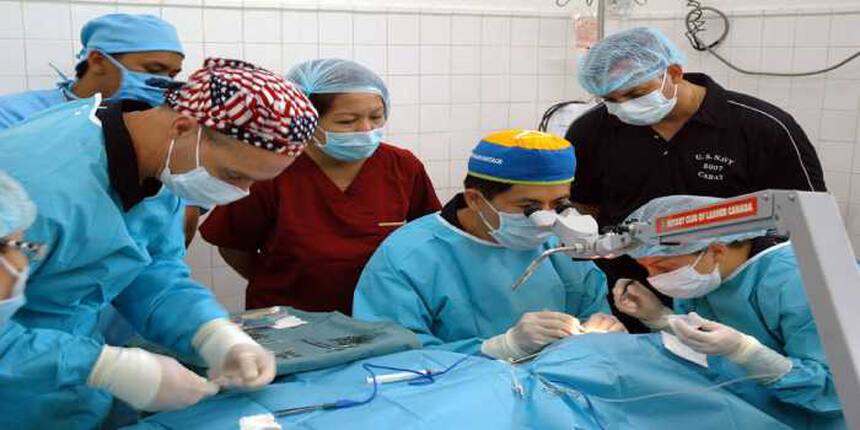 The private medical colleges in Gujarat are affiliated to a number of universities which will award the degree for their respective colleges:
Saurashtra University

Gujarat University

KSKV Kachchh University, Bhuj

Parul University, Vadodara

Sardar Patel University
NRI admission procedure to MBBS courses in Gujarat is similar to an Indian candidate, which is qualifying through NEET conducted by National Testing Agency(NTA). NEET-UG is scheduled to be conducted on May 5, 2019. After qualifying the exam, aspirants have to register for counselling organised by the committee. Admission through NRI quota for MBBS will be given by ACPUGMEC on the basis of merit, which is determined by the All India Overall Rank of the candidate at the NEET undergraduate examination. 
NRI students will have to register online with the Gujarat Medical Council by purchasing a PIN costing 200 Rs. Candidates applying through NRI quota need to remember that document verification and submission will only be done only at the Office of ACPUGMEC ( located at GMERS Medical College, Gandhinagar). After online application, candidates applying through NRI quota for MBBS will have to submit a Demand draft of Rs. 10,000/- as process fee.
NRI Definition for Private Medical Colleges in Gujarat
To take NRI admission in medical colleges, one must be a Non-Resident Indian."NRI" is defined under the Income Tax Act, 1961 along with the Foreign Exchange Management Act, 1999. FEMA defines the term NRI as 'A person residing outside India who is either a citizen of India or a person of Indian origin (PIO).'
Person of Indian Origin (PIO) is a citizen of any country other than Bangladesh or Pakistan, given that he has held an Indian passport or is the spouse of an Indian citizen; or he or either of his parents or grandparents were a citizen of India by virtue of the Constitution of India.
Eligibility Criteria under the NRI quota for MBBS
As per notification by Government of Gujarat, a candidate should fulfil the following criteria to be eligible for NRI admission under the NRI quota:
Either parent should be an NRI and shall ordinarily be residing abroad as an NRI
The NRI sponsor the student for admission should be a first-degree relative of the aspirant and residing abroad as an NRI
If the aspirant has no parents or near relatives or has been taken as a ward by a nearest relative such aspirants may also be considered for the NRI seat provided the guardian has bona fide treated the student as ward and the guardian is required to file an affidavit showing his/her interest in the affairs of the student and also their relationship with the student and such a person should be an NRI, and ordinarily residing abroad.
"Provisional Eligibility Certificate" should be obtained from the concerned University within a month of NRI admission for MBBS.
Documents Required for NRI students
Application of the students through NRI quota will only be considered if the following certificates are presented, duly notarized:
Printout of online Application

School Leaving Certificate or other document showing place of birth

High School Certificate Examination (HSCE) or Equivalent Examination mark sheet. For NRI admission, students must provide transcripts of previous education and an Equivalence Certificate.

NEET – Examination Mark Sheet

Passport of the NRI candidate and his/her parents

Visa /Resident permit / OCI or PIO card if applicable

Address proof

Undertaking in regard to the fees from NRI Student/Parent

Documents for Proof of Origin (Citizenship Card/P.R. Card etc.)
Students aspiring for NRI admission must keep in mind that no application will be considered unless accompanied by notarized copies of certificates and documents, and all documents should be in English language only.
Annual Fee and AIR rank for NRI admission to Top Private Medical Colleges
S. No.

College Name

NRI Seats

FEE (annual in USD)

AIR Opening

AIR Closing

1

CU Shah Medical College, Surendra Nagar

15

29000

NA

 

2

GCS Medical College, Ahmedabad

23

24000

220637

393614

3

Gujarat Adani Institute of Medical Sciences, Bhuj

23

29000

NA

 

4

Parul Institute of Medical Sciences & Research, Vadodara

22

25000

323242

323242

5

Pramukhswami Medical College, Karmsad

15

120000

(full course)

184791

229906
Important Dates for Gujarat MBBS Counselling 2019
| | |
| --- | --- |
| Events | Important Dates* |
| PIN Number purchase in person from bank or online for registration | June 2019 |
| Online application form release date | June 2019 (12.00 pm) |
| Last date for submission of application form | June 2019 (07.00 pm) |
| Document verification | June 13 - June 20, 2019 (12.00 pm to 3.00 pm) |
| Gujarat MBBS 2018 merit list | Fourth week of June 2019* |
| Mock round of choice filling and result | Fourth week of June 2019* |
| First Round of Counselling | June 25 – July 5, 2019* |
| Last date of reporting to the allotted college | July 12, 2019* |
| Second Round of Counselling | July 15- July 26, 2019* |
| Last date of reporting to the allotted college | August 3, 2019* |
| Offline mop-up round of counselling | August 4 – August 8, 2019* |
| Seat allotment for the mop-up round | Second week of August* |
*tentative dates
Also Read
NRI Admissions: Know private medical colleges in Madhya Pradesh
NRI Admissions: Know Private Medical Colleges in Kerala
NRI Admissions: Know Private Medical Colleges in Telangana
NRI Admissions: Know private medical colleges in Karnataka
NRI Admissions: 11 Deemed Universities for MBBS with fee range $42000 - $45000
NRI Admissions: Top Deemed Universities for MBBS with low fee
NRI Admissions: Know Private Medical Colleges in Maharashtra