NRI Admissions: Know private medical colleges in Andhra Pradesh
NRI Quota in Private Medical Colleges in Andhra Pradesh - Non Resident Indian (NRI) students aspiring to study MBBS in private medical colleges of Andhra Pradesh can apply through the NRI quota. There are 20 private medical colleges in Andhra Pradesh offering NRI admissions to students, out of which three have not been allowed to open admissions by the Medical Council of India. Of the remaining 2100 seats in private medical colleges, 15% are reserved for NRI students through NRI quota that comes under Category-C of management quota. Andhra Pradesh Medical Council is the governing body overseeing the NRI admission of candidates for undergraduate and postgraduate courses. Dr.NTR University of Health Sciences, Vijayawada is the counselling conducting body for MBBS 2019 admissions. Admission of students through NRI quota is done on the basis of merit i.e. marks scored by the candidate in the National Eligibility cum Entrance Test (NEET-UG). NEET is conducted by the National Testing Agency (NTA) and is scheduled to be held on May 5, 2019. All the private medical colleges in Andhra Pradesh are affiliated to NTR University of Health Sciences, Vijayawada.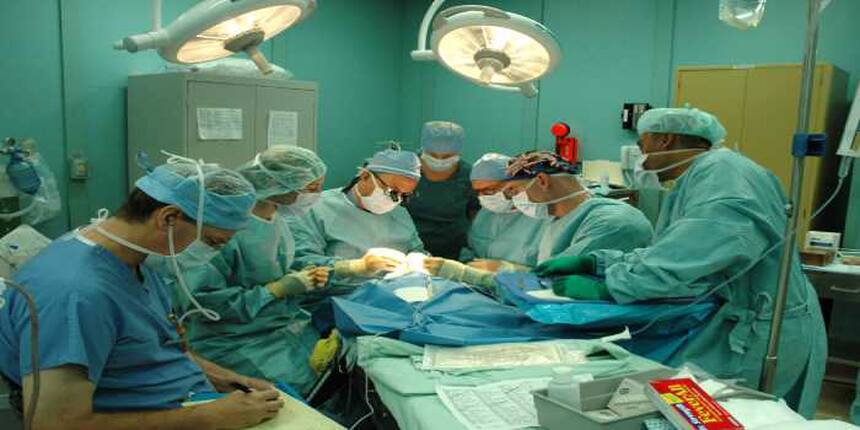 The procedure for taking admission through NRI quota in MBBS is similar to an Indian resident candidate. Students can take NRI admission by appearing and qualifying the National Eligibility cum Entrance Test (NEET-UG). Candidates aspiring to study MBBS through NRI quota must score above the cut-off marks of the respective college in the NEET exam. NRI admission will be given on the basis of the candidate's rank in the NEET exam, compared to other students applying through the NRI quota.
NRI Definition for private medical colleges in Andhra Pradesh
Candidates applying through NRI quota must satisfy the following:
Applicant should be the ward of NRI or NRI citizen by himself/herself

The parent of the NRI student should be holding the:
Overseas Citizenship of India (OCI)/ Person of Indian Origin (PIO)/ Permanent citizenship status.

Employment in abroad

Should have an annual income sufficient to support the course of study of his/her ward
Eligibility Criteria for NRI Students for MBBS Admission
To be eligible for NRI admission, candidates should have completed 17 years of age by 31st December 2019.

NRI students should have qualified at NEET UG exam and secured not less than 50% of total marks taken together in all the science subjects. The qualifying criteria for NRI admission were at least 50 percentile or score of 131 (out of 720) in NEET examination.

NRI students possessing qualification from outside India should submit an Equivalence certificate issued by the Association of Indian Universities and the Board of Intermediate Education of Andhra Pradesh to show that the qualification possessed is equivalent to or higher than the Intermediate examination conducted by the Board.
Students must register for counselling by submitting the online form and paying a registration fee of Rs 2500. In addition, students applying through NRI quota are required to pay a non-refundable fee of Rs 5000 in the form of a Demand draft. On the day of counselling, candidates selected for NRI admissions must be present at the Dr. NTR University of Health Sciences, Vijayawada for document verification and payment of tuition fee. Candidates selected through NRI quota have the option of paying the whole fee or the first installment, in which case bank guarantee must be submitted for the remaining period of study. Students should keep in mind that only a computer, not tablet or phone, with Internet Explorer (v11) should be used to fill the NRI admission form.
Documents required for NRI Admission
Original and attested copies of the following documents are required to take NRI admission through quota:
NEET – UG 2019 Admit and Scorecard

Date of Birth Certificate or its equivalent

Intermediate of Andhra Pradesh or its equivalent examination with 10+2 pattern.

Declaration signed by the NRI candidate along with evidential documents such as Green Card/Citizenship Card/Bank Statements/Passport of the respective Country
Documents required for NRI Sponsorship candidate
NRI status or overseas citizen of India (OCI) or PIO status certificate issued by the competent authority.

Copy of the passport with valid visa ( sponsor with student /visiting visa or temporary visa is not eligible)

NRI bank account details with last year account statement and a copy of the income tax returns filed for the previous financial year

Employment certificate from the employer or proof of self-employment

Should have proof of annual income sufficient to support applicant's course of study.
NRI seat Eligibility Criteria: A Supreme Court order has clarified the eligibility conditions for a person to be able to apply for the NRI seat. The criteria are mentioned below.
Either parent should be an NRI and shall ordinarily be residing abroad as an NRI
The NRI sponsor the student for admission should be a first-degree relative of the aspirant and residing abroad as an NRI
If the aspirant has no parents or near relatives or has been taken as a ward by a nearest relative such aspirants may also be considered for the NRI seat provided the guardian has bona fide treated the student as ward and the guardian is required to file an affidavit showing his/her interest in the affairs of the student and also their relationship with the student and such a person should be an NRI, and ordinarily residing abroad.
'Nearest relative' should be one of the following.
Real brother and sister of father i.e. real aunt and real uncle
Real brother and sister of mother i.e. real maternal aunt and real maternal uncle
Father and mother of either parent i.e. maternal or paternal grandfather and  maternal or paternal grandmother
First degree paternal and maternal cousins
The relative should be an NRI
Top Private Medical Colleges in Andhra Pradesh
Name of College

NRI seats

Fee

(annual)*

AIR closing

NEET score

Alluri Sitaram Raju Academy of Medical Sciences, Eluru

23

3000000

641394

108

Apollo Institute of Medical Sciences and Research, Chittoor

23

3000000

 

 

Ayaan Institute of Medical Sciences, Teaching Hospital & Research Centre, Kanaka Mamidi, R.R. Dist

23

3000000

 

 

Dr. P.S.I. Medical College, Chinoutpalli

23

3000000

524662

135

Fathima Instt. of Medical Sciences, Kadapa

15

3000000

319096

209

Gayathri Vidya Parishad Institute of Health Care & Medical Technology, Visakhapatnam

23

3000000

277837

230

Great Eastern Medical School and Hospital, Srikakulam

15

3000000

649938

107

GSL Medical College, Rajahmundry

30

3000000

477278

149

Katuri Medical College, Guntur

23

3000000

532834

133

Konaseema Institute of Medical Sciences & Research Foundation, Amalapuram

23

3000000

549412

129

Maharajah Institute of Medical Sciences, Vizianagaram

23

3000000

641684

108

Narayana Medical College, Nellore

38

3000000

637755

109

NRI Institute of Medical Sciences, Visakhapatnam

23

3000000

615611

114

NRI Medical College, Guntur

23

3000000

381007

182

P E S Institute Of Medical Sciences and Research, Kuppam

23

3000000

607853

115

Santhiram Medical College, Nandyal

15

3000000

492896

144

Viswabharathi Medical College, Kurnool

23

3000000

574273

123
*In addition to the annual fee, students selected through NRI admission will have to pay University fee of Rs. 25,000/-
Andhra Pradesh NRI Admission Dates 2019
| | |
| --- | --- |
| Events | Important Dates* |
| Eligible List of Candidates | June 14, 2019 |
| AP MBBS Admission 2018 - Notification | June 20, 2019 |
| Online application form release date | June 20, 2019 (8.00 AM onwards) |
| Last date for submission of application form | June 24, 2019 |
| AP MBBS 2018 – Provisional Merit List | June 25, 2019 |
| Document Verification | June 26 - July 1, 2019 |
| First round of AP MBBS Counselling 2019 | June 27 – July 2, 2019 |
| AP MBBS 2018 – Final Merit List | July 2, 2019 |
| Commencement of classes | August 1, 2019 |
*Tentative dates
Also read,
NRI Admissions: Know private medical colleges in Madhya Pradesh
NRI Admissions: Know Private Medical Colleges in Kerala
NRI Admissions: Know Private Medical Colleges in Telangana
NRI Admissions: Know private medical colleges in Karnataka
NRI Admissions: 11 Deemed Universities for MBBS with fee range $42000 - $45000
NRI Admissions: Top Deemed Universities for MBBS with low fee
NRI Admissions: Know Private Medical Colleges in Maharashtra