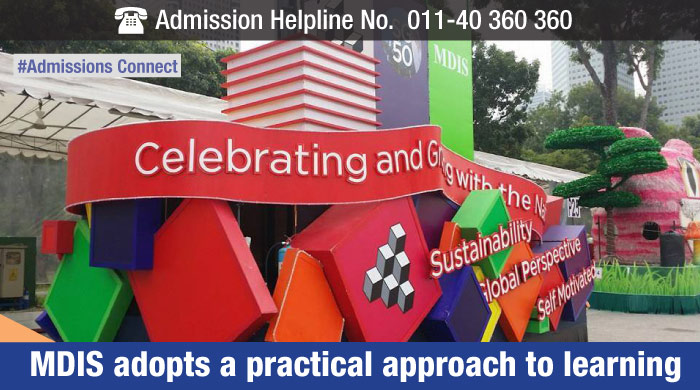 Singapore's oldest not-for-profit professional institute, the Management Development Institute of Singapore was founded in 1956 and has made its name as one of the best institutes in the country. Over 5000 international students make the MDIS campus culturally vibrant and a hotspot for global education.
In this series of #Admissions Connect, we have Jessie Tan, Director of International business of MDIS, decoding the institute for you. Know all about the admissions criteria, popular courses and the admission cycle of MDIS.
Q. What is the strength of the international student community in the university? What about Indian students?
A: MDIS is home to students from 82 different countries, and each of them brings a little piece of their country with them here: be it in the form of history, culture, or even just food.  This has made the MDIS campus one of the most culturally colourful and varied institutes for higher learning in Singapore. MDIS has welcomed over 400 Indian students to date. 
Q. What is unique about your university in terms of academic culture and overall student experience?
A: Aside from the multicultural environment that MDIS offers, MDIS adopts a practical-based approach to learning.Students are also exposed to a wide variety of teaching methods that include field trips, industry visits and seminars.
The S$35 million MDIS Campus on Stirling Road occupies a 3-hectare land area and offers 71 classrooms, 5 computer laboratories, 4 life sciences laboratories, 3 engineering laboratory and workshops, a hospitality training centre, a mass communications studio, as well as a fashion studio. The campus also has an amphitheatre to house art performances and other events, as well as fully-equipped sports facilities such as a gymnasium and badminton courts. Furthermore, MDIS also has a life science laboratory.
The MDIS [email protected] is the very first hostel in Singapore to be awarded the Green Mark Gold Plus Award. Consisting of 782 air-conditioned rooms, 14 suites, a lecture theatre and cafeteria, this 15-storey eco-friendly hostel can accommodate some 1,700 students. Students are able to live, learn and play in an interactive and conducive environment.
All international students are encouraged to adopt an active and enriched lifestyle through various activities like cricket, football, badminton, photography and public speaking. The vibrancy of the campus makes MDIS a great place to learn, live, grow and play.
Q. What are some of the popular programmes among students? What about Indian students?
A: MDIS offers programmes from a variety of globally-recognised universities in a wide variety of fields ranging from Business & Management, Engineering, Fashion Design, Information Technology, Health & Life Sciences, Mass Communications, Psychology and Tourism & Hospitality Management.
For students coming from India, they are pursuing master's degrees in business administration, finance, tourism and hospitality, banking and finance and international marketing. The programmes are offered in collaboration with Grenoble Graduate School of Business, University of Sunderland and Bangor University.
Q. When do applications open?
A: We have multiple intakes throughout the year. For different programmes, different dates are announced during the year.
Q. Scholarships play a key role in the choice of a programme abroad. However, with options galore, is there a mechanism which eases one's search for financial needs?
A: MDIS offers merit scholarships (International) awarded to qualified students on the basis of academic merit, leadership potential, special talents or other personal characteristics. These scholarships range from S$4,000 for Master's programmes, S$3,200 for Bachelor's programmes and S$500 for pre-degree programmes.


Q. Many foreign students are worried about leaving the country because they do not know whether they will be able to find work to pay off their student debts. Do you guide your students in finding internships and jobs?
A: We have an MDIS Career Assistance Unit (CAU) which trains, equips and assists students with the necessary knowledge and skills to increase their chances of securing jobs in their fields of discipline upon graduation. Each year, we organise a Career Fair to providing students the chance to learn about the latest trend in the job markets, current vacancies and opportunities available in the markets.


Q. Do you have any plans of establishing a branch of your university in India? Please share your reasons if (Yes/no).
A: As part of our globalisation strategy, we are constantly on the lookout for viable expansion opportunities, and we treat each opportunity with careful consideration.
Q. How is Singapore as a destination for education? Why should students opt for Singapore as a destination for their UG/PG studies?
A: The Singapore education system has always been known to be well-regarded internationally. And as Singapore's oldest not-for-profit institution for lifelong learning, MDIS is uniquely positioned to provide Indian students with a global education in an Asian environment. 
Also Read: