MBA without GMAT in top Business Schools
MBA without GMAT - GMAT score is considered to be one of the most vital elements for admission to any business school across the world. The standardized test facilitates admission to over 7,000 management programmes worldwide like Master of Business Administration (MBA), Master of Accountancy and Master of Finance. In fact, with the test available in 114 countries worldwide, the number of GMAT test takers are going over 2,50,000.

While GMAT score is mandatory for many business school programmes, not all of them test the candidate solely on the basis of GMAT score. It is usually the executive programmes which offer MBA without GMAT. However, these schools give high weightage to work experience of the candidate. Most of the business schools offering MBA without GMAT score do require the aspirants to have the following: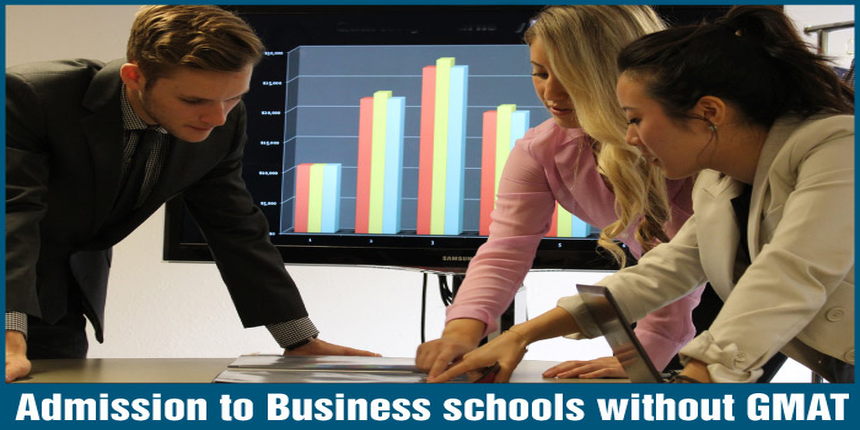 Work experience: Work experience is considered the foremost element for admission to business schools which offer MBA without GMAT score. Generally, business schools require experience of 2-5 years for an MBA degree. However, students who want to go for an executive MBA have to support their application with 8-12 years or more of work experience which could also include a managerial position.

A CV enlisting professional details of experience essential to complete the course.

Recommendation letters: At least 2-3 reference letters from previous employers are required by the business schools to assess your potential in a managerial position. Recommendation letters are especially important for business schools, which do not require GMAT scores as they offer to peek into the aspirant's potential.
Stuck with your essays? Download MBA Application Essays Guide E-book.
Here are some of the best programmes which offer MBA without GMAT:
HEC Paris executive MBA: One of the best executive programmes in the world, HEC Paris offers an 18-month long programme in Doha, Paris, Beijing and Shanghai. While HEC does accept GMAT score, it is not mandatory for admission to the programme. In fact, HEC has it's own aptitude test – HEC Paris General Management Test which includes a case study preparation followed by a presentation. The average years of experience for most candidates joining the course is 9 years.
NYU Stern Executive MBA: The New York University Stern executive MBA is a 22-month long programme. One of the USPs of the programme is that Stern has a strong network of alumni across the world. Besides, the programme also offers a global management curriculum with two international study tours. While the Stern MBA programme does not require GMAT score, its usual classes have students with average 14 years of work experience, including 9 years of managerial experience.
The Kellogg-HKUST Executive MBA Program: The Kellogg-HKUST Executive EMBA Program or KHEMBA is a combined degree by Kellogg School and the Hong Kong University of Science Technology's School of Business and Management. The degree has been repeatedly ranked among the top EMBA programmes in the world by major ranking platforms. The programme has over 800 participants from across the world. KHEMBA offers an MBA without GMAT score. Instead, candidates need to have around 14 years of experience to qualify for the programme.
The Tsinghua-INSEAD Dual Degree Executive MBA (TIEMBA): A collaboration between two of the top business schools in the world- Tsinghua University School of Economics & Management and INSEAD- gave shape to one of the best EMBA degrees in the world- TIEMBA. Interestingly, TIEMBA allows the candidate to graduate with two degrees after 18 months of the course of which 12 weeks are on the campus. While GMAT is accepted for admission, it is not necessary. Aspirants can also take the TIEMBA Entrance Exam which is held at centres across the world. Aspirants need a minimum of 8 years of experience to qualify for admission.
UCLA - NUS Executive MBA: The UCLA – NUS MBA provides two MBA degrees from both UCLA, USA and NUS, Singapore. A typical UCLA – NUS class consists of 45 students; 59% of whom are from Asia. Competition for this programme is fierce as nearly 40% of the class has had held senior managerial positions previously. Again, a GMAT score is optional here. So, students can apply for an MBA without GMAT score. Instead, the school has a very intense interview round and candidates require at least 12 -19 years of experience to be offered a place.
While most of the MBA programmes demand GMAT score, there are business schools around the world which do not require GMAT score for entry into the regular MBA programmes. Instead, most of these business schools rely on work experience and strong work profile for admission into its programmes. Australia and New Zealand are two of popular business school hubs whose management schools do not, generally, demand GMAT score.
MBA without GMAT in Australia
Australia: Most of the business schools in Australia do not require GMAT score. While some have completely excluded it from the eligibility criteria, for others it is not mandatory in the admission process. Interestingly, even though some business schools in Australia accept GMAT, the required score is limited compared to other countries. Eg. while most of the top business schools in the USA require GMAT score above 700, in Australia, the score of 600-650 is sufficient for the top business schools.
However, what most business schools require is work experiences of 2-5 years for admission to their management courses. The number of work experience, of course, depends on the course you want to pursue.
Here are the top business schools in Australia which offer MBA without GMAT with the required work experience:
Bschool

Work experience (minimum)

The University of Melbourne-

Melbourne Business School

2 years

University of New South Wales- AGSM MBA

2 years

Australian National University-

College of Business and Economics

-

La Trobe Business School

3 years (managerial exp)

Monash Business School

3 years (including 1 year of managerial exp)

UQ Business School

4 years ( including 2 years of managerial exp)

Sydney Business School

3 years (both work and managerial exp)

Macquarie University-

Macquarie Graduate School of Management

2 years

Graduate School of Business and Law, RMIT

-

University of Western Australia

UWA Business School

3 years
MBA without GMAT in New Zealand:
New Zealand: New Zealand is another country which does not give much weightage to GMAT score of a candidate. The country has around 8 universities besides 18 Institutes of Technology and Polytechnics (ITPs). Like Australia, New Zealand, too, puts more emphasis on work experience of the student.
Here are the top business schools in New Zealand which offer MBA without GMAT with the required work experience:
| | |
| --- | --- |
| Bschool | Work experience (minimum) |
| University of Auckland Business School - University of Auckland | 3 years |
| Auckland University of Technology School of Business - Auckland University of Technology | 5 years |
| University of Waikato Management School - University of Waikato | 3 years |
| Massey College of Business - Massey University |   |
| Victoria University Faculty of Commerce and Administration - Victoria University of Wellington | 5 years |
| Canterbury University College of Business and Economics - University of Canterbury | 5 years |