MBA Reapplication Essay: How have you improved?
MBA Reapplication Essay: The MBA reapplication essay is written by an applicant who is reapplying to a business school within a stipulated time frame as suggested by the preferred university. Business schools often ask students who have previously applied and were not accepted to a program to submit a re-applicant essay along with the required application essays at the time of application. They also retain the application and the candidate's data for two to four years. The Admissions Committee often refers to the previous application while reviewing the re-applicant's current application for improvement and changes made since initial application. So, for some universities, applying within one year would be considered as reapplication and for others, a candidate is considered a re-applicant for as long as four years after initial application.  This article discusses points to be included while crafting MBA reapplication essays and getting into the program the second time around.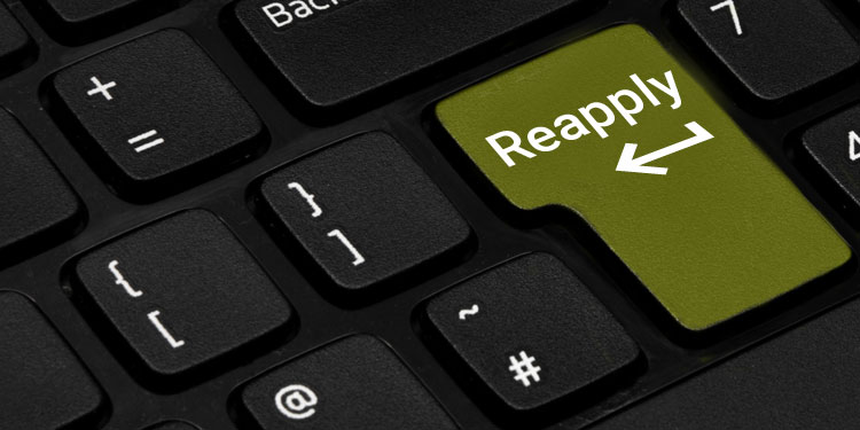 Getting through an MBA program at one of the top business schools is a tough job for both fresh applicants and even more so for re-applicants. With a very high number of applications each year, the percentage of admits each year is going down with the exponential growth in the popularity of the program. While some universities provide detailed pointers about improvement areas to rejected students regarding their reapplication, others give feedback upon request whereas yet others may provide no feedback at all.
MBA Reapplication Essay questions:
The MBA essay topics or questions differ slightly with the university or business school in consideration. Despite minor differences in the questions, they follow a general trend of focusing on the improvements made by the re-applicant since the time of prior application to the program. Some MBA reapplication essay questions from the top business schools in the world are:
National University of Singapore: Please provide an update on any new aspects of your professional, international, academic or personal profile that would not have been included in your previous application. Please also explain your motivation for re-applying to NUS. (300 words maximum)

Haas School of Business, University of California, Berkeley: For re-applicants, improvements to your candidacy.

Booth School of Business, University of Chicago: Re-applicant Essay: Upon reflection, how has your perspective regarding your future, Chicago Booth, and/or getting an MBA changed since the time of your last application? (300 words maximum)

Stern Business School, New York University: If you are a re-applicant from last year, please explain how your candidacy has improved since your last application.
MBA Reapplication Essay: Show improvement
MBA Reapplication Essay questions are loud and clear: "How have you improved your profile since your last application?" Unlike other essays, the MBA re-application essay clearly asks candidates to delineate the areas in which they have improved i.e. the skills and experiences that the candidate has gained since the last application.
In order to effectively summarize one's areas of improvement, candidates need to conduct an unbiased review of their application before re-applying. Until the candidate can clearly decipher which part of his or her application was lacking, drafting an effective reapplication essay will prove to be a difficult task. The review process should include each and every aspect of the application from GMAT test scores to previous MBA essays and recommendations.
The MBA reapplication essay question essentially asks candidates to describe how they have grown since the last time they applied for the programme as well as how their suitability to the programme has improved. There should be strong improvements in the candidate's application documents which can be clearly demarcated by the Admissions Committee in as many supporting documents and constituent elements as possible. It is important for candidates to highlight aspects like new skills acquired, projects handled, role improvements, and certifications obtained since the last application. An increased focus on goals or specific aspirations is also something that would enlighten the Admissions Committee regarding the steps that the candidate has taken to improve his or her application. 
One aspect of the MBA reapplication essay which candidates often face a difficulty in dealing with is effectively mentioning one's improvements in the stipulated word limit for the essay. Often the MBA reapplication essay is 300 words and in some cases, it is stretched to around 500 words. Describing an entire year's worth of achievements, changes, and improvements in such a meager word count is a daunting task. It is best to divide the entire essay into paragraphs of approximately 80 words each, with each paragraph dealing with a separate facet of improvement in a short and specific manner.
MBA Reapplication Essay: Application Time
The time of application or re-application to any of the top MBA programs is an important aspect which is generally overlooked by candidates. In order to improve one's chances for getting selected to the program, it is best to apply in the first round of applications which are as early as August or September for most MBA programs which start in the fall of the following year. Applying in the first round is beneficial as opposed to later rounds where candidates compete against a greater number of applicants for a smaller number of seats.
MBA Reapplication Essay: Recycling Previous Material
Many reapplicants make the common mistake of clinging to their previous essays at the time of reapplication to an MBA program. Although some may argue that it cannot be concluded for certain that the previous application essays were the reason for rejection of the application, but it is advised to not reuse previous essays at the time of reapplication to stay on the safe side. This is because, often, the Admissions Committee pulls out the candidate's previous application at the time of evaluation and compares the changes made since the last application. If the essays answers are similar then it gives the Admissions Committee the impression that the candidate has not placed sufficient effort in reapplication and forms a negative impression whilst considering the remainder of the application. In case of video essays as well, candidates should shoot a new video with new information and tid-bits at the time of reapplication.
Therefore, candidates should treat the reapplication as a fresh application in all respects, save for the MBA reapplication essay, of course. Rewriting the essays and changing the referees or recommenders for LORs, however, is not the sole solution for reapplying. Neither is simply improving on the GMAT or English language proficiency tests. Instead, the candidate should display effort in making improvements in each field of consideration and should adopt a holistic approach to personal and professional growth which can be clearly delineated in the MBA reapplication essay.
Stuck with your essays? Download MBA Application Essays Guide E-book.
MBA Reapplication Essay: Things to consider before you reapply
Improvement Area

Details

School Selection

Candidates should rethink schools based on his or her applicant profile. Apart from reapplication, there should be some schools for fresh application as well.

GMAT

Generally, the GMAT score is not a hindrance if the remainder of the application is top-notch. But if the candidate's GMAT score falls in the lower range, or under the average for the desired business school, it is best to retake the test and score higher.

GPA

There is not much that a candidate can do in terms of GPA improvement. In case the GPA is on the lower end, compensation can be made through a high GMAT score or various certifications earned after completion of the initial educational qualification.

Recommendation

Often, the choice of recommenders that is made by candidates is not necessarily apt for the program. Instead of aiming higher, candidates should aim deeper in terms of recommendations. It is better to obtain a recommendation from someone who is only a few professional ranks higher but has worked closely with the candidate rather than a high ranking professional who has not been personally or professionally acquainted with candidate to a considerable extent.

Leadership and

Team player skills,

Communication skills

Candidates should engage in projects which lay emphasis on leadership skills and team spirit. Participation in various clubs promoting communication skills as well as devising soft skill development plans suitable to the candidate are a good option for displaying improvement in areas required for a successful MBA applicant.

CV/Resume

An updated CV or Resume with added qualifications and achievements is essential for MBA reapplication.

Certifications earned

Candidates should opt for short-term certification courses or programs which will enhance their profile. These certifications should essentially be associated with the management and business domain.

It is always beneficial to increase the amount of work experience which the candidate has obtained in a management and business related domain. 

Projects handled

Candidates should engage in various projects at the professional level as well as other activities both extracurricular and co-curricular in nature.

Essay

The MBA reapplication essay, as well as the remaining application essays, are a primary aspect of reconsideration. Candidates should rewrite the essays, lifting only essential components from the previous essay where it is absolutely necessary. Examples from recent experiences and achievements should also be integrated.
Stay tuned to www.studyabroad.careers360.com for more news and updates on MBA essays and applications!
Also read:
MBA Reapplication: How to reapply to business schools
MBA Essay on Failure - How to write about my biggest failure