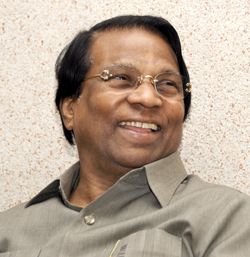 Dr. G. Viswanathan, Founder & Chancellor, VIT University (Vellore), talks about international students on campus as well government reforms that must be carried out.
At VIT, we have students from over 50 nations. At first, students from neighbouring countries started coming.  Then  from Africa, with the first Rwandan student in 1998. Now, one of the largest contingents is from China, as we have tie-ups with at least 12 Chinese universities – students study in China and India, for two years each. Similarly, we have tie-ups with around 100 institutes around the world. We also have some European students and in the coming year, we aim to attract students from the US s well. 
International students come to India for two reasons. One, for English as many view India as an English-speaking nation. Two, in the area of computer science/ IT education, India is seen as a leader. However, while the number of students going abroad for foreign studies is growing around the world, in India, this number has not kept pace even with countries like Malaysia and China. For India to become a global study destination, the government must set goals and take certain steps. 
The Indian government must liberalise the policies relating to international students in India. For instance, as of now private institutes can only have up to 15% international students. Public institutes like IITs and IIMs have never focused much on this aspect and are doing so only now. Faculty is an area that needs focus. As of now, international faculty come for a few months and then head back. Indian institutes must also be able to attract good permanent faculty from around the world. This needs help of government in terms of funding through scholarships and stipend schemes, which are available in western countries. Visa procedures must be also streamlined – as of now, the process is lengthy, and is a major constraint. I also feel we must especially target non-English speaking countries due to their growing need to develop English skills. 
Food adjustment is a challenge, hence we have made special arrangements to address the issue. For instance, we hired some cooks from China so they can make authentic Chinese food as opposed to Indian Chinese. We also celebrate the festivals of international students. For instance, we celebrated the Chinese New Year. This makes the students feel at home. 
India is already a diverse nation, and Indian students can further expand on this by making their international counterparts feel at home and in turn embracing multicultural experiences.