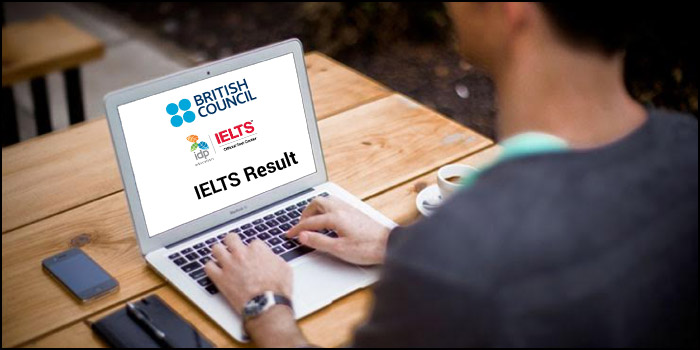 Highlights: IELTS Results Announced by British Council. Check Now!
IELTS Result 2019 - British Council- One of the major International English Language Testing System (IELTS) conducting bodies announces IELTS 2019 result at 12:00 PM (IST) after 13 calendar days counting from the test date. Candidates can check the IELTS results online; released by both the British Council and IDP IELTS examinations. The IELTS scores for test held on March 2, 2019, has been announced on March 14, 2019. To check IELTS results, candidates need to enter their registered login details, including date of birth, Identification document number and candidate number. IELTS result 2019 will be available for viewing and downloading only for 40 days. The system will not display the online IELTS result after the prescribed days. Candidates can also view their results (British Council IELTS) for the test taken on February 2, 9, 14, 16, 23 and March 2, 2019. IELTS scores are graded on the 9-band system, wherein candidates are awarded band based on their English competency. There is no qualifying score in IELTS as each educational institution or organisation sets its criterion of IELTS test result 2019 to meet its individual requirements. The IELTS nine-point scoring system measures and reports test scores for each language skill or sub-tests. In this article, candidates can know how to check, calculate IELTS results 2019 and send it to desired universities.

IDP IELTS Result 2019 - IDP IELTS has declared IELTS results as well. Candidates, who opted for IDP IELTS (Computer-Based Test) can view their results for the test taken on the mentioned dates: February 1, 2019 - March 2, 2019.

LATEST- IELTS Results (British Council) for the test conducted on March 2 is announced on March 14. Check below-
Click here to know the IELTS Result (Test Date- March 2) Announced by British Council
Click here to check IELTS Result (International) Announced by IDP IELTS Australia Or Check from the window below:
How to check IELTS Result 2019
Candidates should visit the official British Council website or check the link below.

Click on the tab, 'Take an exam' under which you have to click 'IELTS'

On the right-hand side of the page, click on the tab, 'Your Results'.

The next page you will see an option 'Preview your results online'. Before you click that, make sure you go through the information provided on the page.

When you click 'Preview your results online', the next page will ask you to fill in details like the test date, date of birth, identification document number and candidate number for verification. Once you fill in all the information, click 'Find'.
Else, you can pick up your IELTS result 2019 from the test centre depending on your arrangement with the centre. To check your IELTS Test scores at the test centre, you need to show your passport or ID number that you used while registering for IELTS test. Candidates should note that they would receive their candidate number on the test day itself and ensure to keep it safe for future reference. Test takers of IELTS 2019 will not be able to obtain your results over the phone, by email or by fax.
IELTS Results through SMS-
Candidates can get their IELTS 2019 results/scores through SMS by sending the following code to 9289892898 from any mobile number after 12 PM (IST) on the respective result days.
RESULT<space>Candidate No.<space>Passport No.
The IELTS 2019 result will be automatically sent to the five universities or organisations that you had selected at the time of registration of IELTS Test 2019.
The calculation of the IELTS Result 2019 is done by taking the mean of the total of the four individual sectional scores, namely Listening, Reading, Writing and Speaking scores. IELTS Band scores 2019 are reported considering the nearest whole or the half band. To avoid confusions, the following rounding convention applies; if the average across the four skills ends in .25, it is rounded up to the next half band, and if it ends in .75, it is rounded up to the next whole band. Thus, a candidate achieving 6.5 for Listening, 6.5 for Reading, 5.0 for Writing and 7.0 for Speaking would be awarded an Overall Band Score of 6.5 (25/4 = 6.25 = Band 6.5) in the IELTS result 2019.
Likewise, in the IELTS 2019 result a candidate achieving 4.0 for Listening, 3.5 for Reading, 4.0 for Writing and 4.0 for Speaking would be awarded an Overall Band Score of 4.0 (15.5/4 =3.875= Band 4.0). On the other hand, a candidate achieving 6.5 for Listening, 6.5 for Reading, 5.5 for Writing and 6.0 for Speaking would be awarded band 6.0 (24.5/4 = 6.125 = Band 6) in the IELTS result 2019.
TEST REPORT FORM (TRF)
 There are two kinds of Test Report Forms (TRF) available, namely,
Personal Test Report Form

Institutional Test Report Form
Personal Test Report Form
All test takers will receive their individual test report forms which will report the score obtained by them for each of the four skills (Listening, Reading, Writing, and Speaking), as well as the overall band score. Each candidate will receive only one copy of the test report form, therefore it is important to keep it safe. The TRF/ IELTS scorecard will be sent to candidates through Courier or Speed post which would take up to 10 days to get delivered from the result declaration day. Examines will also receive the shipment tracking number through SMS in their registered mobile number when it is out for delivery.
Test Report Forms for Institutions
Up to five (5) copies of TRF are posted to the relevant institution(s) that a candidate lists in their IELTS application form for sending the IELTS 2019 result. No extra charges are levied for sending the IELTS score to these five Colleges/Universities. Candidates can request for additional TRFs beyond the five from the Test Centre which issues the TRF. Candidates can opt for paid services for additional TRFs to be sent to the university or institutes anytime during the validity of the Test Report Form (two years). Following are the modes for transmission of IELTS results-
International Courier – The fee will be INR 1250 per address. The courier service tentatively takes four days to deliver to the chosen university. Tracking number through SMS will be provided to aspirants. 
By post – The fee will be INR 250 per address. It tentatively takes approximately two weeks to get delivered through Air Mail. No tracking number is provided for this service.
Electronic – The fee for this service is INR 250 per University. Universities / Institutions that have subscribed to electronic download of scores (STED RO) will be sent results electronically.
Institutions will also be able to view candidates' scores through the IELTS Test Report Form (TRF) verification service. To view, they would require your TRF number which can be found at the bottom right corner of the Test Report Form. In case, a candidate wants to re-evaluate the IELTS result 2019, he/she must apply for an Enquiry at the test centre within six weeks of the test date. There is an enquiry fee, which is fully refunded if your IELTS band scores undergo alteration.
The IELTS Test Pattern 2019 is prepared to reflect the use of English in everyday life. The IELTS result 2019 are reported in whole or half bands. Each of the sub-test scores is equally weighted and the OBS is calculated by taking the mean of the total of the four individual sub-test scores. According to the IELTS test pattern 2019, the exam measures candidates' English language command in four different skill sets, namely Listening, Reading, Writing and Speaking.
IELTS Result (Score Card) Sample - Check below
IELTS 2019 Band Scores
| | | |
| --- | --- | --- |
| Band Score | Level | Meaning |
| Band 9 | Expert user | Fully operational command of the language: appropriate, accurate and fluent with complete understanding. |
| Band 8 | Very good user | Fully operational command of the language with only occasional unsystematic inaccuracies and inappropriacies. Misunderstandings may occur in unfamiliar situations. Handles complex detailed argumentation well. |
| Band 7 | Good user | Operational command of the language, though with occasional inaccuracies, inappropriacies and misunderstandings in some situations. Generally handles complex language well and understands the detailed reasoning. |
| Band 6 | Competent user | Generally effective command of the language despite some inaccuracies, inappropriacies and misunderstandings. Can use and understand fairly complex language, particularly in familiar situations. |
| Band 5 | Modest user | Partial command of the language, coping with overall meaning in most situations, though is likely to make many mistakes. Should be able to handle basic communication in own field. |
| Band 4 | Limited user | Basic competence is limited to familiar situations. Has a frequent problem with understanding and expression. Is not able to use complex language. |
| Band 3 | Extremely limited user | Conveys and understands only general meaning in very familiar situations. Frequent breakdowns in communication occur. |
| Band 2 | Intermittent user | No real communication is possible except for the most basic information using isolated words or short formulae in familiar situations and to meet immediate needs. Has great difficulty in understanding spoken and written English. |
| Band 1 | Non-user | Essentially has no ability to use the language beyond possibly a few isolated words. |
| Band 0 | Did not attempt test | No assessable information provided. |
Required IELTS score 2018 for top business schools-
Institute

Country

IELTS score

University of Chicago – Booth School of Business

USA

7

Harvard Business School

USA

7.5

Northwestern University-

Kellogg School of Management

USA

7.0

UCLA Anderson School of Management

USA

7.0

Rotman School of Management

Canada

7.0

SaÃd Business School, University of Oxford

UK

7

Judge Business School, University of Cambridge

UK

7

Imperial College Business School, Imperial College London

UK

7

HEC Paris

France

6.5

IE Business School

Spain

7
Each candidate is permitted to send the IELTS score/band obtained to five universities of their choice free of cost. The students choose the universities at the time of registering for IELTS (International English Language Testing System). As a student registers for the exam; after he/she decides the date, test centre, and fills in personal details, the system prompts them to choose if they want to send the scores to other institutions. If the student chooses 'Yes', he/she is required to then fill in the institution details. The copies of IELTS TRF (Test Report Form) are sent to the chosen universities by the IELTS test centre.
Hard copies of TRF can be sent to institutes for an extra charge of US$3.75. If Candidates need to send the TRF to international destinations via courier, they would be required to pay an additional cost of US $19.
IELTS TRF can also be attached to the university application form wherever required.
Re-taking IELTS
There is no limit on the number of attempts set by the IELTS test conducting bodies, so an aspirant can re-appear for the test numerous times. If you are not satisfied with your IELTS results 2019, you can appear for the IELTS test again. Prepare well before appearing for the IELTS exams. The application procedure for IELTS allows candidates to apply for the test around the year. As such, there are no specific IELTS eligibility criteria 2019. However, the selection procedure of IELTS depends solely on the organisation the candidate wishes to apply to.
IELTS test is conducted to evaluate a candidate's proficiency level in the English language. Individuals aspiring to pursue education or eager to work in countries like the USA, UK, Australia etc have to qualify the exam. IELTS test score 2019 is accepted by over 10,000 organisations in 140 countries worldwide, including schools, universities, Government departments, employers, immigration authorities and other professional bodies.
Also read,
English Language Proficiency Score for Engineering programmes
Questions related to IELTS