Hubert H Humphrey Fellowship: Your ticket to study in the US


Fast Facts
For: Young and mid career professionals
Field of study: Non-degree program
Average duration: Ten months
How to apply: Download application form from the official website
The college education abroad is very expensive unlike education back home. But global standard education in a technologically advanced environment, a chance to explore your individuality and different cultures along with being financially and otherwise independent are just some of the factors that lure students to study in the USA. And when there are ways the financial aspect can also be taken care of, there is nothing more one could ask for. Hubert H Humphrey Fellowship is one such fellowship programme that tops the list of some of the most coveted and financially viable options to study in the USA.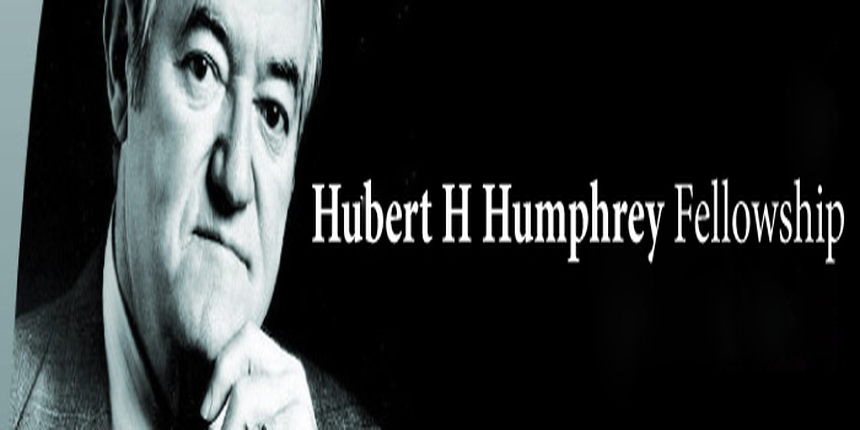 What is Hubert H Humphrey Fellowship?
A Fulbright program, Hubert H Humphrey Fellowship allows competent young and mid-level career professionals to undergo a ten months' non-degree graduate study and related practical professional experiences in the United States. The Fellowship programme is open to candidates from developing countries who have a record of public service in the community, have demonstrated leadership qualities and shown willingness to return to home country on completion of the fellowship. Since its inception, more than 4,600 Fellows from 157 countries have participated in the programme. The fellowship programme gives preference to qualified women and candidates from minority and disadvantaged groups.
Who funds Hubert H Humphrey Fellowship?
The Hubert H Humphrey Fellowship is funded by the Bureau of Educational and Cultural Affairs (ECA) of the Department of State under the guidelines stated by the J. William Fulbright Foreign Scholarship Board (FSB) and in cooperation with Public Affairs Sections of U.S. Embassies abroad and Binational Fulbright Commissions/Foundations. The Institute of International Education (IIE) administers the Hubert H Humphrey Fellowship program with the help of generous support from several co-funders which include National Institute on Drug Abuse (NIDA), The Republic of Korea/Ministry of Government Administration and Home Affairs (MOGAHA), Emory University, Rollins School of Public Health, American Management Association, Employers and Host Campuses.
A sneak peek into the history of Hubert H Humphrey Fellowship
The fellowship is named after Hubert H. Humphrey, the 38th Vice President of the USA who served the country from 1965 to 1969. In the year 1978, the year Humphrey died of cancer, President Jimmy Carter, to honor Humphrey's tireless devotion to public service, achievements and visionary leadership, announced Hubert H. Humphrey Fellowship Program. The fellowship programme encourages an exchange of knowledge and mutual understanding throughout the globe.
Hubert H Humphrey Fellowship eligibility criteria
Listed below are the basic eligibility criteria for the fellowship programme:
An undergraduate (first university or Bachelor's) degree

A minimum of five years of full-time, professional experience

Limited or no prior experience in the United States

Demonstrated leadership qualities

A record of public service in the community

English language ability
Selection process for Hubert H Humphrey Fellowship
The five different steps of selection process are listed below:
National Screening

Screening by the Institute of International Education

Candidate Review Committees

Approval by the J. William Fulbright Foreign Scholarship Board

Placement of selected Humphrey Fellows
Choice of University
As per the Hubert H. Humphrey Fellowship Program, the fellows can't choose for themselves which university to attend.  They are rather assigned the most appropriate host institution in diverse groups of 7-15. The institution being assigned depends upon the fellows' area of interest and professional field.
Choice of Course

The Hubert H. Humphrey Fellowships are awarded in the following fields of study:
Sustainable Development




Agricultural and Rural Development

Economic Development

Finance and Banking

Natural Resources, Environmental Policy and Climate Change

Urban and Regional Planning

Democratic Institution Building




Communications/Journalism

Law and Human Rights

Public Policy Analysis and Public Administration

Trafficking in Persons Policy and Prevention

Technology Policy and Management

Human Resource Management

Education




Educational Administration, Planning and Policy

Higher Education Administration

Teaching of English as a Foreign Language

Public Health




Public Health Policy and Management

HIV/AIDS Policy and Prevention

Substance Abuse Education, Treatment and Prevention
The main components of the Fellowship program are:
Humphrey Seminar

Academic Enrichment

Professional Development

The Washington Global Leadership Forum

English Language Courses
Hubert H. Humphrey Fellowship Program Design
Soon after reaching the US, the fellows are asked to prepare individual program plans that will assist them in their professional development, detail their objectives and goals for the year, including seminars, special projects, courses, community and professional activities.
Why Hubert H. Humphrey Fellowship?
The Hubert H. Humphrey Fellowship covers the following aspects
Pre-academic English language training, if required

Payment of tuition and fees of the course

A maintenance (living) allowance, including a one-time settling-in allowance

Accident and sickness coverage

Air travel

A book allowance

A one-time computer subsidy

A Professional Development allowance for activities, such as professional visits, field trips and conferences.
How to apply for Hubert H. Humphrey Fellowship Program
Candidates need to download the application form online and send the completed form with supporting documents to the following address:
The Executive Director,
United States- India Educational Foundation
Fulbright House, 12 Hailey Road
New Delhi- 110001