How to Apply for Bachelor Degree in USA
Students who plan to get admission in a bachelor degree in USA, should start their college and course research a year or two in advance. Studying in the USA or in any other country requires a lot of planning, guidance, right information and funding. All these activities will need a lot of time, energy and money.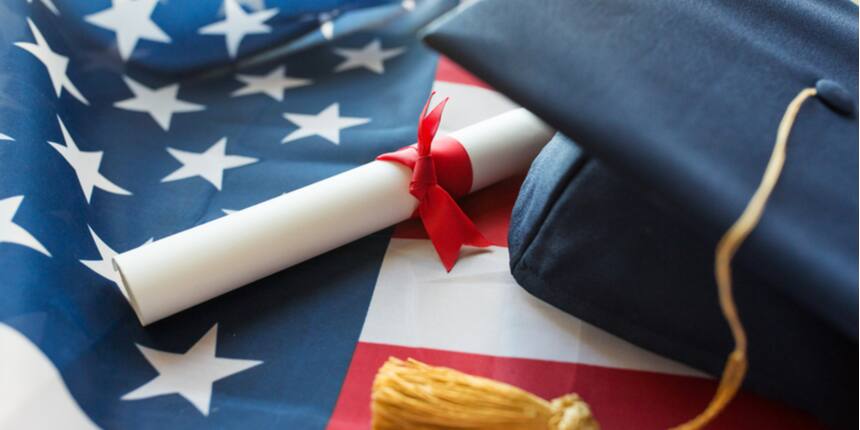 The article will give you guidance and information about how to apply for bachelor degree in USA. But before deciding to get admission in USA universities, ask few questions to self like: -
What are your future goals?
Which course do you want to pursue?
What are your funding options?
Will you need financial assistance?
Which state of the USA do you want to go to?


After deciding on the above questions start with the following steps: -
1) Research your options for Admission in a Bachelor Degree in US Universities
Students deciding on how to apply for bachelor degree in USA, should start their research about different colleges and universities from their high school (11th/12th class).
To know about different universities/colleges/their fee structures/rankings, students can get a full list on different search engines like QS, THE, US News, Careers360. The listing will familiarize students with USA universities and colleges and basic information about them.
Shortlist the names to visit the website of each educational institute to get admission in bachelor degree in USA universities.
Students must check that the institute they are applying to is accredited by The US Department of Education and Council for Higher Education Accreditation.
Visit the shortlisted University websites and look for sections like:-
About or key facts of university
Academics- types of courses
University Campus/colleges
Tuition fee for international students
University Course Credit System
Eligibility criteria for international students
Required Standardized test and English Proficiency Test
College Accreditation
Scholarships and Financial Aid for international students
Intake period of University- US Colleges have three intake periods- fall, spring and summer. Fall intake starts in the month of September and attracts the majority of applicants for bachelor degree in USA. Summer intake offers seats in limited programs and colleges.
Read about Top Universities in USA 2022
2) Financial Planning
To get admission in a bachelor degree in US universities from India is a costly affair. University education and living expenses can vary across different states. Proper planning and research about financial aids, fee waivers, scholarships for international students can help save a lot of cost.
Scholarship and financial aid- are given on merit basis, need basis, academic excellence in studies. They can cover 16%, 30, 50 % of the tuition fee cost of a bachelor degree in USA. Universities provide their information on websites.
Work-study- These programs provide part time work opportunities on & off campus to help students with their study or living costs for bachelor degree in USA.
Students can also compare costs between two cities through cost-of-living calculators available on the internet.
3) Application Process for a Bachelor Degree in USA
Application on how to apply for bachelor degree in USA can vary from one university to another. Read the university requirements and their intake period for bachelor degree in USA for international students. Students who wish to begin their semester in Fall intake (September) will have an application process due between November to February.
Educational Certificates- to get admission in US universities from India for bachelor degree students must complete their high school from recognized boards like CBSE, ISC etc.
Academic Transcripts- These are certified copies of a student's academic record, grade cards, marksheets from their high secondary school/college. They must be in English only.
Standardized Test Scores - Each university and college set their own admission criteria for international students for admission in bachelor degree in USA. Majority of US universities and colleges give admission on the basis of a student's academic record and standardized test scores like SAT or ACT for undergraduate programs.
SAT- is conducted in over 175 countries and many colleges in the USA require this test for a four-year bachelor degree program. SAT consists of multiple choice questions and an essay section. Students are checked on the basis of their skills developed during high school. Universities use SAT scores as a benchmark to compare students all around the world to give admission in a bachelor degree in USA.
ACT- is also a standardized test used for applying to a four-year bachelor degree in USA. It is based on secondary school curriculum. ACT test comprises multiple choice questions in English, Reading, Science and Reasoning. There is an optional writing test to be taken, only if required by the college.
English Proficiency Tests- They are integral to get admission in US universities from India. Two main English proficiency tests for a bachelor degree in US are: -
IELTS Academic- A popular English proficiency test. It is accepted by almost every university/college/institute for admission to a bachelor degree in USA. The test assesses English proficiency on four parameters, Listening, Speaking, Reading, and Writing (LSRW). A score of 6.0 -7.0 band with 5.5 band in all the sections is acceptable for admission in US universities.
TOEFL (iBT)- The test is accepted by the majority of universities and colleges for bachelor degree in USA. It is an internet-based test and results are available in 6-8 days. A score in the range of 70-89 is good to go.
LORs (Letter of Recommendation)- to get admission in US universities from India, students need LORs from their school head, principal, teacher or supervisors. LOR must define your work abilities, academic excellence and other qualities as a student taking admission to a bachelor degree in USA.
Essay or SOPs (Statement of Purpose)- In a statement of purpose, students should define their goals, ambitions, interests, personal traits, problem solving skills etc to get admission in a bachelor degree in USA.
Know- Top Courses to Study in USA
4) Application for Student Visa to get Admission in US Universities
Once students receive an acceptance letter from a university for bachelor degree in USA, they should contact the US High Commission in their area to process their application for a USA student visa. Kindly go through the student visa policy for higher studies in the USA to get detailed and clear information.
5) Checklist Before Departure for Admission in a Bachelor Degree in USA
Before moving for a bachelor degree in USA, students can take advice from the EducationUSA advising center in their country/India or from the international student adviser at their university.
Confirm the date of arrivals with your college (students may not enter the USA more than 30 days prior to the start of your program)
Information about US Customs duty, Covid Protocols and Quarantine Information
Arrangement for accommodation (for off-campus like dorm, single room, apartment)
Documents and their photocopies- like passport, medical record, covid vaccine certificate, letter of offer from university, confirmation of enrollment, academic records, important contact numbers.
Sufficient American Dollar- for expenses like cab fare, sim card, food and other essentials.
Electronics Gadgets like laptop, mobile phone, chargers along with travel adapters and voltage converters as power plugs and voltage are different in USA.
Once you arrive for a bachelor degree in USA, make sure to attend the following orientation- special orientation for international students and regular student orientation. Both orientation programs will give different information. They will help in understanding the institute's international student policies and procedures, introduce you to the main officials, fellow students and other important details for a smooth transition into a bachelor degree in USA.
Read about Benefits of Studying in USA
United States of America Updates and Articles
Questions related to United States of America
Showing 47 out of 47 Questions
How to Apply for Bachelor Degree in USA