GRE Preparation Tips: The aspiring GRE candidates should be well-versed with the GRE preparation tips along with intense preparation for one of the most popular entrance examinations taken to pursue graduate studies abroad, especially the USA. Preparation tips are useful for the prospective test takers as well as the candidates who are planning to take GRE in near future.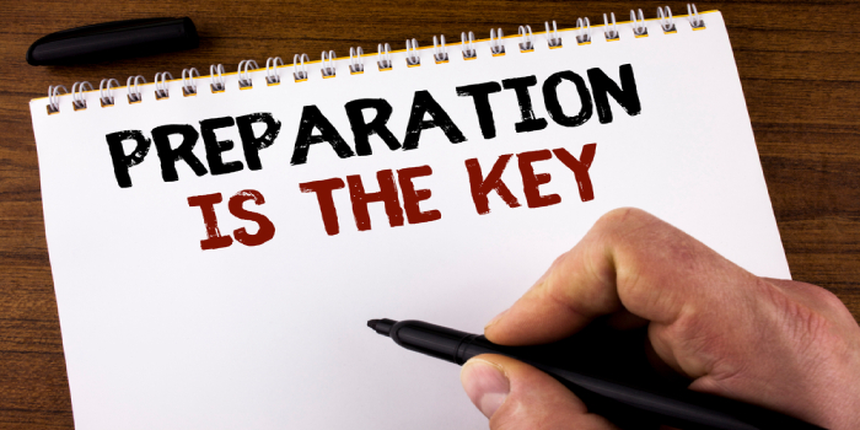 With the help of this article on GRE Preparation Tips, candidates can not only meet their score requirements required by respective institutions but also improve their analytical, verbal as well as mathematical skills.
The GRE 2018 General Test evaluates an aspirant's verbal, quantitative, critical thinking and analytical writing skills which are compiled in three sections- Verbal Reasoning, Quantitative Reasoning and Analytical Writing. The GRE Subject Test, on the other hand, measures a candidate's knowledge in specific fields. They are: Biology, Chemistry, Literature in English, Mathematics, Physics and Psychology.
Some of the common questions for GRE aspirants before an exam would be:
How difficult is the Test?

How to prepare for GRE?

How to maximize my GRE performance?

What kind of resources should I refer to?
 Confused? Don't know where to start? Check here to know which GRE study materials to prepare from!
Test Pattern GRE 2018 General test:
Measure

Number of Questions

Allotted Time

Verbal Reasoning

(Two sections)

20 questions per section

30 minutes per section

Quantitative Reasoning

(Two sections)

20 questions per section

35 minutes per section

Analytical Writing

(One section with two separately timed tasks)

One task each on

1. Analyse an Issue task

2. Analyse an Argument

30 minutes per task
Here we bring before aspirants the GRE preparation tips, where we have considered each component for a detailed discussion; Verbal Reasoning, Quantitative Reasoning and Analytical Writing separately and provided tips to help your performance in the exam.
The first and foremost tip for GRE (General and Subject tests) would be to practice with as many GRE Sample papers, a candidate can lay their hands on. The more aspirants practice, the more confidence they gain which helps in securing GRE scores above the average.
GRE Verbal Reasoning
The Verbal Reasoning section evaluates a candidate's skills to analyse and draw conclusions, understand and add value to data. Candidates are required to understand and summarise the structure of a text as well. The Verbal Reasoning section of the GRE Test Pattern 2018 assesses the three following areas:
Content information analysis and evaluation

Analysis of relationships between different parts of sentences

Differentiate between concepts and words and the relationships between them
GRE Preparation Tips for Verbal Reasoning:
Learn new words: Candidates should learn new words regularly. It is the most important GRE preparation tip. Along with learning new words, learn and practice the usage of the words as well. It is always interesting to play with words and their formations. This exercise introduces new words and improves your vocabulary to a great extent as well. Candidates on the look-out for new words may find websites like OALD and Webster to be extremely helpful. Try playing scrabble during the leisure time; it will help in learning new words easily.
Practice Reading Comprehension: Reading Comprehension forms a big part of the GRE paper. Hence, aspirants should practice as many reading comprehensions as possible. It should be treated as Mathematics. The practice of at least two to three reading comprehensions in a day would be helpful for the test takers to fare decent scores in GRE test.
Check Grammar: Another major GRE preparation tip is to practice Grammar extensively. It is not an easy task to learn all the rules of grammar. The simplest way here would be to understand the basic usages and very importantly learn tenses and other particulars of English grammar.
Download GRE Verbal Reasoning sample paper here!
Quantitative Reasoning:
The quantitative reasoning section evaluates the basic mathematical skills of the test taker. Candidates need to possess knowledge of the standard mathematical concepts and their application in solving problems.
The Quantitative section has two tasks with 20 questions in each and the time allotted to complete each section is 35 minutes.
GRE Preparation Tips for Quantitative Reasoning
A. Practice elementary mathematics: It is imperative for candidates appearing for GRE to make sure their concepts of elementary mathematics are clear. The main topics in this section includes Arithmetic, Algebra, Geometry and Data analysis. However, instead of direct questions relating to the topics, candidates would be asked questions where they need to apply the mathematical concepts. It means the exam checks the confidence of the test taker in the respective topics. So, candidates should ensure that basic concepts are clear before taking up the GRE test.
B. Solve sample paper: One of the effective GRE preparation tips is to solve as many sample papers as possible. Quant is one of the trickier sections of GRE and it is always preferable to be prepared for the kind of expected questions.
Download GRE quantitative reasoning sample paper here!
C. Plan, Prepare and Practice: This is the only technique that can help candidates ace the Quantitative section of GRE. The more one plans and practices, the more his/her concepts will be cleared.
GRE Analytical Writing
This section measures two important skills of the test-taker. First, their critical thinking ability and second, analytical writing skills. There are two tasks in this section: Analyse an Issue and Analyse an Argument. The issue task requires to analyse an issue and develop opinion around it. In the argument task, the candidates have to analyse an argument and present their position regarding it.
GRE Preparation Tips for Analytical Writing:
A. Read and Analyse: Yes, the trick is simple. Reading is the key to success. Candidates should first read and then analyse the content. They should try forming well-read opinions and try to provide reasons for the framed opinions. An analysis should be done from every point of view with substantiation. There is always a way of directing an argument in a manner that is convincing and that only comes from having knowledge on any given topic.
B. Practice writing: Candidates should choose any topic and start writing on it. They should focus on using better vocabulary for expressing the views and arguments. Candidates are suggested to look up at current topics and brainstorm with a peer group to get more ideas and improving on articulation. Also, prospective test takers should practice citing pertinent examples for their line of argument. Candidates might consider the below mentioned GRE preparation tips while writing:
The direction of the argument i.e., for or against

Listing all the points for or against the issue.

Filtering points based on reason and importance.

Dividing argument into well-defined sections to clarify their stand.
Download GRE Analytical writing sample paper here!
Some other Important GRE Preparation Tips:
Practice: Practice is an unending task and cannot be compensated any other alternative method. There is no shortcut to practice. Candidates should be thorough with the GRE test pattern, rules, and format.

Mark and Review: GRE allows students to mark the question for later review. In case one has a doubt regarding any answer, he/she should mark the question to revisit later to review it.

No negative marking: As the GRE test does not penalise candidates for wrong answers, they should not waste time trying to solve answers which are difficult to solve. Candidates should ideally mark them for later review. But candidates should go back and try answering the difficult questions. Leaving a problem will do no good.

Tracking time: Candidates may be capable of writing an incredible answer at leisure, but they do not have the leisure during the exam. So, tracking the time is very important to finish GRE exam on time. It is advisable that candidates should complete the test 5-10 before the scheduled end-time.

Review: Test takers should review their answers for mistakes. While occasional mistakes may not affect the overall score, repeated typos along with spelling and grammatical errors may prove to be fatal.
Also Read:
Questions related to GRE
Showing 445 out of 445 Questions