Financing your foreign degree
Planning to study abroad isn't an easy decision. Besides hefty tuition fee, one needs to consider boarding and travel too. Careers360 tells you how and why education loans come in handy. In this article, we tell you what makes you eligible to take a foreign education loan.

Overseas education provides an opportunity for students to enhance their academic experiences while increasing cultural awareness and tolerance. According to UNESCO, over 180,000 Indian students studied abroad in 2013. The numbers have been increasing, however, the high cost of education abroad is a dampener for many.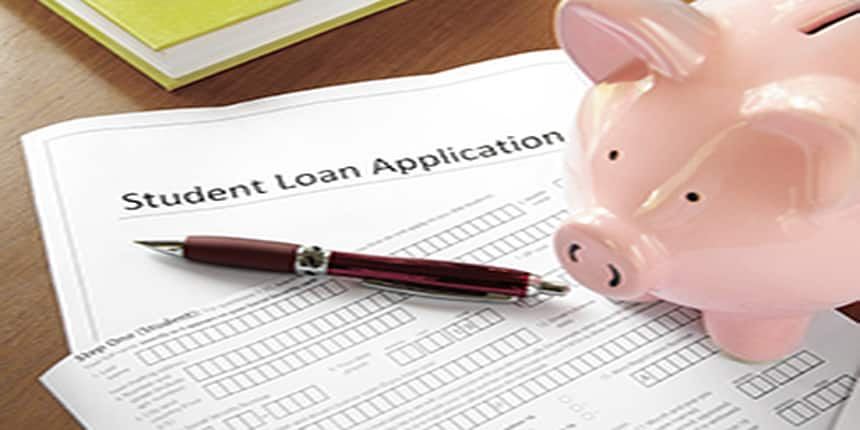 Availing of scholarships is one way of financing study abroad. Part-time jobs, if permitted, and paid internships can also cover a part of it. However, these options are mostly available for postgraduate studies.
Taking education loans from banks and other non-banking financial corporations is a realistic approach to tide over current financial difficulties. What are the key points to be considered while applying for an education loan?
Compare interest rates
Education loans come with varying rates of interest. One should compare as many options as possible and apply for the one offering a higher amount at a lower interest rate. Most of the state-run banks have lower interest rates in comparison to those in the private sector. One should apply to multiple banks, to hedge the possibility of rejection for one reason or the other.
Eligibility
The borrower & co-borrower(s) must be Indian citizens. Both must meet the lending institutions' credit and underwriting norms.
An application form complete in all respects, KYC documents, admission details, academic record-related documents in addition to the financial details and other supporting documents form are required to avail of a loan.
According to Ajay Bohora, Co-Founder & CEO, HDFC Credila Financial Services, "HDFC Credila does not believe in the 'one-size-fits-all' approach and hence evaluates each case holistically. A comprehensive check on multiple parameters is conducted for both Indian and international universities. The country of study, the level of study, course and Institute chosen by the student, academic and previous track record of the student, additional credentials of the students, co-borrower related credit parameters, quality and the quantum of collateral security offered are a few of the key factors which get looked at by HDFC Credila while assessing the loan application. As of now, HDFC Credila has funded students studying 1000+ different courses, in 2100+ institutes across 35 different countries." (Read full interview with Ajay Bohora in next page).
Not all banks consider all courses for overseas education. Many short-term programmes such as English language programmes, vocational courses, aeronautical, pilot training etc. are usually excluded from the list. It is important to check with the banks whether the programme of study is considered for advancing loans.
Guarantee for loans
In general, when the education loan exceeds Rs. 7-7.5 lakhs, a guarantor is required who has to agree to pay the debt, in case the primary borrower fails to do so. Pankaj Kumar Suman, Senior Branch Manager with Oriental Bank of Commerce, "We require a guarantor if a student takes admission in any of the educational institutions apart from Category A and B institutions listed with us and applies for an education loan upto Rs. 7.5 lakh only. The guarantor should have a good net-worth, reputation and shouldn't be a defaulter."
Collateral required
A collateral security is a secondary protection a bank requires for ensuring the repayment of the loan. "We do not require any guarantor if a student applies for a loan upto Rs. 25 lakh for Category A institutions in our list, up to Rs 10 lakh for Category B institutions. In case of other educational institutions, no collateral and no guarantor is required upto Rs. 4 lakh, but a loan application between Rs 4 lakh and 7.5 lakh requires a guarantor and no collateral security. In cases where the loan amount is Rs. 25 lakh, 100% tangible collateral is a must as we cannot take a risk of default in such huge amounts," explains Suman.
HDFC Credila gives weightage to the student's past academic track record, entrance test scores, future school/institute/university's reputation and employability and offers education loans with collateral security and also loans upto 35 lakhs without collateral security. It is in the interest of students and parents to provide the required collateral as that enables students to get better interest rates on education loan. Apart from this feature, HDFC Credila covers up to 100% of educational expenses, that too with no margin money requirement. The education loan covers the complete education expenses, including living costs, and other expenses like books, laptops, travel costs etc, which mostly constitute a large chunk of the cost of attendance, in addition to the tuition fee.
Repayment
An overseas education loan needs to be repaid after the completion of the course plus the moratorium period provided by the lender institution. In most of the cases, the repayment holiday is restricted to the course period plus one year or six months after getting job, whichever is earlier.
In case of default
After successful completion of the course, if a student is unable to repay the loan for any reason, they are termed as defaulters. In cases of default, banks alert the guarantor and seize the collateral security, if necessary.
According to Rachna Bindlish, Senior Branch Manager with Punjab National Bank, "We analyse the borrower holistically for their ability to repay before granting them an education loan. Still, in case of any default, we catch hold of the co-borrower or seize the collateral asset. In this era of internet and social presence, it isn't very difficult to find a defaulter."
Popular choice
The benefits of safeguarding against cost inflation/fluctuation in currency, help in obtaining visa, inculcating the habit of financial discipline in children help children build their own credit history on credit bureaus like CIBIL etc. have made availing of overseas education loan a very popular choice in today's time among students and parents to fund higher education of not only lower and middle income families but affluent families too.
Document Check List
Loan application with passport size photograph of applicant(s) and guarantors

Proof of age and identity, residence proof, PAN no., AADHAR no. of all the applicant(s) and guarantors

Proof having passed the last qualifying examination

Photocopy of passport and visa

Letter of admission

Detailed break-up of the costs of the course Documentary evidence of the assets and the liabilities of the applicant(s) and the guarantors

Documents of the collateral security

IT return/IT assessment order, of previous 2 years of Parent/Guardian/other co-borrower (if IT Payee)

Bank statements of salary/income account for the last 12 months in case account is in another bank KYC (Know Your Customer) document
INTERVIEW:
Ajay Bohora,
Co-Founder & CEO,
HDFC Credila Financial Services
A Loan at your doorstep
Careers360: What are Credila's options for loans to study abroad?
Ajay Bohora: Credila is India's First Dedicated Education Loan Company. With specialized focus, in-depth understanding of the requirements of students who wish to pursue higher education, Credila offers Customized Education Loans Home Delivered. Over the past 7years, Credila has invested time and resources to set up appropriate systems, processes and know-how related to the education industry and has numerous databases on education sector and their credit scoring model for the approvals of loans, designed specifically for student.
Careers360: What are the special features?
Ajay Bohora: Credila offers Flexible repayment terms, wherein the customer can pay full or partial interest during the course of their studies too and longer repayment tenure to ease the burden in the initial years. We also offer Flexible Co-borrower terms. This is important to increase the eligibility of the borrower. HDFC Credila takes the lead and mostly accepts any relative of the applicant who is willing to act as a guarantor, including acceptance of a multi-city co-borrower.
Education loan sanction even before admission confirmation is a feature, not offered by many. Most importantly, Credila offers Income Tax benefits under Section 80-E of Income Tax Act, which can help in very large savings. Students can get their education loan pre-approved even before they start applying to Universities. With education loan approval even before the admission process, Credila enables numerous students to pursue higher education in their dream institute!
Careers360: How do students strike a balance between their dream college and funding the same?
Ajay Bohora: Before deciding which entrance tests to take, students and parents look at and explore various parameters. Rank and location of the institute etc. are critical, however, in addition to that parents and students have increasingly started comparing fee structures of the institutes before deciding on the entrance tests. If the fees of certain institutes are too high, students usually downsize their dreams, and may not even appear for their entrance tests. Usually, parents think of the family savings and then make that decision while deciding on the University. However, that need not be the case anymore because:
Credila provide loan sanction letter before admission, which can be used as a proof of funds. To get admission confirmation, a solvency letter needs to be given to show liquid funds. With cost of overseas education ranging around 20-80 lakhs, it's not easy to keep such a high amount of liquid funds which is why Credila pioneered the concept of showing sanction letters as proof of funds, which is now a preferred choice by many Universities overseas too.

Mostly banks ask for 15-30% of margin money and cover only part of the cost of education. HDFC sCredila has no upper cap on the loan amount sanctioned and funds up to 100% of the cost of attendance. The loan covers tuition fee, living expenses, books and periodicals and sometimes travelling cost too.
Earlier, it was believed that only middle-income group people choose to fund their education through education loans. With benefits of education loans coming to the fore and specialists like HDFC Credila offering doorstep service, many affluent families are also opting for an overseas education loan and availing of the benefits it provides.
Stay tuned to studyabroad.careers360.com for more articles and interviews