Explore the best destinations to study medicine abroad


Top medical destinations in the world- An increasing number of medical aspirants are leaving for foreign shores as the cost of medical education in India touches a new high year after year.  From just around 2500 in 2004, the number of students leaving India to pursue medicine abroad has crossed over 9000. Interestingly, it is China which gets the biggest share of the pie with over 6000 students from India to study medicine. One of the major factors behind China's popularity among Indian medical aspirants is the affordable cost of education as most universities in the country are highly subsidised by the Chinese ministry of public health.

LATEST - Check Top 10 Countries to Study MBBS Abroad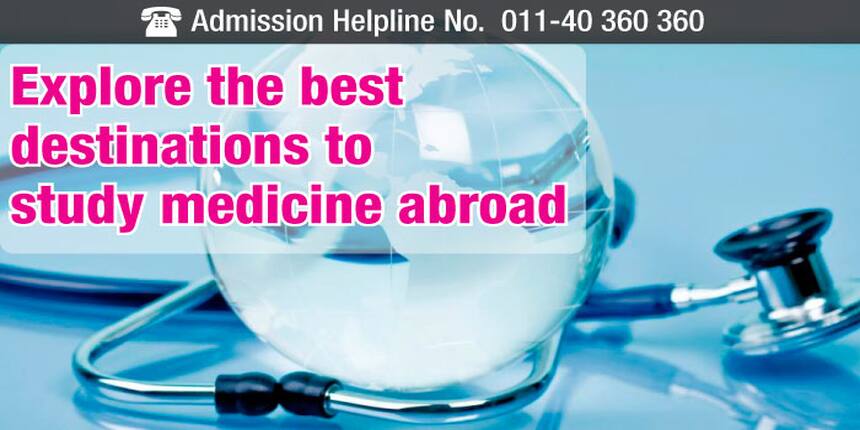 The affordability factor scores high for two other countries, namely, Russia and Ukraine which follow China in the popularity scale among Indian medical aspirants. "I knew I wanted to pursue medicine abroad and Russia is known for its quality training in medicine," says Dr. Devesh Chatterjee, who pursued MD from Smolensk State Medical Academy in Russia.  "The most important factor for me was that Russian medical schools are affordable and there is no donation involved in the admission process. Also, I did not want to lose another year preparing for the entrance exams in India," he adds.


Know here the top medical destinations in the world:
China
One of the most sought after study destinations for Indian medical aspirants, China has over 6000 Indian students pursuing medicine in its various universities. As of 2014, 52 medical institutions in China accept international students in their programme with English being the mode of instruction in all the 52 institutions.
According to MCI, over 6000 seats are up for admission to international students with institutions like China Medical University, Dalian Medical University offering the most number of seats at 200. 


The admission season for medicine studies in China starts in October and the duration of the MBBS programme is similar to that of India i.e 5 years.
Fast Facts:
Degrees offered in: MBBS, BDS, MD
Duration: 5 years for MBBS
Eligibility: 10+2 or Higher Secondary equivalent with Physics, Chemistry, Biology and English.
Average fee: The average fee for most Chinese medical colleges is Rs. 1,60,000 to Rs. 260,000 annually.
Best Institutions:
Fudan University

Jiangsu University

Central South University

Zhengzhou University

Southeast University

Huazhong University of Science and Technology

Tianjin Medical University

Dalian Medical University

Wuhan University

Capital Medical University
Russia:
One of the most popular destinations for medical aspirants from India, Russia has over 5000 Indian students studying in its medical and technical institutions. Interestingly, the Embassy of India in Moscow states that 99% of Indian students in Russia are pursuing medicine. Many Russian medical colleges have started offering these programmes in English.


Currently, the country has over 50 medical colleges. You can get a general medicine degree in 6 years while a dental degree takes 5 years to complete. One of the major reasons why Russia scores over other countries in medicine studies is the low cost of education. While the course fee can be anywhere between Rs. 6 to Rs. 11 lakhs the cost of living in the country is around $200.  


The academic season in Russia starts in September and there are two seasons in an academic year i.e., from September to January and from February to June.
One thing to keep in mind is that unlike India, Russia offers an MD degree covering a duration of 6 years and an additional one year for Russian language. The Russian MD degree is considered equivalent to an MBBS degree.
Fast Facts:
Degrees offered in: General Medicine, Dental and Sports Medicine.
Duration: 5-6 years
Eligibility: 10+2 or Higher Secondary equivalent with 50% in Physics, Chemistry, Biology and English.
Average fee: According to ruseducation, the average fee to complete an MBBS degree is Rs. 8 to Rs. 11 Lakhs.
Best institutions:
Lomonosov Moscow State University

Russian State Medical University, Moscow

Volgograd State Medical University,Volgograd

Kursk State Medical University, Kursk

Kazan State Medical University, KAZAN

Tver State Medical Academy

I.M. Sechenov Moscow Medical Academy

People's Friendship University of Russia, Moscow
Ukraine
With over 5000 Indian students pursuing medicine in the country, Ukraine has positioned itself as one of the most popular destinations for Indian medical aspirants. One of the factors for this popularity is the cheap tuition fee offered in the country's medical schools along with its affordable cost of living.  Annually, a medical student in Ukraine spends Rs. 3,00,000.
Fast Facts:
Degrees offered: Doctor of Medicine (MD) equivalent to MBBS.
Duration: 5-6 years
Eligibility: 10+2 for MBBS with atleast 50 % in Physics, Chemistry and Biology
Average fee: 2600 to 3700 Euros annually.
Ukraine's medical degree is accepted all over Europe, except UK. So, medical graduates from the country are usually known to go to practice medicine elsewhere in the continent. Hardeep Singh, who runs the BobTrade Education Group, says: "Most of the medical colleges in Ukraine use English as the medium of instruction. Also, Ukraine follows the same education structure as practiced in most European countries. Hence, it is easier for students to consider destinations across Europe once they have passed out."
Best institutes:
National Technical University of Ukraine 

National Pedagogical University      

Taurida National University  

Odessa I.I. Mechnikov National University        

Ivan Franko National University of Lviv  

National University of Life and Environmental Sciences of Ukraine         

Taras Shevchenko National University of Kyiv  

National University of Kyiv-Mohyla Academy  

National Mining University

Kharkiv National University
US
Home to some of the best medical institutions in the country, the US attracts thousands of medical aspirants every year. According to the Association of American Medical Colleges, over 1500 international students applied for the MD programme in US medical colleges in 2013.  The Open Doors report 2014 lists health profession as one the top fields of study for international students in the US with 31, 954 enrolled in various programmes within the field.


However, despite having a large number of medical colleges, only around 75 of them offer admission to international students while the conversion possibility is difficult for international students in most these colleges. In fact, out of the 1,777 applicants in 2013, only about 346 got accepted.  


Common degrees offered by US medical schools include Doctor of medicine or Doctor of Osteopathic Medicine programmes. It takes 4 years to complete Medical school in the US following which there is a 3 to 7 year residency programme for training.
Most colleges require students to apply through AMCAS. While the perquisites vary for different schools, a majority of them require MCAT or DAT score for admissions. MCAT and DAT scores are accepted for admission mainly to medical institutes in the US, Canada and some other countries.
Fast Facts:
Degrees offered in: Doctor of medicine or Doctor of Osteopathic Medicine programmes.
Duration: 4 years followed by 3 to 7 years of residency
Eligibility: 4 year bachelors degree with subjects including    biology, general chemistry, and organic chemistry. IELTS/TOEFL
Average fee: $50,000- $75,000 annually for international students
Best institutions:
Harvard University

Stanford University

Johns Hopkins University

University of California—​San Francisco

University of Pennsylvania (Perelman)

Washington University in St. Louis

Yale University

Columbia University

Duke University

University of Chicago (Pritzker)
UK
Medicine is one of the most competitive fields in the United Kingdom with thousands of international students applying for various programmes in the country. UK is home to some of the best medicine institutions in the world with names such as the University of Oxford, Cambridge University and Imperial College London making the biggest impact.
While UK provides a preferable structure for medical studies from abroad, the scope for international students is still limited. Generally, UK allows its medical schools to enroll international students upto 7.5 per cent of their total entry and given the competition very few international students convert their applications. Case for example is Oxford University which received 241 international applications in 2014. Out of that 32 applicants were shortlisted and only 5 received final offer from the university.


A majority of the universities offer Bachelors degree in medicine and surgery i.e., MBChB or MBBS which can be completed within a duration of three years.
Applications to medical colleges are generally aceepted through UCAS. Aspirants are also required to appear for separate medical entrance exams- BMAT or UKCAT.
Fast Facts:
Degrees offered: MBChB or MBBS and MD
Duration: 3 years
Eligibility: 10+2 with Chemistry or Biology. In addition, students need AAA grades.  IELTS score
Average fee: Average fee is around £25000 to £36000
Best institutes:
University of Oxford    

University of Cambridge

UCL

Imperial College London        

Kings College London  

The University of Edinburgh  

The University of Manchester

London School of Hygiene and Tropical Medicine       

Queen Mary University of London

The University of Nottingham
Australia:
While US and UK lead the competition for the most sought after destinations for medical studies and Russia continues to lure international students with its cost effective programmes, Australia, too, is steadily picking up as an emerging destination. According to the Snapshot data by Medicaldeans, the international graduate enrollments in medical schools across the country increased from fewer than a 100 in 2008 to over 600 in 2013.


The International students admissions test (ISAT) or MCAT are the gateways for admission to majority of the medical schools in the country.
Fast Facts:
Degrees offered: MBBS or MBChB; MD
Duration: 5 years for undergraduate studies.
Eligibility: 10+2 with Chemistry or Biology for undergraduation, Bachelors degree for postgraduation. IELTS/TOEFL
Average fee: Average fee is around AUD 40,000 to AUD70,000
Best institutes:
The University of Melbourne 

The University of Sydney

The University of New South Wales

Monash University

The University of Queensland

The Australian National University

The University of Adelaide    

The University of Western     

The University of Newcastle

The University of Wollongong
Germany
Recognised worldwide for offering high quality education at an affordable cost, Germany's higher education landscape has grown steadily over the years with a number of universities making it to the top of the ranking scale. Germany hosts many medical schools which provide ample scope for medical education as well as research. Currently, there are more than 7000 international medical students in Germany.


Germany is best known for its university hospitals which provide the troika of medical training, research and patient care within the same institute. Besides, the country has around 6 German Centres of Health Research and 21 Competence Networks in Medicine which conduct research in diseases.  Interestingly, medicine studies in Germany is not divided into undergraduate and postgraduate levels. However, the first academic degree in medicine is earned after 5 to 7 years of study although the human medicine course is of 6 years.
Fast Facts:
Degrees offered: Diplom/Magister/Staatsexamen
Duration: 6
Eligibility: Abitur,which is equivalent to 10+2  around the world, German language proficiency
Average fee: Higher education institutes managed by the state do not charge tuition fees but there are living costs involved.
Best institutes:
Ruprecht-Karls-Universität Heidelberg

Ludwig Maximilian University of Munich

Humboldt University of Berlin

Georg-August-Universität Göttingen

Technical University of Munich

RWTH Aachen University

Albert-Ludwigs-Universität Freiburg

Karlsruhe Institute of Technology

Hamburg University

Universität Bonn
How do you get evaluated in India?
In order to practice medicine in India, foreign medical students are required to go through a screening test, namely, FMGE. Conducted by the National Board of Examinations, the Foreign Medical Graduate Screening Exam is held twice a year for students with medical degrees from institutions outside India. The exam is generally held in the months of June and December.


However, the screening test is known to be most rigorous for its takers. Devesh says: "The passing percentage is hardly 3 to 4%. This is mainly because of the difference in the paper and education model. While abroad the focus is more on practical training and research, in India the exam follows the MCQ format which is difficult for many students to switch to."
FMGE screening
What: Exam for Indian students with foreign medical degrees, who want to practice medicine in India
When: Twice a year, June and December.
Who: It is conducted by the National Board of examination every year.
Type of exam: The paper is Multiple Choice Question (MCQ) based
Fees: Around Rs. 5500
Centres: Test is held in 27 centres across India.