Expert tips on studying in the UK by Prof Ian Greer, Vice Chancellor, Queen's University Belfast
Expert tips on studying in the UK - As the Covid-19 pandemic continues to adversely affect university admissions across the world, the worst affected are the students who wanted to study abroad. A number of countries have come out with travel advisories while there are doubts regarding getting a visa if the universities that offered regular courses switch to classes online. Some counties require quarantine for 14 days for students from abroad while some have put admissions on hold.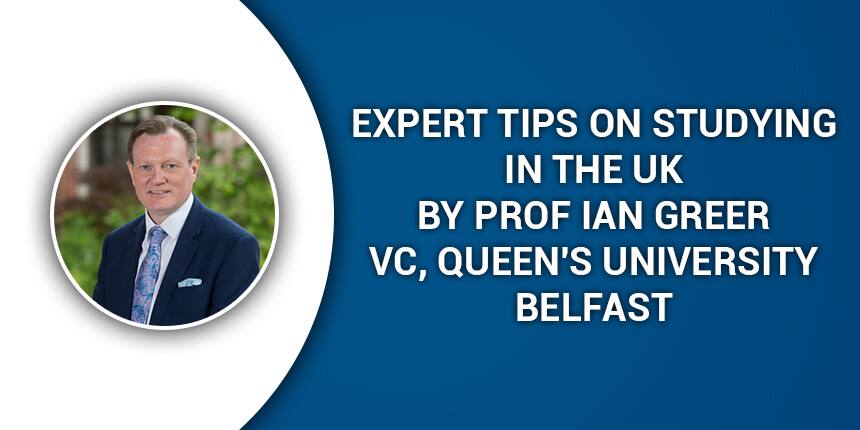 Prof Ian Greer, Vice Chancellor, Queen's University Belfast, in an interaction with Careers360 says, "At Queen's University Belfast, students will be quarantined comfortably and looked after in Queen's University Accommodation in Belfast."
The full interview is given below.
Expert tips on studying in the UK by Prof Ian Greer
Why is the UK the most preferred destination for studying abroad and most students opting for it?
The UK is one of the world's most popular destinations for higher education. It has been the preferred choice for some of the most important minds in history - one in four world leaders has studied in the UK. There is a strong culture of academic excellence and government-guaranteed quality as well as a diverse range of courses and subject offerings. Many UK universities, including Queen's University Belfast, are at the forefront of global science and research. Studying in the UK also affords the opportunity to develop language skills, and both local and international students enjoy the bounty of new opportunities, clubs and societies on offer.
In terms of employability, UK graduates are proven to be among the most desirable in the world. Many UK university courses include the opportunity to get involved in internships, volunteering and placements.
What are the measures taken by the UK government to support international students aiming to study abroad?
One of the reasons international students are drawn to study in the UK is because of the support on offer. The British Council website provides useful information on government support offered to international students. There is also a dedicated section on the website for students who are starting their degree in September 2020, where they can find out the latest updates on support for students in light of Covid-19. Many British Council offices are currently running webinars to provide international students with up-to-date information on studying in the UK. From July onwards, some will also be running pre-departure briefings. Contact your local British Council office to find out what support is available.
A key message for international students is to stay in touch with the institution you are interested in studying at for the latest information and support. Queen's University Belfast, for example, has a dedicated team to provide support and advice to international students. Students can contact their institution for detailed information on quarantine, accommodation and what students can expect in terms of campus experience.
International students should also refer to the UK Council for International Student Affairs (UKCISA), which offers useful guidance and information.
How is Queen's University Belfast supporting students in a current scenario who have taken admission this year starting September 2020?
Queen's University is keen to ensure its students receive a warm welcome and can enjoy a safe and enriching campus experience. On arrival, students can expect supportive quarantine measures, rota systems and capacity restrictions which will allow all shared living, study and social spaces within our accommodation to remain open. Quarantine accommodation will be provided free of charge for students staying in Queen's accommodation for the year.
On campus, the university is adapting its libraries, student spaces, cafes, sports centres and social hubs in line with social distancing guidelines so students can still enjoy the experiences of campus life.
The university is aware that international travel is challenging due to the current circumstances, but we hope that all of our students will be able to come to Belfast for the start of the academic year in September. It is not yet clear how many of our students will have their ability to travel. The university has committed to providing all of its teaching online for those students who are unable to travel. Students who cannot travel to Belfast can begin their studies online and come to Belfast later, when they are able to travel.
What are the steps students need to take amidst COVID-19 scenario and travelling to the UK this year to study?
Students should ensure their visa is in order (their chosen institution could provide help and advice regarding this.)
They should follow their country's travel advice as well as the UK government travel advice and ensure they meet the English language requirements (TOEFL, IELTS, etc.).
The UK Government currently requires those arriving from international destinations to quarantine for 14 days. Students should contact their institution for further advice.
At Queen's University Belfast, students will be quarantined comfortably and looked after in Queen's University accommodation in Belfast. For those students who are living in Queen's accommodation for the year, their stay in quarantine will be free of charge.
And, students should keep in touch with their institution throughout.
Expert Profile:
With a long spanning career, Prof Ian Greer has been associated with Institutes and universities across the UK such as Department of Medicine in Glasgow, University of Edinburgh, Hull York Medical School, University of Liverpool and University of Manchester where he was Vice-President and Dean of the Faculty of Biology, Medicine and Health, Director of the Manchester Academic Health Science Centre (MAHSC), and Chair of the Northern Health Science Alliance (NHSA).
Professor Greer is also Chair of the UK Regenerative Medicine Platform Board. He was a member of the UK Government's Office for Life Sciences Industrial Strategy Board that developed the UK's Life Sciences Industrial Strategy, which was published in August 2017. In addition, he is Chair of the Scientific Advisory Board at the UK Antimicrobial Resistance Research and Development Centre.