Practice to get a perfect score in IELTS
IELTS Expert Tips: Accepted by over 9,000 organizations worldwide, the IELTS is one of the most popular English proficiency tests taken worldwide. If your dream is to study in one of the best universities in the world, it is imperative that you maintain a strong IELTS band score. In this series, Study Abroad Expert Tips we have Sarah Deverall, Director Examinations India of British Council- one of the exam conducting bodies - sharing her insights on how to crack IELTS and take your a step closer to your dream study abroad destination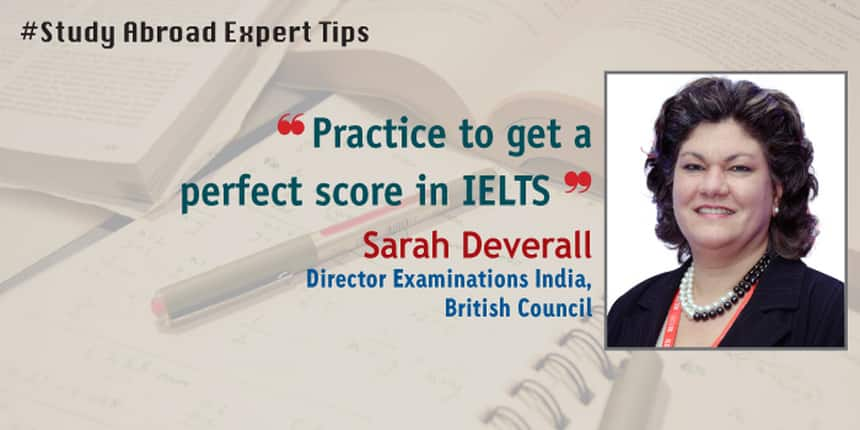 Below are the Expert Tips on IELTS by Sarah Deverall
IELTS Expert Tips: Building confidence before giving an IELTS test takes a whole lot of practice and patience. The approach to preparation tells a lot about how well a candidate will succeed. You need to do more than only dream big. You need to practice! Here are some IELTS preparation tips that will help improve the way they you take the test and target the specific IELTS test sections:
IELTS Preparation Tips: Listening Test
Read the instructions carefully, don't just glance at them. They are not always the same as in the practice or previous IETLS Test.
Follow the instructions carefully; they may be different to practice or previous tests.
Listen carefully for specific information you want.
Do not worry if there is a word you do not understand; you may not need to use it.
If you do not know the answer to a question, attempt it but do not waste time; move quickly onto the next one.
Be careful with your spelling and grammar.
Try and anticipate what the speaker will say; this will require concentration, which is easy in your own language but more difficult in English.
Often speakers will give you an answer and then correct themselves, watch out for this. It's a common trick.
Don't be surprised if you hear a range of accents and dialects, as IELTS is an international test.
Remember if you want a high score you should aim to get all questions in parts one and two correct. Don't make any careless mistakes in the easier sections
IELTS Preparation Tips: Reading Test
Try and predict the content of the paragraph from the opening sentence.
Look out for the title, headings and any special features such as capital letters, underlining, italics, figures, graphs and tables.
Make sure that you understand the questions and follow instructions carefully.
Pay attention to timing; do not spend too long on one passage or question.
Do not try and read every word; remember, you are reading for a purpose.
If you do not know the answer to a question, attempt it but do not waste time; move quickly onto the next one.
Do not panic if you do not know anything about the subject of the text; all the answers can be found in the text.
The word(s) you use must be taken from the Reading text; you must not change the form of the word(s) in the text.
Be careful to use singular and plural correctly.
Focus precisely on what you are asked to do in 'completion' type questions
IELTS Preparation Tips: Writing Test
Analyse each task properly and spend some time making notes
Highlight or underline key words in the tasks to make sure that you focus on what you have to do
Use paragraphs clearly; put one idea in each paragraph
Do not repeat ideas using different words
Do not copy whole sentences from the question – you will receive no marks for this
Keep to the topic; do not write about unrelated subjects
Manage your time; remember, Task 2 is worth twice as much as Task 1
Spend approximately 20 minutes on Task 1 and approximately 40 minutes on Task 2
Pay attention to the number of words required for each task; you will lose marks if you do not write at least 150 words for Task 1 and at least 250 words for Task 2
Learn to recognise how long 150 and 250 words look in your handwriting; you will not have time to count during the test.
IELTS Preparation Tips: Speaking Test
Talk as fluently as possible and be spontaneous
Relax, be confident and enjoy using your English
Develop your answers as much as possible
Practise recording ideas onto a tape recorder at home
Ask for clarification if necessary
Do not learn prepared answers; the examiner is trained to spot this and will change the question
Express your opinions; you will be assessed on your ability to communicate
Remember it is not a test of knowledge and there is no single answer, but ensure that you give your opinion
Also Read:
Know minimum IELTS score required for top B-Schools
IELTS and TOEFL: Know the advantages
Questions related to IELTS
Showing 430 out of 430 Questions