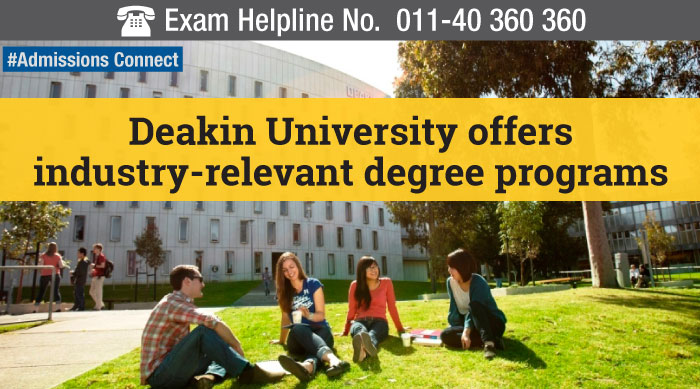 With over 8,000 international students, Deakin University, Australia, promises an environment where foreign students feel welcome, supported and well-guided. Established in 1974, the university operates through three campuses in Geelong, Warrnambool and Burwood in Melbourne.


One of the unique features of Deakin is that it is the first university in Australia to introduce an internship program specifically for international students, providing them with an opportunity to get valuable industry experience before they graduate.


In this series of #Admissions Connect, we have Ravneet Pawha, Director (South Asia), Deakin University, who decodes the university for you. Know all about the admissions criteria, popular courses and the admission cycle of Deakin University.
Below are the edited excerpts from the interview
Q: What is the strength of the international student community in the university? What about Indian students?
A: Deakin University welcomes thousands of international students from many different backgrounds each year and enjoys celebrating the different cultures, languages and diversity they bring. There are currently over 8,000 international students engaged in studies at Deakin, of which about 1,300 are students from India.
Deakin regularly celebrates its diversity through cultural events and activities on campus. For example, the Diwali Festival is celebrated on campus by Deakin students and staff annually, and involves traditional Indian food, dance and interactive activities. As a university with an international outlook, Deakin prides itself on the achievements of our many international students and we do what we can to make Deakin a place where international students feel welcome and supported.
Q: What is unique about your university in terms of academic culture and overall student experience?
A: Deakin University is consistently rated the best in the Australian State of Victoria for student satisfaction – earning that honour for each of the last five years (Australian Graduate Survey). This is a result of industry-relevant degree programs, modern education facilities, extensive student support groups and engaging social activities.
In the academic sphere, Deakin puts a premium on practical learning approaches and work experience. Our faculties are strongly tied with industry and provide students the sorts of skills and knowledge that are in demand in the global workplace. Deakin engineering students are on site building, nursing students are in hospitals and law students are in the courts. And this is reinforced by a commitment in Deakin's faculties to provide students with work experience opportunities in Australia and around the world. In fact, Deakin is the first university in Australia to introduce an internship program specifically geared towards international students, providing them with an opportunity to get valuable industry experience before they graduate.
Q: What are some of the popular programmes among students? What about Indian students?
A: Students who attend Deakin have access to a wide array of degree programs in dozens of study areas – be it business or biology, history or health studies. While we have numerous popular programs across the university's four faculties, the most popular courses (at both the bachelor's and master's levels) are in:
Commerce
Communication
Engineering
IT and
Nursing.
Indian students are strongly drawn to a number of these disciplines at Deakin, with considerable numbers engaged particularly in graduate studies in Engineering, IT, and Business – both through our Commerce programs and our MBA (International) course.
Q: What are the admission criteria for international graduate students?
A: Admissions requirement for graduate students depend on the program for which they intend to apply, but the following general guidelines are applicable:
To be eligible to enrol in a master's program by coursework at Deakin, students need to have completed at least a three-year undergraduate degree, or comparable, of an acceptable academic standard from an approved university or other education institution.
For higher research degrees (master's and PhD levels), applicants must hold a bachelor's degree with honours (second class and above) from a recognised tertiary institution in an appropriate discipline and demonstrate the capacity to engage in significant research. Students who already hold a reputable master's degree by research may also be eligible for PhD studies. Students will also need to demonstrate sufficient English language abilities.
For students who do not meet the academic or English language requirements for entry into a graduate degree program, there are options that may make them eligible for study at Deakin. Students who need greater academic preparation for select postgraduate Business programs can go through the Postgraduate Qualifying Program at the Melbourne Institute of Business and Technology (MIBT) in order to qualify for postgraduate studies at Deakin. Studies at the highly lauded Deakin University English Language Institute (DUELI) can enable students to meet the English language requirements of their desired degree program.
If students do not meet the above requirements, it doesn't mean they miss out. Deakin offers a number of pathway options to international students which lead directly to a Deakin degree.
Q: When do applications open?
A: International students are able to apply to study at Deakin throughout the year and Deakin's international admissions team is always on hand to quickly process applications. There are three trimester intakes throughout the year –March, July and November – depending on the course. This provides flexibility and by having three academic terms each year Deakin provides students some degree programs and the opportunity of completing their degree in a shorter time frame.
Q: Does your school offer financial aid to international students, particularly Indians? Please elaborate.
A: For international students, studying overseas can be expensive and it is, therefore, important that they experience the best in student support and education. Deakin University is committed to providing opportunities to international student to financially assist them in achieving their goals.
Deakin offers international students a wide range of scholarships and bursaries to financially assist them with their university fees. The array of scholarships and bursaries available can be found at deakin.edu.au/international.
Students from India can apply for a Victoria India Doctoral scholarship which provides the opportunity to work with top researchers, use cutting-edge technology in modern infrastructure and facilities. This scholarship is available to scholars from India who enrol for their PhD at Deakin in Australia.
Q: Many foreign students are worried about leaving the country because they do not know whether they will be able to find work to pay off their student debts. Do you guide your students in finding internships and jobs?
A: Today's employers are looking for university graduates who already have relevant work experience. This is why Deakin University maintains a key focus on providing real-world work experience to international students throughout their degree.
This work experience is obtained by students taking part in internships which involve them working in an organisation relative to their chosen field of study. Deakin was the first university in Australia to have a program specifically designed to find quality internship opportunities for international students. The award-winning Deakin Internship Scheme for International Students facilitates engagement between international students and Australian employers. By gaining work experience in their chosen field, students are better prepared for the workplace.
Located on campus, the Deakin Job Shop is another tool for students for the global workplace. Here, students are assisted with job searches, resume writing and interview preparation. The interview and assessment centres provide a realistic interview setting to help students become confident in the application process. In addition, the Jobshop assists students in finding part-time work during their studies as a way to help them meet their financial needs.
Q: Do you have any plans of establishing a branch of your university in India? Please share your reasons if (Yes/no).
A: Twenty years ago Deakin University became the first Australian university to set up an independent office in India. This has enabled Deakin to provide the most up-to-date and relevant information for Indian students, on the ground. Potential students have the opportunity to speak with Deakin staff at the India office in their own language to find out all they need to know about commencing their studies at Deakin.
Q: How is Australia as a destination for education? Why should students opt for Australia as a destination for their UG/PG studies?
A: Studying in a different country is a wonderful opportunity for students and provides an introduction to new cultures, a chance to make lifelong friends and perhaps even learn another language. Australia provides a dynamic and exciting experience for students as the country boasts of varied landscapes, a vibrant cultural and arts scene, and friendly people.
Australia is home to some of the world's finest universities and produces graduates who have degrees and educations that are respected and valued across the world. The benefits of living and studying in Australia are particularly great in Deakin's home city of Melbourne, a thriving multicultural community that the esteemed Economist magazine has named the world's most liveable city for the last four years. Deakin's four campuses in Melbourne, Geelong and Warrnambool span the Australian State of Victoria, giving students access to great studying opportunities, but also the full spectrum of the Australian experience – be it surf beaches and koala forests, to cultural festivals and Melbourne's famed café culture. In this regard, Deakin University, Australia, offers the perfect balance between high quality studies and a high quality lifestyle.
Q: How does the education system in Australia provide an edge over the Indian education system?
A: Studying in Australia in general – and at Deakin in particular – offers students access to facilities and educators of the absolute highest calibre. And the relaxed collaborative environment of Australian universities means that students reap the benefits of close interaction and personalised attention from academic staff.
Australia also has a dynamic and constantly evolving education sector. Deakin University is a perfect example of the drive and commitment to quality that one finds in the best Australian institutions. Though a young university, Deakin is already ranked among the top 3% of universities in the world, according to major international university rankings (Times Higher Education, QS, and the ARWU).
Deakin places a strong focus on real-world experience and this is why Deakin graduates are highly employable on completion of their degree. Deakin believes that gaining experience in the workplace extensively supports the knowledge obtained by students in their theoretical studies. Students who engage in work experience programs are exposed to different organisational dynamics, have the opportunity to contribute their ideas in a work setting and learn from experienced professionals.
Deakin is home to remarkable world-class facilities devoted to numerous study areas. Deakin has custom studios for architects, state-of-the-art simulation facilities for medicine and nursing students, and the second largest motion capture filming facility in the Southern Hemisphere. It is facilities of such high quality that distinguish the best Australian university.


Also read:
Study in Australia– Know all about studying in Australia