COVID-19: Expert tips on study abroad by University of Arkansas, George Mason University
The COVID-19 pandemic has thrown Indian study abroad aspirants in a deep dilemma. It has hit their travel plans, admission processes, funding and in some cases the application process as well. The mobility of students has taken a big hit. A recent QS study said that 51% of non-STEM students would prefer to study within the country.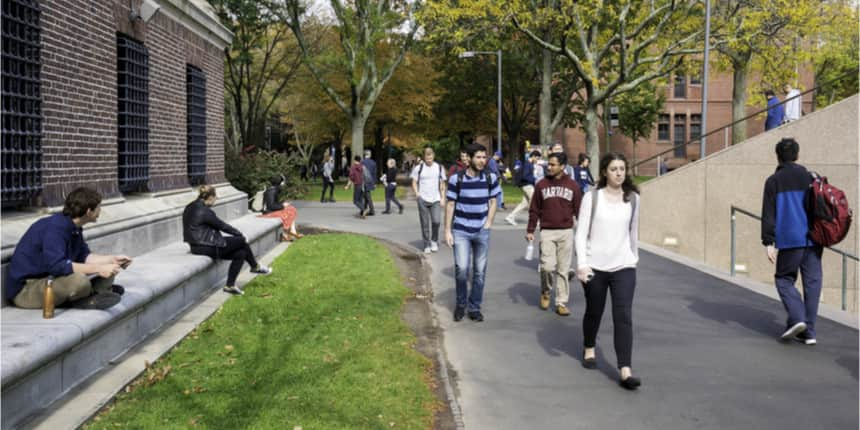 Some of the students have got admissions in foreign universities but they don't know how they can reach that country. Some of them are unable to decide whether to apply to foreign universities or it is better to be studying in India. Some of the students who planned to study abroad have decided to stay back.
Ms Renait Stephens, CEO and publisher of studyintheusa.com; Karl Anderson, Assistant Director, International Students Recruitment, University of Arkansas and Dennix Averion, Assistant Director, International Admissions, George Mason University Undergraduate Admissions Office answer the queries that study abroad aspirants have on the road ahead.
A lot of uncertainties are there on the study abroad front, ranging from problems relating to foreign exchange rates, visa and travel restrictions, changing residency norms and more. What should study abroad aspirants do?
Dennix Averion: I think if I were a student interested in study abroad I would definitely do my research and do my due diligence like reaching out to schools and reaching out to colleges and universities. I will ask them what the possibilities look like and the kind of pathways that come with it. You should know that the dream of studying abroad has to shift a little bit but if you have the opportunity to study abroad and you know you've considered all aspects, by all means go ahead and take it. But your approach will have to change drastically and you have to be adaptive. Your experience of studying abroad is going to be unlike anyone else's who may have done that. So, being very adaptive to situations is going to be something that you will need to learn.
Karl Anderson: I think flexibility is going to be the key. Uncertainties are there but no one is saying study abroad dream is dead. Maybe admission during this fall doesn't work for you but there's always the spring and the summer admission seasons. So, just be flexible and understand that you know the dream doesn't have to die. It might change a little bit but don't give up. Keep looking at universities and keep reaching out to them with questions and have those conversations. Be willing and prepared to maybe wait a semester or two semesters and go in the summer. But don't give up.
Renait Stephens: What we all hope is that even if the first semester may be online or partially online you'll still be able to have the study abroad experience. I think it's important to keep in mind that many schools are changing the start date to be a little later in the fall and maybe you do a partial online and arrive in January your chosen destination and or in April or in the summer but a four-year degree is a four-year degree. It's not if you're looking at a one year course and maybe yes you're saying hey I'll go next year instead of this year but a four year degree has so much value and you've spent so much time choosing that course, working on which university are going to attend but you know the spring month periods in the fall can be a very short period and with the flexibility and the new options and the kind of technology we have I definitely don't think that dream should be given up.
There are reports that the bottom 20 percent of foreign universities may be adversely affected by the COVID-19 situation. How do students go about selecting an institution in this scenario?
Renait Stephens: I think the basic thing is research. Whenever you're looking to study abroad you have to start early and take a look at your career goals. Then look at where you want to study and then start researching the universities that fit that model. There are almost 4,000 universities and colleges in the US. There are some really reputable sources of information. You can go to EducationUSA offices around the world run by the Department of State that have really good information about universities. You should always see whether the university's degree program is recognized by your country's government and whether it's accredited. You can look at the school's website and talk to alumni student ambassadors. You also have to look at the history and the reputation of the university while you're doing that.
In this situation, how does one go about selecting a country, an institution and a course to study?
Renait Stephens: I think it depends on the students and what they're looking at. I still think there's incredible value in US education, particularly in STEM (science, technology, engineering and mathematics) and also in Canada. They've been really working hard during this time to make sure that that's still open and that they're supporting our international students. The UK has also just come out with another two-year right to work after university studies. Countries like Germany have got some fantastic programs. Right now there's really good options all around the world for study abroad.
Dennix Averion: I would also add that, in choosing which country you want to study doesn't necessarily determine where you will settle. Higher education, in general, opens a lot of doors. If you study in the US, you don't have to work there. You can work anywhere with the kind of recognition a US education gives. You can be in Canada, the UK and all the other countries where you want to study.
Which is the ranking that students in the USA trust in order to select a college?
Karl Anderson: I think that the US News World Report is probably one of the most credible rankings within the US. Obviously, there's also the QS rankings if you want to look at global universities and their rankings. I would look at the US News World Report listings because I think that that's going to be the most reliable and most comprehensive. I understand rankings are important but you need to have conversations with individual universities that you're looking at. Pay attention to what they tell you and pay attention to the resources, the programs and the opportunities that they have because that's important as well.
Should there be a different approach for a STEM student versus a non-STEM student as far as studying abroad is concerned?
Karl Anderson: Yes. The approach is different if you're a STEM student. For example, if you're a chemistry student or an engineering student wanting to study in the US, you're probably going to pay more attention to research facilities. You will probably want to spend a little bit more time looking at their research resources or laboratory resources and at the opportunities that those institutions have for internships
Internships can be important for any student regardless of their field but within the STEM fields there's a perception that you need to have some real-world practical experience because that's going to be very important when you graduate and get work. You might also look at institutions that are located in areas where industries have offices. I'm not trying to get one discipline against another but if you want to, for example, study history you're not going to be worried about lab space because you're not doing lab work.
Should there be a difference in approach when undergraduate students and postgraduate students go about selecting universities?
Renait Stephens: If you're an undergrad student there is a lot more flexibility and you may have to look particularly for STEM laboratory facilities, location, internships etc. But when you're looking for a postgrad course you're going to be looking at the individual courses and what's available to study there and particularly for research opportunities and maybe who you want to work with. So, it's a very different process and partially because an undergraduate, particularly in the US, can have a pretty wide variety of courses that you're able to take and some flexibility is there, whereas when you're looking for post-grad you're really honing in on what you want to do and you're looking for very specific information.
The Indian rupee has been weakening against the US dollar. Are the universities this year likely to give more scholarships, fee waivers or fee reductions to attract students?
Karl Anderson: I don't think you'll see scholarship numbers increasing, what you might see, however, are universities and other institutions coming up with reduced tuition rates, breaks in tuition whether it's for online courses or so. It will depend on the institution and I wouldn't be surprised if you see tuition breaks or financial incentives for students, both international and domestic for that matter. But I don't necessarily know that you'll see an increase in actual scholarships where money is being given and can be applied to tuition and fees and housing and all of that.
Are there any new set of rules that have come recently that students must be aware of if they choose to study in the USA?
Dennix Averion: A lot of the changes in terms of rules and regulations are going to come from the universities' side on how to keep students safe and healthy while they're studying on campus, whether should campuses open? For example, George Mason University is looking into whether it should open. There's going to be a 60-minute wait time between each class session so that all classrooms can be sanitized and there might also be a change regarding class room occupancy. So, in terms of changes in terms of rules and regulations it will be more on the university's side. Students will also have to wear masks in class and wash their hands regularly.
Karl Anderson: I might add to that. There's some possibility of 14-day quarantine for new students coming from outside of the US or returning students. So, that's something to keep in mind. That's probably going to be an institution by institution decision. I would assume that that resource would be in place where the students could go to quarantine. They wouldn't necessarily have to find their own lodging
What will I do if I start with online classes in a US university now and am denied a visa later?
Karl Anderson: You're granted a visa for a program of study. If that program has been moved partially online temporarily for whatever reasons beyond your control, you will be able to use that visa to eventually go there. There shouldn't be a reason for the visa to be denied simply because you had to start your program of study online. I always told students to try to get the information that you can from the consulate as to why it was denied and then reschedule and go back to interview again.
If students are admitted into a university and they start that program online and they go through a semester and make good grades I think that it is likely to strengthen their chances of getting their visa.
If the COVID-19 situation worsens and students are unable to travel from a country, will they be expected to take online classes? Would there be a rethink on the fees?
Dennix Averion: I certainly hope that it is a part of the conversation that universities are having with their leadership whether or not there will be tuition discounts and will there be tuition differences with regards to online classes being taken. I think it's very likely that there will be some sort of discount, if it's not in tuition then within the fees that students are expected to pay when the situation was different. So, I would expect some sort of discount or tuition discounts to be made if universities go online.
Many international universities are starting to teach online. What happens to my placement process if I study online?
Karl Anderson: If you're admitted into a university as a four-year bachelor's degree seeking student and you have to start the program online, it shouldn't have any impact on your placement. STEM It shouldn't affect your placement at all if you have to start online versus on campus program.
I got admission in a US university. Will the joining date be extended because of COVID-19 effect or do I need to apply again for December intake?
Dennix Averion: It depends on the university that they have applied to. It's based on the individual institution and their policies. I would say with some certainty that potentially the school itself has some plans for him or her to be able to study by taking further admission or to do the next semester or have a late start. It really depends on the university. A late start is one of those options.
What will happen to students who are part of a cancelled study abroad program? Will they gain entry to the next semester automatically?
Karl Anderson: It's going to depend upon the individual institution. But generally speaking if somebody applies to a university and is admitted and for whatever reason their program is cancelled or they can't make it to campus or they decide not to go there they're more likely going to be able to defer for at least one semester maybe an entire year. They may be able to come at the next start date. At that point they would go through the same process of lining up housing on campus or go through that process of selecting a residence hall etc. I mean there's going to be options available for students who aren't able to start their program on time or if that program is cancelled. At the University of Arkansas, we're allowing students to defer because we know that one of them may not be able to make it for the fall semester.
Dennix Averion: I would also add to that deferring is different for a lot of schools and kind of what rules are in place for students. Reach out to the university and ask them the terms of the deferral because it might mean that they cannot attend another university during that deferral period or take certain classes. So, definitely having open lines of communication with that university is going to be the key.
Karl Anderson: it may also depend upon whether you're seeking an undergraduate degree or a master's degree. It can be fairly easy for an undergraduate student to defer. But for graduate [master's] students maybe your program only starts and admits students for the fall semester so then you have to defer for an entire year so having that conversation and making sure you're aware of those individual policies.
I have an acceptance letter from a college in Canada and already paid the fee. But I have changed my plans. Is there a chance of getting the fee back?
Karl Anderson: A lot of universities have a policy where a fee that's been deposited for enrollment or for admission may not be refundable. The student can choose not to go to the university but may not get the fee back. I suppose that it is worth having a conversation with that institution, especially depending upon the reason that you have decided not to attend that university to find out if it is possible to get that fee back.
So, overall what should a study abroad aspirant do at this point in time?
Dennix Averion: I think it's a very personal decision. Right now, there's a lot of uncertainty in the world and I know Indian students want certainty. They could certainly wait and see if there's more certainty with regards to admissions.
Renait Stephens: It's an unprecedented time in global history and reality is changing every week. No one's exactly sure what things are going to look like next year but I think students are still interested, they're motivated to learn. Schools are becoming very creative with the solutions and I think there's a great value in international education. You should and can continue to pursue that dream. It may look different but I think it's still a possibility.
Karl Anderson: Look at your options and take the time to think about the choices that you have. But don't let the dream die if this is something that you want to do. You may have to postpone it for a semester or a year and that can be hard, but don't give up on your dream to study abroad. It may look a little bit different but just be flexible, be willing to be flexible but don't give up.
The advice on how study abroad aspirants can tide over the COVID-19 situation was given by Ms Renait Stephens, CEO and publisher of studyintheusa.com; Karl Anderson, Assistant Director, International Students Recruitment, University of Arkansas and Dennix Averion, Assistant Director, International Admissions, George Mason University Undergraduate Admissions Office in a webinar hosted by Careers360 recently.
If you have any doubt regarding any course or career, write to us at: ask@careers360.com