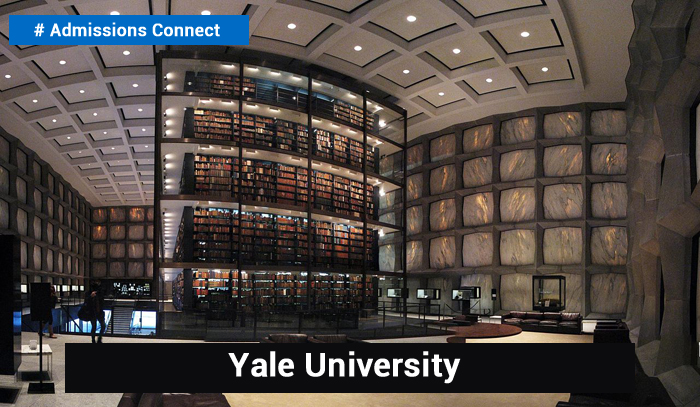 Founded in 1701, Yale University is the third oldest university in the USA and boasts of over 12,000 students pursuing their undergraduate and graduate studies on its campus. One of the largest research universities in the country, nearly 19% of the students at Yale are from overseas.
In this series of #Admissions Connect, Jeremiah Quinlan, Dean of Undergraduate Admissions, Yale University, spoke to Rajaram Sukumar on the university's selection processes
Below are the excerpts:
Q. A Liberal Arts Education seems to be the flavor of Yale. Why do you focus so much on Liberal Arts?
A. We really feel that with the future, with so much change, there needs to be a real broad thinking group of leaders that can help us solve the world's problems. There we need to have students with broad liberal arts education. They can certainly focus on particular areas of expertise, in certain fields; they also can also make the connection in a wide range of subject materials. They can write well, they can communicate effectively, and can do data analytics. They may have a specific expertise but they still need to have all these skills, they need to be familiar with foreign languages, they need all these skills to be prepared to be leaders in the years to come.
Q. So the focus is on creating well-rounded personalities?
A. Of course, our students learn as much in the classroom, as they do outside of the classroom, in working with extracurricular activities and other things like that they learn how to be leaders, they know how to influence others, they know how to get tasks done, and it goes on.
Q. The Yale College Programs of Study or 'Blue Book' refers to some 2000 programs of study. Which are the most popular programs on offer?
A. We have 80 different majors that the student can take. The most popular majors are Political Science, Economics and Biology.
Q. Do you have any undergraduate programmes in Management?
A. No. We don't have undergraduate programmes in Management. We have a Graduate School of Management. Students who are undergraduates in Economics go to Management programmes. Many of our undergraduate students can take classes at the Business School and that is really a great way students can get into Management.
Q. What are the general principles to keep in mind while selecting a course at Yale?
A. We want students who have an interest in one area but also a variety of interests. You know how it is difficult to select a specific major because they come here with so many interests and they can take classes from the 2000 on offer that they wouldn't have in India or any other country that they have come. So they have so many interests, they may want a double major or they may want a major and take a lot of interests in other areas. We wand them to go in depth in one area but we always want to remember that it is all about getting that well-rounded education that is going to make you a leader for the next generation.
Q. What are the parameters for choosing a course at a proper level?
A. We have many advisors who help us do this, so every student gets a 4-year academic advisor, called their Dean, they also get a faculty advisor and freshmen have seniors who are called Freshmen Counsellors as their advisors. So they get a lot of advice on how to choose their courses. We recommend students to take one or two courses in a major before they choose a major and they can use their words with their advisors to do this.
Q. What about the diversity of the campuses?  
A. About 11 percent of our undergraduates are international and that has increased over the last two years. We have a very diverse campus; students from over a hundred countries a year come here for their undergraduate studies.
Q. What are the qualifications needed for a student from India to get admission there? Any qualifying tests like SAT?
A. You need to take SAT or ACT, you need to take a very rigorous high school programme, very well prepared for college, whether it is Indian national exams or IB Diploma, you need to write an essay or two, you need to do various letters of recommendation. Many students get to talk to the alumni of the university, we have alumni here in Delhi. They need to touch base and talk it out with the alumni. We look at extracurricular activities of students. All these things go into our consideration.
Q. Do you have a number of Indian students at Yale?
A. The number has certainly increased over the years. For the last 15 years we found from one or two Indian students a year increasing to 12 to 15 students a year. These numbers are for the undergraduate studies.
Q. How do Indian students fare on the campus?
A. When we look back at them, we find the Indian students do very well during the four years they are there. They do very well academically, they do very well socially.
Q. Freshmen can conduct original research from the first year at Yale. How do you inspire freshmen to undertake research?
A. We give them the opportunity, we fund them. We actually have funding in place for students to do research with faculty in between their first and second years. So they are paid for and we fund the entire sum for research that a student takes.
Q. Apart from the quality of education, what other factors prompt Indian students to flock to the West? Is it because they want to stay back there, get jobs?
A. No. Most of our Indian students come back to India. They come here because they want a four-year degree, they want a curriculum that focuses on broad concepts, fresh sort of thinking, they have multiple interests, they are not that interested in pre-professional, pre-university model. They want something that has breadth and depth.
Q. The government is mulling a legislation to allow foreign universities to set up campuses in India in partnership with local universities. What's your take on this? 
A. We did that in Singapore with National University of Singapore, we created a joint venture; it was an incredibly difficult but rewarding experience. So I think it will be dependent on how India wants to do this without outside help. I think there is already a lot of success, especially with Ashoka University; theirs is a successful model of private universities being built without outside help. But another university might  feel if it needs expertise that a partner can provide.
Q. Every year, THE, ARWU and QS come out with university ranking and the results are not that identical. Parameters to rank the universities too differ. How does Yale look at this?
A. We take rankings with a grain of salt because they are completely subjective on what a person's criteria are. See, you get so many different rankings across magazines; across different articles, their values are different. Are the students' values same as that of the magazines? There might be specific factors that are really important for the students than they are for the magazines. So I think, the students aren't looking for the rankings. Otherwise, they might be making limited choices based on the information that may not live up with their own values.
Q. Your expectation is that when a student leaves Yale, he will have come to a deeper understanding of the continuing joy of disciplined learning. Do you achieve this?
A. These are the things we look for in our students. But then Yale really does try to put these things in the place, both for education in the classroom and also outside the classroom. We really want to find students who have a joy for learning and obviously gain them hands-on because we have an amazing faculty and amazing programmes. You can live to be a lifelong learner that is what we want you to be because with people having so many jobs these days in today's modern world, you know it's not really about all the skills that you know, it's how quickly you can learn what you need to learn when you start a new job. That's what a lot of consultancies are saying, a lot of the companies are saying, they don't need a functional expert, they need to see someone who is really interested in joyful learning.
Stay tuned to www.studyabroad.careers360.com for more stories on Admissions Connect
More like United States of America